Review copy was received from Author. This does not affect my opinion of the book or the content of my review.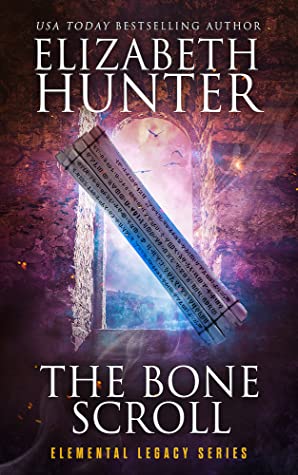 The Bone Scroll
by
Elizabeth Hunter
Series:
Elemental Legacy #5
Published by
Self-Published
on August 24, 2021
Genres:
Urban Fantasy
Pages:
341
Format:
eARC
Source:
Author
Goodreads
Amazon
, 
Barnes & Noble
, 
Apple




It's a secret lost in time, a myth among immortals, a relic of such power that vampires around the world have quietly harbored the hope that it doesn't really exist.
It's a mystery that Tenzin and Ben cannot resist.

But to obtain the Bone Scroll, they'll need leverage over the most powerful and mercurial vampire in the known world. Saba, oldest of immortals and mother of the vampire race, has returned to her homeland in the highlands of Ethiopia, searching for the scroll with a cadre of elders. In order to outsmart them, Ben and Tenzin will need to walk a literal and figurative edge through a maze of vampire loyalties, shadowy motivations, and ancient secrets.

If Saba wanted them gone, she could command the earth to swallow them whole. But the mother of vampires is playing her own game, and both Ben and Tenzin are no more than pawns.

Can they outsmart and outmaneuver the most primeval beings in their race to find the Bone Scroll before it lands in the possession of those who care only for their own selfish gain?
The Elemental Legacy series (Ben / Tenzin)  builds upon the very beginning which is Elemental Mysteries (Original series)and then the Elemental World. (Expanded World)   I would classify Elemental Mysteries and Elemental Legacy as urban fantasy as they deal with one couple primarily, whereas Elemental World is more paranormal romance with a different couple or character in each book.
You could read just Elemental Legacy but being the OCD reader I am, I would start with Mysteries, then World, then Legacy.   If that's too much, you could probably just do Mysteries,  the Bronze Blade,  and then Legacy,  or possibly just Bronze Blade and then Legacy.  But I would really just read them all as they are great!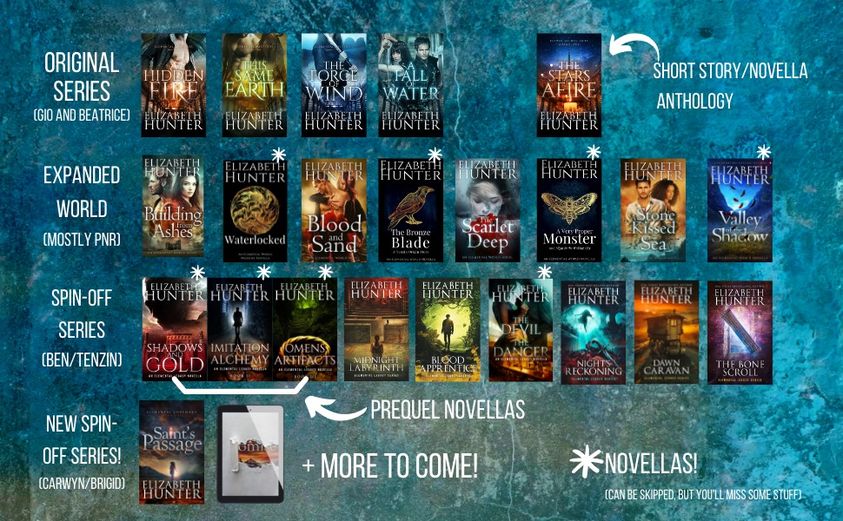 ---
Now we are getting to the heart of the relationship of Ben & Tenzin, as they make choices and adjust to their lives together. They learn of a new magical artifact, the Bone Scroll, and make plans to find it. As they go along, we get more time with Gio, B and Sadia,   Chloe and meet Daniel, Carwyn's youngest son, an earth vampire.  So it's enjoyable to catch up with these characters as they go on the hunt.
One of the most compelling aspects for me, was the lush descriptions of Ethiopia. It made me want to know more of its history and current situation.  I'd also like to travel there and learn more about their food.
There is a real progression and learning between Ben and Tenzin.  They have always had complimentary skills.  Tenzin knows a lot of history and about vampires.  Ben has better people skills and strategy and modern knowledge.   They've worked together for about ten years but it's odd now to see their sexual relationship.  Tenzin is used to hiding her thoughts and feelings, not used to sharing.  Ben is still learning how vampire things work and is still feeling young and vulnerable.  They want to share blood but what will that mean?
There are complications because it is in Saba's territory.  Ben & Tenzin plan to find some things Saba wants to "trade" for the bone scroll.  The bone scroll is not originally from her area, and is too dangerous to leave any old place.   Ben is honorable about only "stealing" things from people who originally stole them, to give back to the original owners. Tenzin is a little more clingy to treasure.   I enjoyed their smart strategies in finding and acquiring items.  Their plans are good with an accurate take on the negotiations and the dangers.  Saba just makes everything more complex than it needs to be.
This adventure helps the couple learn more about themselves and their connection.  There is also a path opened for how they will spend some of their time in their future.  I look forward to seeing how that goes and particularly how Ben grows into his new vampire capabilities.
Latest posts by Anne - Books of My Heart
(see all)
Reading this book contributed to these challenges:
Related Posts