Review copy was received from Publisher. This does not affect my opinion of the book or the content of my review.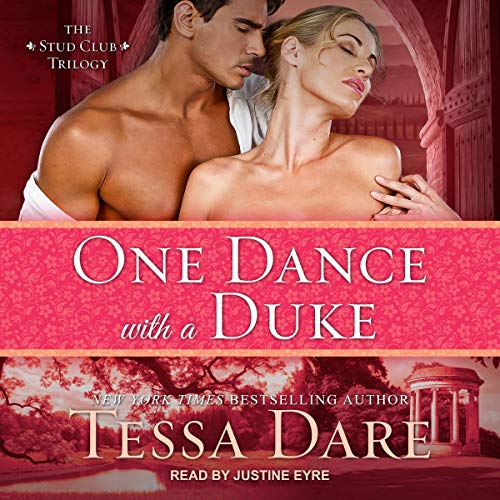 One Dance with a Duke
by
Tessa Dare
Narrator:
Justine Eyre
Series:
Stub Club trilogy #1
Published by
Tantor Audio
on August 11, 2020
Genres:
Historical Romance
Length:
11 hours, 40 minutes
Format:
Audiobook
Source:
Publisher
Goodreads
Amazon
, 
Audible
, 
Audiobook
, 
Barnes & Noble
, 
Apple





A handsome and reclusive horse breeder, Spencer Dumarque, the fourth Duke of Morland, is a member of the exclusive Stud Club, an organization so select it has only ten members--yet membership is attainable to anyone with luck. And Spencer has plenty of it, along with an obsession with a prize horse, a dark secret, and, now, a reputation as the dashing "Duke of Midnight." Each evening he selects one lady for a breathtaking midnight waltz. But none of the women catch his interest, and nobody ever bests the duke--until Lady Amelia d'Orsay tries her luck.

In a moment of desperation, the unconventional beauty claims the duke's dance and unwittingly steals his heart. When Amelia demands that Spencer forgive her scapegrace brother's debts, she never imagines that her game of wits and words will lead to breathless passion and a steamy proposal. Still, Spencer is a man of mystery, perhaps connected to the shocking murder of the Stud Club's founder. Will Amelia lose her heart in this reckless wager or win everlasting love?
Tessa Dare is an autobuy for me now but I haven't gotten to most of her considerable catalog because it wasn't on audiobook, until now that is.  As some of her earlier works have come to audio, I've been able to incorporate them into my reading.  Even though I can tell she has grown as a writer since writing One Dance with a Duke, the first book of The Stud Club, it was still a very fun tale.
Amelia is a buxom gentry about to be put on the shelf at six and twenty.  When her brother lets her know that due to gambling debts to the Duke of Morland, they can't go to the cottage to summer all of her world crashes around her.  In a bid to keep the little happiness and hope, she has left intact she does the unthinkable and asks the notorious Duke of Midnight to Dance, it is all downhill from there so to speak.
Spencer is great with horses and absolute rubbish with people.  He hates crowds and so only shows up at parties at midnight for a dance and to escort a lady into dinner then disappears.  He has cultivated quite a lot of rumor around him because of it.  When he meets Amelia, the attraction he feels towards her is unexpected and when she stands up to him and gives him a dressing down, well that is it, he must get to know the woman underneath and naturally marry her.
Okay so the set up to the story is going well but not super clever, still I like it.  Most of Amelia and Spencer's issues stem from not really knowing one another going into the marriage.  Spencer wants the loyalty that Amelia affords her family but doesn't want to do the work to earn it.  Amelia wants to know why her husband is obsessed with horses and could he have murdered a friend to get a token for a horse.  Still I like the build to them trusting each other.  Amelia's brother, Jack, is a gambler and she and Spencer disagree on how best to help him, it causes a few issues in their marriage as well.
I can tell this was written about ten years ago before the 'Me Too' movement.  I don't think Spencer ever crossed a line and I thought much of it was pretty hot in that regard but if you are sensitive to dominant men, he might not be your kind of hero.  This did have one of my favorite first kiss scenes in it.  Spencer definitely can put a lot of thought into how to seduce a woman and does it with finesse and patience.  It also takes favorite 'breath she was holding' line as well.
"He kissed her. Without warning, without permission. Without even deciding to do it, but simply because he couldn't have done anything else. He needed that breath she was holding. It belonged to him, and he wanted it back."
I liked that the marital problems they faced were ones that you could see in a relationship today, when dealing with an addict and I saw both sides of the situation and understood where each was coming from which made the conflict better than in some romances.
Overall a solid historical romance read but not quite as funny or good as some of her more current books.
"I'm infatuated with you, I cannot deny it. Physically speaking, you're a very attractive man. But I don't like you, the vast majority of the time. So far as I can gather, you behave abominably in public and are only marginally better in private. I only find you remotely tolerable when you're kissing me."
Narration:
Justine Eyre works fantastically for this story.  She is a perfect narrator for historical romance and I love her voice on this as well.
Listen to a clip: HERE
Rating Breakdown
Plot
Writing
Characters
Dialogue
Narration (Audio)
Overall:
Reading this book contributed to these challenges:
Related Posts