Review copy was received from NetGalley. This does not affect my opinion of the book or the content of my review.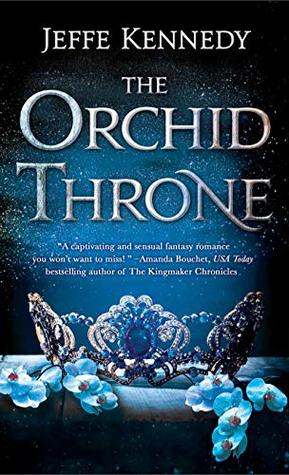 The Orchid Throne
by
Jeffe Kennedy
Series:
Forgotten Empires #1
Published by
St. Martin's Press
on September 24, 2019
Genres:
Fantasy Romance
Pages:
368
Format:
eARC
Source:
NetGalley
Goodreads
Amazon
, 
Barnes & Noble
, 
Apple




A PRISONER OF FATE
As Queen of the island kingdom of Calanthe, Euthalia will do anything to keep her people free—and her secrets safe—from the mad tyrant who rules the mainland. Guided by a magic ring of her father's, Lia plays the political game with the cronies the emperor sends to her island. In her heart, she knows that it's up to her to save herself from her fate as the emperor's bride. But in her dreams, she sees a man, one with the power to build a better world—a man whose spirit is as strong, and whose passion is as fierce as her own…

A PRINCE AMONG MEN
Conrí, former Crown Prince of Oriel, has built an army to overthrow the emperor. But he needs the fabled Abiding Ring to succeed. The ring that Euthalia holds so dear to her heart. When the two banished rulers meet face to face, neither can deny the flames of rebellion that flicker in their eyes—nor the fires of desire that draw them together. But in this broken world of shattered kingdoms, can they ever really trust each other? Can their fiery alliance defeat the shadows of evil that threaten to engulf their hearts and souls?
I was delighted to be offered this book as I enjoy what little I've managed to read by this author. I want to read more.  The Orchid Throne is the first in a new series,  Forgotten Empires. I had a bit of the first book in a series, in a new world issues at the beginning. There are many, exquisite details about the the land, the clothes, and the people. It takes a bit to assimilate the information and have it come together into the story.
Poor Euthalia. A women's life is not her own in most historical times and choices are so limited. She is certainly clever and compassionate. She works hard to protect her people and it is not easy.  Conri, had no choices forced into slavery at only 10 years old. It has made him strong, hard and angry. Still, he is remarkably reasonable and cares about his people.
Each of them has advisors, but they are in charge. Lia has many advisors but not all of them are good. In fact, I suspect some are spies or worse. I'm looking at you Tertulyn. Conri has fewer and they seem to be better and a restraint on his worst impulses for revenge. Although Sondra has her own anger to control.
There is no magic in this world according to the evil emperor, Anure, who has made life difficult for Lia and Conri, and well, everyone.  He executes all suspected of being wizards. Anure is the suspense in the background, waiting to bring everyone down but himself. Of course, he uses magic for himself.  Lia knows there is magic and tries to cultivate scholars in her kingdom who are knowledgeable, to learn more. Conri doesn't really believe but has his own wizard, so he starts to know it. I love magic and look forward to earning more about it in this world as the series continues.
The tale is nearly at the end by the time the couple meets and "battles" each other. The stakes are high and once they have decided how they will proceed, we are at the end. So while not a cliffhanger, there is much of the story for us to learn. The series continues with The Fiery Crown in 2020 and I'll definitely be reading.
Latest posts by Anne - Books of My Heart
(see all)
Reading this book contributed to these challenges:
Related Posts