The Sunday Post is a weekly meme hosted by Kimberly  @ Caffeinated Reviewer. It's a chance to share news~ A post to recap the past week, and showcase books and things we have received.

Stacking The Shelves is also a weekly meme hosted by  Tynga's Reviews and Marlene from Reading Reality.  It's all about sharing the books you are adding to your shelves, may it be physical or virtual. This means you can include books you buy in physical store or online, books you borrow from friends or the library, review books, gifts and of course ebooks!
---
Don't forget to look at my giveaways on the right sidebar.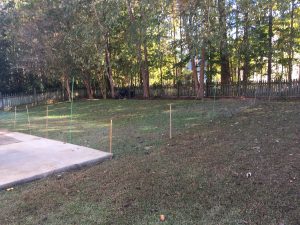 Sunday, was a rainy day so I got busy catching up on blog visiting and creating review shells.  Feedly had 73 posts for me and I finally got current!  COYER Book Club is always fun and we talked about how to go forward, what to do in December and plans for 2021 COYER.  And Linda was there (from Switzerland)!
Monday was back to pleasant weather. I fenced off 3/4 of the yard so I could weed/feed it and Lulu would not get poisoned.   I took a bunch of old leaves to mix into the front yard bed and then we covered it with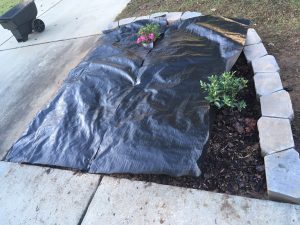 landscape fabric, followed by pine straw.  We started work on the jewelry armoire, first taking off the door so it wouldn't be as heavy and to take out the shelves and drawers we don't want.   I made good progress but then wasn't sleeping so I finished my book at 3am.
Tuesday, was a less outdoor day because of the lack of sleep.  The weather was still perfect.  I focused on household chores and trying to catch up on reviews and review post setups.  I made a fresh tomato sauce with tomatoes and basil from the garden.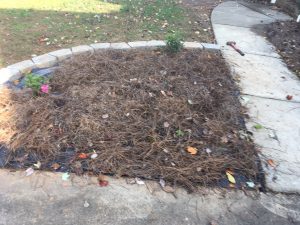 Wednesday I had every intention of getting out to do more yard work. But the weather was forecasting rain and so I waited and waited, with no rain.   I did manage to do a lot of catchup on computer work writing reviews and creating setups.  Thursday, we finally got the rain so I could change the temporary fencing between showers and do the final section of weed and feed.  I also worked to stake the front yard garden landscape fabric and then cover the bed with pine straw. I finally got my COYER and Library Love challenge links updated.  I cooked my daughter's favorite Cashew Chicken for dinner and made pumpkin muffins & bread.   I tried to go to bed early but my daughter and her dad went to McDonalds to catch Pokemon. Since they went out the front door, Lulu, who NEVER barks, barked her head off at 2am because they didn't take her on their "walk."  I have seriously only heard her bark 3 or 4 times in the 1.5 years since we rescued her.
Friday was a "trying to hang in there" day after a night with less sleep.  I read in the morning because I had a headache.  I didn't go out in the yard like I planned, so I'm glad I did more yesterday. The neighborhood chef made clam chowder which was gluten free but they only posted about it at 2 pm and you had to say you wanted it by 4pm.  I commented that I wanted it but it was too late, but they are making more for Saturday so we get it!
Well I had high hopes of putting down landscape fabric but we decided the kind we got was too impervious so off to Lowe's to get some that lets the water through.  I did my usual email reading.  I tried to figure out if I could read any of the books for review requests. Penzeys was having a GREAT deal so I placed an order to pickup at the local store.  I updated my flower journal with the info for the Azalea and Gardenia in the front yard.  I shopped the Audible 2-1 sale.  Most of them I can get at the library but I found a couple to buy.  I've been looking on Facebook Marketplace for a little bench for my front porch and finally found one.   Now I just really need to power wash the porch from the cobwebs.  I finished 2 more books, wrote a couple reviews, and did a little planning for November.  I put together a couple of grocery orders for  tomorrow.  Happy Halloween and Blue Moon!
---
October Reading:  I had another good reading month.  I managed to read 25 books. Audiobooks continue to help me read more. Some count for more than one challenge.  I listened to  11 audiobooks, read 5  library books,  20 COYER reads,   and  2  books which I already own.
All Library books (including ones not reviewed on the blog)  2020 Library Love Challenge
---
Bookish Resolutions update:   I'm not going to be any good at breaking down my goals more into tasks.   With yard projects ending as the weather cools,  I hope to do some blog ahead in November for 2021.   I created post shells as I got ARCs.
I did manage to read 2 books I own (goal is 3 per month):
A Darker Shade of Magic by VE Schwab
No Simple Death by Valerie Keogh
---

Stacking the Shelves is hosted by Tynga's Reviews and Reading Reality.  These are the exciting ARCs I received this week (If you click on the cover, it will take you to the Goodreads entry):
Big thanks to Tantor Audio!                        
(If you click on the cover, it will take you to the Goodreads entry)
I used some of my Amazon no rush shipping credit to buy this for $1.99.  I want to listen to the series on audio and sometimes the least expensive way to do it, if it is not at the library, is to buy the Kindle version and add Whispersync.   Although sometimes the half off everything audio price is better but there are 17 of these so I'm unlikely to buy them all in one year.
I found a couple audios at the Audible 2-1 credit sale.

Now the really scary one. This is all the Kindle and Audible freebies I grabbed this past week. You can see why I need to do Thrifty Thursday to be sure I read a few at least one each month.
I really meant to cut back on freebies BUT  they are free so I guess that won't be happening.

I'm not including things like reviews posted or upcoming as they are always in the right sidebar. And, my challenge status is also there.
After so much perfect weather, it seems to be cooling off.  I had a strong run at yard projects this autumn and will still have some to do but I also look forward to some indoor crafts and more reading.
Anne
Latest posts by Anne - Books of My Heart
(see all)