Review copy was received from NetGalley. This does not affect my opinion of the book or the content of my review.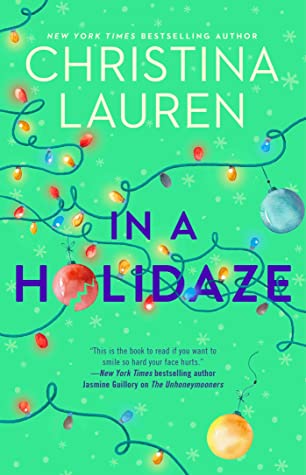 In a Holidaze
by
Christina Lauren
Published by
Gallery Books
on October 6, 2020
Genres:
Contemporary Romance
Pages:
320
Format:
eARC
Source:
NetGalley
Goodreads
Amazon
, 
Audible
, 
Libro.fm
, 
Barnes & Noble
, 
Apple





It's the most wonderful time of the year…but not for Maelyn Jones. She's living with her parents, hates her going-nowhere job, and has just made a romantic error of epic proportions.

But perhaps worst of all, this is the last Christmas Mae will be at her favorite place in the world—the snowy Utah cabin where she and her family have spent every holiday since she was born, along with two other beloved families. Mentally melting down as she drives away from the cabin for the final time, Mae throws out what she thinks is a simple plea to the universe: Please. Show me what will make me happy.

The next thing she knows, tires screech and metal collides, everything goes black. But when Mae gasps awake…she's on an airplane bound for Utah, where she begins the same holiday all over again. With one hilarious disaster after another sending her back to the plane, Mae must figure out how to break free of the strange time loop—and finally get her true love under the mistletoe.
A little bit Christmas story and a lot a bit Groundhog day.
Masie and family have done the same Christmas routine for as long as she can remember.  Go to a cabin in Park City with some of her parent's friends from college and their children and spend Dec 20 – Dec 26 doing all the traditional things.  It is the best part of her year and she has just screwed up royally only to learn that the cabin is being sold and she might never spend the holidays with this makeshift family again.  In a panic she asks to see what will make her happy and then the car is violently hit by a semi full of Christmas trees only for her to wake up at the start of the holiday all over again.
In a desperate bid to make sure she doesn't make the same mistakes again Masie is determined to:
Not drunkenly make out with Theo, because she is in love with his brother Andrew.
Figure out how to get Andrew and Theo's parents not to sell the cabin.
Tell Andrew how she feels and hope he is into her too.
What will it take for her to get her Christmas miracle?  There are going to be a few mess ups and do overs and Masie is going to need to be honest with herself first and the rest of the family after that if there is any hope of her making it to the end of this holiday without looping into the beginning again.
Masie was easy to like.  She has had a failure to launch situation happen and is living at home with her parents and brother.  She has also always been encouraged to gravitate to Theo so they can all be family for real.  But the truth is she has had a secret crush on Andrew since she was thirteen and it looks like it is going to have to be now or never if she wants anything to come of it.
"I've essentially handed my heart over to the person who's had it on reserve for half my life, and I'm terrified that he doesn't realize what he's holding."
Andrew knows that Masie is acting a little crazy, but it is in a good way and he is all for shaking up all the traditions and possibly making a few new ones.  This is the girl he never gets to see and even though he has liked her forever, she was supposed to be for his brother so he never even tried.  Except now seems like the time and Masie has made it clear that she is into him so maybe, just maybe he can get out of his own way and make a play for the girl he has never dared to want.
Eventually you can see why Andrew and Masie are totally made for each other, their conversations and banter are very fun and playful which I expect from a Christina Lauren story.
Totally a cute holiday story filled with fun, family angst and learning how to trust yourself to make the big choices and take the big chances in life.
Rating Breakdown
Plot
Writing
Characters
Dialogue
Overall:
Related Posts