Review copy was received from Publisher. This does not affect my opinion of the book or the content of my review.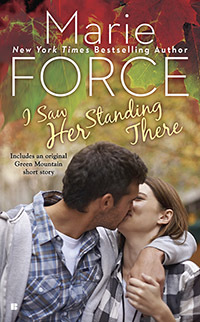 I Saw Her Standing There
by
Marie Force
Series:
Green Mountain #3
Published by
Berkley
on November 4, 2014
Genres:
Contemporary Romance
Pages:
393
Format:
Paperback
Source:
Publisher
Goodreads
Amazon
, 
Audible
, 
Audiobook
, 
Barnes & Noble
, 
Apple






Colton Abbott and Lucy Mulvaney have a secret. Colton's nosy siblings have begun to put the pieces together, but it's not like Lucy to keep things from those closest to her—especially her best friend, Cameron, who recently moved to Vermont to live with her true love, Will. But Lucy isn't about to tell Cam she's having a fling…with Will's brother.

Flitting between New York and Vermont is exhausting, so Lucy is looking forward to a long weekend with Colton at the Abbott family lake house in Burlington. Too bad Will and Cameron have the same idea, and once Colton and Lucy are caught red-handed (and red-faced), will their clandestine romance lose its appeal or will their secret beginnings be the start of something lasting?
ICYMI is a post from my early days of blogging at Yummy Men & KickAss Chicks.   You can see the original review here.
Yummy Man – Colton Abbott
Kick Ass Chick – Lucy Mulvaney
---
I am really loving this Green Mountain series by Marie Force.I Saw Her Standing There is the third book. It is a little sappy and unrealistic. But it has great humor and that means a lot to me in a book I am reading for the fluffy escape it offers.
The Abbott family and the Vermont town where they live are endearing. I enjoy getting to see these people as the series continues. The characters are engaging. And I have to admit — I love Will from the first book. I may never get over him. I'm head-over-heels, turned inside out, drooling over him. So I was more than happy with the snippets of him in this book.
Colton is a mountain man. He's the brother who makes the maple syrup for the family's general store. It's hard, physical work. His home has no electricity or running water. He chops wood for heat. His body shows the benefit of all this work, too. He's been happy to be alone with only casual sex with women in the past.
Lucy misses Cameron since she has left the business and New York. Cameron is her best friend and business partner. She has strong ties to New York with her dad, sister and niece. She has a lot more responsibility for the business they own with Cameron in Vermont. She also loves her time with Colton, but they live six hours apart. Lucy has never had a relationship and has trouble believing things will work out.
Colton and Lucy struggle with their feelings since they want to be together but don't live near each other. They are falling in love and just don't know how things can work out in the long run. They are both happy with their lives and where they live but also with each other. I found their emotional process for this part realistic; I just didn't quite see how they fell for each other so quickly.
This book has plenty of hot, sexy scenes. Colton is funny when sexy, too. He is so sweet and so trustworthy as he wants to be with Lucy and no one else. He is absolutely wonderful to Lucy and helping her with any doubts or insecurities. He's just amazing.
I Saw Her Standing There includes the wedding of a couple we saw get together in a previous book. It also has some setups for future books. Lincoln and Elmer are killing me. I might die laughing. Let's just say they would get along well with Lucille from Jill Shalvis' Lucky Harbor series. And I love Fred.
I recommend this series highly but I would read them in order to really appreciate the people and the relationships.
Giggle worthy quotes –
"Will's my brother, not my keeper. We're family, and we're close, but we're not up each other's asses."
Her button nose wrinkled adorably. "That's a hideous visual."
~
"I'll get it. Are you going to get ready?"
"I am ready."
"I'm coming back in my next life as a guy."
"That'd be a terrible shame, honey."
~
"You have to give me some of the juicy details … He's got that whole brawny sexy thing going on."
Lucy giggled at Cameron's description of Colton. "So I've noticed."
"And?"
"What do you want me to say? It was amazing. Best sex I've had in my life but you already know that because you're having the best sex of your life with his brother. What's the deal with the Abbott men and their magic … wands?"
Latest posts by Anne - Books of My Heart
(see all)
Related Posts