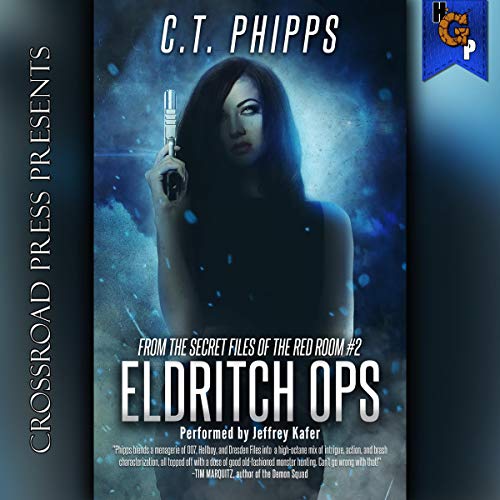 Eldritch Ops
by
C.T. Phipps
Narrator:
Jeffrey Kafer
Series:
From the Secret Files of the Red Room #2
Published by
Crossroad Press
on October 20, 2020
Genres:
Urban Fantasy
Length:
8 hours, 53 minutes
Format:
Audiobook
Source:
Author
Goodreads
Amazon
, 
Audible
, 
Audiobook
, 
Barnes & Noble






Derek Hawthorne has ascended to become a member of the all-powerful Committee, which rules the world through the nebulous House. The House, officially, exists to protect humanity from the vampires, demons, and other forces of darkness that imperil humanity. Unofficially, it exists to protect its own power.

When his old partner, Christopher Hang, turns up as one of the undead — Derek is nonplussed to say the least. Christopher also has a message that troubles the tiny remains of Derek's conscience: The House is running a secret project to not only control supernaturals but eliminate them. Now, Derek has to figure out if he's to side with the supernatural or humanity or neither. Oh and did we mention Dracula, pirates, and werewolves were involved, too?

Eldritch Ops is the sequel to Esoterrorism which follows Derek Hawthorne, a supernatural James Bond type. He is a member of the "House", which is a group that works to keep the monsters under control and out of the public eye. Each branch of the group is a different "room" with a color. Derek is part of the "Red Room", which are the spies.
Derek has lived his entire life in the House, his entire family is involved in some way at some point, including his father on the council. His mother isn't in the picture, she left before he ever really knew her. He also has a twin and several half brothers and sisters.
So there is a lot that happens in this story and it builds on the first book (Esoterrorism:From the Secret Files of the Red Room, which I highly recommend you tackle first). We also meet more of Derek's "friends". I put friends in quotes because as a spy, does Derek really have true friends? It is hard to tell sometimes who you can and can't trust.
If you like stories with a lot of action, even more snarkiness and that is fast paced, this series will be for you. You never know where the story is going with many twists and turns along the way. You will also come to love all the characters. You start to really root for them and want them all to make it out alive. It is also hard to tell who is the bad guy and who is the good guy. There's also vampires, werewolves, wizards, psychics and more. What more do you need? You want to try this series, I promise.
Narration:
Jeffrey Kafer narrates this series and he's amazing. If you haven't listened to one of his performances yet, what are you waiting for? He works in many different genres and I've listened to most of them. He's wonderful, no matter the genre, romance, sci-fi, paranormal, action and more. I think Kafer is really great at bringing out the humor in a story. It is probably what I love most about his performances. You really should check him out.
Listen to a clip: HERE
Rating Breakdown
Plot
Writing
Characters
Dialogue
Narration (Audio)
Overall:
Related Posts