Review copy was received from Publisher. This does not affect my opinion of the book or the content of my review.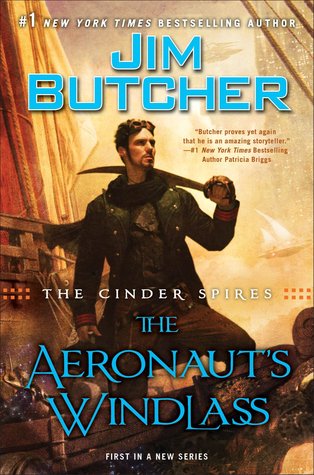 The Aeronaut's Windlass
by
Jim Butcher
Series:
The Cinder Spires #1
Published by
Roc
on September 29th 2015
Genres:
Urban Fantasy
,
Steampunk
,
Science Fiction
Pages:
630
Format:
ARC
Source:
Publisher
Goodreads
Amazon
, 
Audiobook





Since time immemorial, the Spires have sheltered humanity, towering for miles over the mist-shrouded surface of the world. Within their halls, aristocratic houses have ruled for generations, developing scientific marvels, fostering trade alliances, and building fleets of airships to keep the peace.

Captain Grimm commands the merchant ship, Predator. Fiercely loyal to Spire Albion, he has taken their side in the cold war with Spire Aurora, disrupting the enemy's shipping lines by attacking their cargo vessels. But when the Predator is severely damaged in combat, leaving captain and crew grounded, Grimm is offered a proposition from the Spirearch of Albion—to join a team of agents on a vital mission in exchange for fully restoring Predator to its fighting glory.

And even as Grimm undertakes this dangerous task, he will learn that the conflict between the Spires is merely a premonition of things to come. Humanity's ancient enemy, silent for more than ten thousand years, has begun to stir once more. And death will follow in its wake…
I have only begun my love affair with Harry Dresden and now this gem has arrived.  Perhaps it is Jim Butcher that I am falling for?   
This is steampunk?  If so, it is perhaps my first one and I loved it.   I am uncertain if this story is in the past or in the future, an alternate universe for certain.   The ships seem a combination of old and new with some being made from wood and then some armored, with sails, but also special crystals for other power.   The ship's weapons include cannons and guns. People have knives and swords and rifles and gantlets.
The characters are lovely and we get a broad spectrum of types, from low to high members of society.  And there are competent and the not so competent.  There are confident and the doubtful.  But all of them are multi-faceted and not just a cliché of style.   I love them, the good, the bad and the ugly.  
I guess I would say there are supernaturals in The Aeronaut's Windlass or at least other species.   The warrior-born and the etherealised are two of the types to learn in this world.  Cats also have an interesting role.
The story is a bit war / military like with lots of great action, but this is more like a swat team against terrorists at the beginning of a much larger conflict story.  The foundation here is solid and fascinating, but there is more to come.  One of the reasons I love military and battle stories is the technology described; I found that here.
For me, the icing on the cake in The Aeronaut's Windlass is the humor.  There is also a touch of romance and some great relationships, not just romantic relationships but many types.  It makes it real for me and gives all the feelings.  An excellent start for this new series – I can't wait!
Giggle worthy quote:
"Miss Lancaster, having taken note of your talents and your, ah, determination to stay the course, regardless of how ill-conceived it may be, I am sending you to be smoother."

"A what?"

"Your duty is to smooth the way for Master Ferrus's inquisition. The inquisition must keep moving forward. You are to avoid, overcome, or knock down any obstructions that may block your path."

Gwen found herself frowning. "I'm not sure I know how to do that."

"I'm not sure you understand how to do anything else." Benedict quipped.
Latest posts by Anne - Books of My Heart
(see all)
Related Posts