Review copy was received from NetGalley. This does not affect my opinion of the book or the content of my review.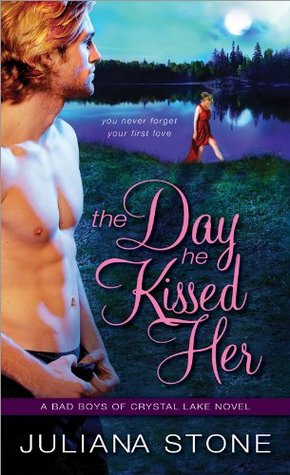 The Day He Kissed Her
by
Juliana Stone
Series:
Bad Boys of Crystal Lake #3
Published by
Sourcebooks Casablanca
on April 1, 2014
Genres:
Contemporary Romance
Pages:
321
Format:
eARC
Source:
NetGalley
Goodreads
Amazon
, 
Barnes & Noble
, 
Apple





He can't wait to leave...

Mac Draper finally has everything he's always wanted: An amazing career. A New York City apartment. He's this close to being free of his past forever. But a mind-blowing encounter with the sexy yet tough-as-nails Lily St. Clare has him delaying his plans to put Crystal Lake in his rearview mirror for good.

She's finally found a place to stay...

For Lily St. Clare the charming small town of Crystal Lake is her haven - a place she can hide from her famous, back-stabbing family. It's as close to happy as she's ever been. Until an unforgettable night with tall, dark and tortured Mac Draper gives her a glimpse of what true happiness feels like.

Lily can't help but melt a little under the sizzling heat of Mac's touch. But Mac's scars run deep, and Lily's afraid she may be falling for the one man who can never return her feelings.
ICYMI is a post from my early days of blogging at Yummy Men & KickAss Chicks.   You can see the original joint review here.
Yummy Man – Mac Draper
Kick Ass Chick – Lily St. Claire
---
Julie:  The Day He Kissed Her is the third and final book in Juliana Stone's Bad Boys of Crystal Lake trilogy.
Anne: I love this series with its bad boys, high level emotional issues, and hot sex.  With this being Mac's book,  I knew there would be horribly bad history.  I just didn't expect it to be in the present in the ways it was.
Julie:  I always found it odd these men were labelled 'bad boys'.  I suppose they could be thought of as bad boys in the small town they are from but it's not like they set churches on fire or anything of the sort.  They were basically trouble makers in their youth and they have all found their way back to the town they grew up in and the label still stuck…even though there is nothing 'bad' about them now.  All of these men have issues to deal with but none were as weighted as Mac's.
Mac comes from an abusive household.  Dad beat Mom and then turned his fists to his children.  On top of that, he feels his mother chose his father over her children since she never tried to take them away from the abuse she knew was happening. Thanks to this, Mac feels he does not deserve a HEA.  But really, it just makes him worthy of one all the more.  He is a heavy and truly messed up character but Juliana writes him wonderfully.  But even with that, I don't think I have ever read a contemporary romance hero who I have wanted to strangle and shake so much, yet find so amazingly sexy at the same time.
But I completely agree with you where I didn't expect Mac to still have new issues to deal with and that he was not dealing only with issues from his childhood.
Anne:   So it is clear why Mac is not a "relationship" kind of guy.  He starts as the alpha man whore as many hot guys do. I mean half the romance books start like this, with a guy who has never actually had a relationship.
I have to say I was rolling my eyes when Lily stays over and he just leaves her after talking to his sister.  Seriously,  he couldn't just check in with her briefly or leave her a note or something?  I realize he had a lot on his mind but common courtesy would have been nice.
Lily was amazing.  For all the difficulties she had with her family, she handled it well.  She also was patient and caring with Mac.  She really pulled herself together quickly, no matter what life threw at her.  Luckily, she also had the support of her good friend, Jake.
Julie:  I also had some issues with how Mac treated Lily.  His behavior is justified considering what he has been through but still, I think he could have gone once or twice without being such a douche.
Lily really impressed me.  She has not had the easiest life either – nothing comparing to Mac but unnecessary drama nonetheless – yet she has done a better job keeping a more positive outlook on things.  She too thinks she is not able to do a 'real' relationship but she is more open to things once Mac comes into the picture.  I liked how she was not whiny or bitchy and I liked how she understood Mac but didn't just roll over and let him treat her badly.  And their chemistry!  Holy cow, it was amazing!  I think Mac and Lily have the most intense chemistry of all the couples in this series.
Anne:  His connection with Lily was great, and that is what it took for him to grow personally.  Their feelings for each other, the intensity of their need to be together, forced each of them to grow personally.  Lily did a better job of it and more on her own than Mac, but her present and history were not as personally devastating as Mac's life.
I also loved her strength and willingness to do what Mac needed and make the relationship work.  Mac,  as all alpha males, took longer to get it but once he did, he started making better choices.
And yes,  wow they are hot! I loved it and how unabashed Mac is about it. I'd adore it but also be so embarrassed.
Julie:  I'm glad Mac finally comes around and I do like him when he does.  The author doesn't make him sprout rainbows.  He's had a tough life and this 'relationship stuff' is always going to be a challenge for him and that is how Juliana writes it.  She kept Mac real the whole way through and I feel that is important.
Anne:  I really loved this series and hate to think this is the last one. I want to know what happens to them, and to Becca, for example.  I enjoyed seeing all the other characters from previous books and their parts in the story.  Cain and Jake were both pretty hilarious. Jake was there to support Lily and Mac at various times.  We saw more of Mac's family. I loved the baseball coaching too.  These characters, even in small roles, seemed very real to me.
Julie:  That is a talent I find Juliana definitely holds with this series – the ability to make these characters very real.  And, like you say, it's in the details.  The coaching and the support of friends and family.
There are two scenes I absolutely love in this book and both involve the words "I call bullshit."  Jake has always been a good friend for Mac but in this book, at this time, he is exactly what Mac needs.  And Jake's mom!  She really does not play a big role in this series but she definitely helped things along in this book.
Anne:   Jake's parents are more of parents to Mac than his own are.  I don't like Mac's parents very much.  I won't say his mom is stupid, but she is weak.  If some guy hit me, I'd hit back or be out the door in one second flat. It's one thing to compromise for someone you love; it's another to sacrifice your health or safety or that of your children.
Julie: I was very surprised by Mac's mom's attitude towards his dad and the things he did.  Maybe that is a more realistic approach to it and maybe my vision of having Mom hit Dad upside the head with a baseball bat is not.  I guess while reading I was assuming there would be more closure where the whole 'Mac's mom and dad' plot is concerned but there really wasn't.  I am still undecided on whether I'm disappointed that there wasn't much of a conclusion there or if my expectation was unrealistic all along and that Juliana actually wrote the story like it happens most often in real life.
Anne:  The parents aren't the focus of the story, only a side plot.  This is Mac's story.  I really enjoyed him even with his issues and am happy he was able to live his own life.
Julie:  I think I felt by having mom and dad subplot put to a satisfying rest, then Mac could move on more easily.  But by not doing that, Juliana made that Mac had to grow and move on on his own, which ended up building his character.  I still wish Mom hit Dad with a bat though ?
Overall, I was pleased with The Day He Kissed Her, even though it is quite a bit heavier than I usually like my contemporary romances to be.  The reason I got hooked to this series is the characters.  Juliana managed to write such depth and realism into them that it was hard not to get invested.  Cain, Jake and Mac are all wonderful heroes deserving of their HEAs and the heroines are strong, likeable characters who are deserving of our incredible men.  Fans of this genre who appreciate emotionally captivating stories really need to check this trilogy out.
4.5 stars for me
Anne:   I also recommend this series if you like emotionally based, character driven stories (with HOT sex).  I'd like to have more.
4.5 stars
Giggle worthy quote:  
"Oh God.  Don't you guys ever get sick of sucking face?" he said, his face all screwed up.  "It's all you ever do."
Latest posts by Anne - Books of My Heart
(see all)
Related Posts