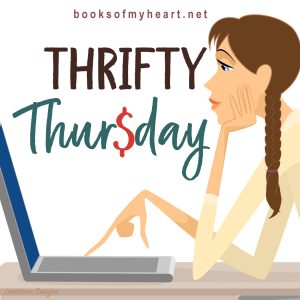 The purpose of Thrifty Thursday is to read a book which was free (at some point).
Kindle freebie on December 2, 2019  (currently unavailable to purchase as of writing this post)
Overall rating 4.36 with 260 ratings and 37 reviews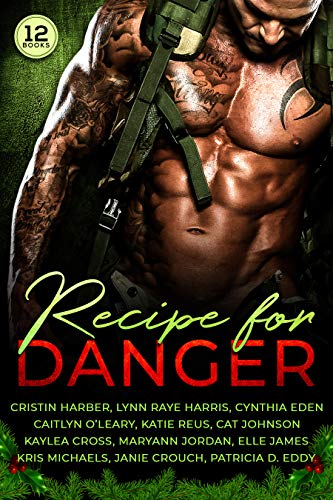 Recipe for Danger
by
Janie Crouch
,
Patricia D Eddy
,
Cat Johnson
,
Kaylea Cross
,
Caitlyn O'Leary
on November 28, 2019
Genres:
Romantic Suspense
Pages:
2501
Format:
eBook
Source:
Purchased
Goodreads




Authors' Note: RECIPE FOR DANGER is a limited time boxed set. It is a gift to our readers of our previously-released books--a way to introduce you to new series to love! TWELVE BOOKS INCLUDE:

Hot and Bothered by Lynn Raye Harris
Deja Vu by Cristin Harber
Never Let Go by Cynthia Eden
Miami, Mistletoe & Murder by Katie Reus
Cyclone by Janie Crouch
Hot Billionaire for Hire by Cat Johnson
Fractured Honor by Kaylea Cross
Serial Love by Maryann Jordan
Soldier's Duty by Elle James
Montana Guardian by Kris Michaels
Breaking His Code by Patricia D. Eddy
Declan by Caitlyn O'Leary

Plus, a recipe from each author!
This is a little different because it is an anthology of complete books so I am working on the books, which are first in the series, or the first of the series if I have it.
One of the books included in the anthology is Fractured Honor by Kaylea Cross, which I have already reviewed.  I have also gone on to read the entire Crimson Point series and enjoyed it quite a lot.
---
Cyclone
by
Janie Crouch
Series:
Linear Tactical #1
on September 25, 2018
Genres:
Romantic Suspense
Pages:
278
Format:
eBook
Source:
Purchased
Goodreads
Amazon
, 
Audible





Meet Zac Mackay. Military codename: Cyclone. He's a widower, a protector, a hero.
And the person who could destroy Anne's life.

Doctor Anne Griffin is back in Oak Creek, Wyoming, only because she has no other options. Here, she was always the shy, stuttering girl, invisible to everyone.
Except Zac. The very reason she left in the first place.

Zac's years in Special Forces taught him survival skills, and he's created a company--Linear Tactical--to teach those skills to others, so they never have to live in fear.
Then why is Annie, the last person he'd ever want to hurt, afraid of him?

Zac's determined to wipe the fear from the eyes of the woman who has never been far from his mind. And fix the mistakes--his mistakes--that put that look there in the first place.

But a predator has set his sights on Annie. And now survival skills will become much more than lessons...
The story setup here is a common one for ex-military men, often friends since before they military.  The setting is a smaller town in Wyoming (but big enough to have a hospital).   The retired military guys and their friends have a business Linear Tactical.  The Linear Tactical series is the romantic suspense stories as the guys each find their HEA.
Cyclone starts with the story of Zac, a hometown guy,  who is a widower with unfinished business with his wife's best friend, Annie.   He's a caring guy who went through hell when a drunk driver killed his wife and son.
Annie is the wife's best friend from high school.  She's always been shy, a quiet lover of books.  She went on to get her medical degree.  She's back in her hometown of Oak Creek as a new emergency room doctor.
Zac and Annie had a friendship in high school but had an incident shortly after his wife's funeral.  They were both emotional and didn't communicate well.   Now they are both respected people in their hometown.  This story gives us their past and present as they work things out into a new relationship, and we learn their characters as they grow.
There is also the world building of the town of Oak Creek and some key citizens, and the hospital staff, and Linear Tactical team.  The actual work at Linear Tactical is fascinating with classes in self-defense and survival skills, and some law enforcement skills.
I enjoyed Cyclone as a solid start to a series in a genre I like. I am not sure everything felt quite realistic but mostly it seemed believable.  I hope to read more.
---
Breaking His Code
by
Patricia D Eddy
Series:
Away from Keyboard #1
on July 24, 2017
Genres:
Contemporary Romance
Pages:
192
Format:
eBook
Source:
Purchased
Goodreads
Amazon
, 
Audible
, 
Barnes & Noble
, 
Apple




West is alone. Drifting. Battling his demons every night when the fallen haunt his dreams. When a ghost from his past comes calling, he can't answer, and the pain threatens to tear him apart. His Krav Maga studio is in trouble, and his only reprieve from the darkness? His online gaming sessions.

Cam was an explosives expert in Afghanistan until one wrong move left her scarred for life.
Now she hides behind her keyboard—and her cane—until the guy she's been flirting with online convinces her to give him a chance in the real world. Timing is everything, and caught between looming threats and the first stirrings of love, Cam bolts so she doesn't have to admit she's broken.

Can West convince her that broken is beautiful?

Breaking His Code is the start of the best-selling Away From Keyboard military romance series.
I picked Breaking His Code next, which starts the Away from Keyboard series.  I hadn't read this author previously and I liked the idea of a story with technology.   Overall, I liked the book but it didn't do enough for me on either story layer.
The technology was interesting but it didn't really go into it in any depth.  There was a nice gaming aspect, although I am not a gamer.   I picked up on the problem right away which took Cam a few weeks to grasp.
The relationship had the same problem for me as another book I read recently.  This couple met online and enjoyed each other, talking and gaming.  But in the other book I read, we were there for all that fun and banter. Here the story starts with that in the past, and they are having their first face to face meet.   As in the other book I read, this has its ups and downs but focuses primarily on sex and each one trying to decide if they are going to trust the other.
Both Cam and West have serious challenges at work and go this part alone,  working through their problems and growing personally but without the other's presence or support.   Then they come together, and it's the end. (This is the same as the other book's pacing)  I would have liked to see a bit more of the relationship together, not much but at least a few pages of them together and communicating.
The story has its chapters from each point of view so we do get a good development of both Cam and West.  I like these characters.   I needed a little more buildup of their connection.   I think I will read on in the series, as it looks like the next book,  In Her Sights,  has one of each of their colleagues as a main character.  So we might get peeks at how Cam and West manage their challenges going forward.
---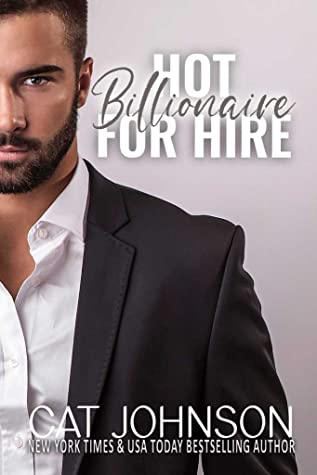 Hot Billionaire for Hire
by
Cat Johnson
Series:
Hot for Hire #1
on April 3, 2018
Genres:
Romantic Comedy
Pages:
196
Format:
eBook
Source:
Purchased
Goodreads
Amazon
, 
Barnes & Noble
, 
Apple



I'm a billionaire, not a security expert, but even I know my all-American girlfriend taking me down in one smooth move and speaking fluent Russian is suspicious. The worst part? I don't seem to care when I've got her alone, up against the wall with my hand fisted in her hair.

Then there's the little matter of the two gun-toting Russians after us. I guess this is what I should expect for owing my Navy SEAL buddy Zane a favor...
I picked this one to read next because it is shorter at 196 pages.  Hot Billionaire for Hire is categorized as a romantic comedy.  Sadly, there was nothing I found funny or even believable.  I didn't connect with any of the characters and the "mystery" made no sense to me.
The anthology  Recipe for Danger is more romantic suspense, and it does fit that genre a bit better.  Hot Billionaire for Hire is not the book for me.
---
Declan
by
Caitlyn O'Leary
Series:
Shadow Alliance #1
on October 2, 2016
Genres:
Romantic Suspense
Pages:
223
Format:
eBook
Source:
Purchased
Goodreads
Amazon
, 
Barnes & Noble
, 
Apple




Spin-Off of Navy SEAL Midnight Delta Series

This is what you need to know. I keep the people around me safe, And sometimes I rain vengeance on my enemies. It's who I am, and what I do. As a former Army Ranger, I get the job done. After an unforgivable betrayal by one of my own, I created the Shadow Alliance. We handle the dark and dangerous work, Jobs that governments won't.

And now, the sexy, smart, and feisty Allison Davies needs my help. As an FBI Agent, enlisting my help could cost her job. But, I'm her only hope. There's only one problem. Our mutual desire just might get in the way. One misstep and we become the hunted. A price I just might be willing to pay.
Declan starts with a flashback to when he was active duty as an Army Ranger.   Apparently this is a spin-off to a previous series, which makes sense, because I felt slightly like I was dropping in at the end of a series.  There are a lot of characters.
I enjoyed the world and could have used just a bit longer book to develop at least the main characters even more.  The book is mostly Declan's POV.  We get some of the time Allie is not with him but not really her thoughts.   There relationship is fast, maybe too fast.   I like both of them and how much they care about others, especially children.
The world events and mystery are all a bit vague.  We don't learn everything about the Shadow Alliance or all the projects.   The current flooding in Paraguay and the various problems there are sad and the team does their best to deal with them.  The long term vendetta is coming to a head.  Declan and Allie together along with many others on the team are needed to solve it and it's dangerous to the end.
While Declan is listed as the first in the series, there don't seem to be any more books five years later.  I'm a bit sad as I think I would read more.
---
These are only Kindle freebies I get, or ones through author newsletters which anyone can sign up and get for free. I don't include things like Kindle Unlimited or Prime Free Reading (I do have it). Both Tantor and Audible have occasional free audios (to anyone) and I do include those.  Since I one-click on 1-2 freebies a day or probably at least 5 a week, I came up with this feature to make sure I start reading them.
So I have thought about doing a Thrifty Thursday Challenge someday. For now,  what I think would be fun is if you have read and reviewed  a freebie, link up to your review (Goodreads, blog, facebook or wherever) below.
---
Add your review link here: 
Mister Linky's Magical Widgets — Thumb-Linky widget will appear right here!
This preview will disappear when the widget is displayed on your site.
If this widget does not appear,
click here
to display it.
Latest posts by Anne - Books of My Heart
(see all)
Reading this book contributed to these challenges:
Related Posts