The Sunday Post is a weekly meme hosted by Kimberly  @ Caffeinated Reviewer. It's a chance to share news~ A post to recap the past week, and showcase books and things we have received.

Stacking The Shelves is also a weekly meme hosted by Marlene from Reading Reality.  It's all about sharing the books you are adding to your shelves, may it be physical or virtual. This means you can include books you buy in physical store or online, books you borrow from friends or the library, review books, gifts and of course ebooks!
---
Don't forget to look at my giveaways on the right sidebar.
Sunday, was pretty nice so after I lolled around reading a bit and visited blogs.  I went out and mowed the lawn.  I also scrubbed the rug again.  I watered all the plants.  A new lavender daylily bloomed.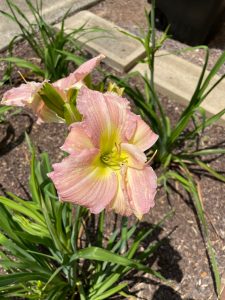 Monday, two more new daylilies bloomed.  I had calls to make to set up for appts and to handle medical stuff.  I updated linkys for the library challenge and COYER.  I uploaded new audio to my phone.  We finally had my daughter's birthday dinner at Goji Bistro.  It's an Asian theme which has a good gluten free menu.  We had Chicken Pad Thai,  Candy Walnut Shrimp and Royal Hawaiian, with lettuce wraps as an appetizer and hot tea.  Oddly to me,  Candy Walnut Shrimp has pineapple in it but Royal Hawaiian does not.  But Royal Hawaiian has lots of veggies which is what we wanted.  Then we got ice cream at Brusters.  I was stuffed before the ice cream.
Tuesday,  I had made a bunch of appts.  We had a roofing guy,  then the kitchen designer with her construction guy,  and then another window repair guy.  I was trying to do things I wouldn't care so much if I got interrupted.  I went down the rabbit hole on cleaning out old emails.   I did manage to finish cleaning the family room rug and get it back in place.
Wednesday,   I slept a bit late since I knew it would be a busy day.  My daughter had an appt with the specialist which is an hour each way to drive.  We also got 3 skids of sod and luckily we did get one neighbor boy to help.  It looks great and we should be able to finish tomorrow morning.  You can see the line in the backyard between the sod and the yard with weeds and rocks. We stopped at Sam's club for a few things.
Thursday,  every day is a barn burner.  Where did that expression originate?  Anyway,  always laundry and dishes, projects and errands.  We've been lucky it's been low 80s and wind from the north these 2 days of laying sod.  Lulu loves the new sod.  I am following up with roofers and window repair folks to get their quotes if they haven't sent them. This photo is the west side of the house which has lots of the nice daylilies.
Friday, and no hot water again!  They can't come out until Monday.  We know how to light the pilot light now but it shouldn't go out every week. I wanted an open day but one more meeting with the kitchen designer and one more window repair guy.  Thankfully, they were on time.  I got busy with more laundry, dishes and menu planning.   I was moving around the sprinklers for the water. I mowed the lawn, at least the parts which aren't new sod.  I worked on new post setups,  my mid-year library savings and the library love quarterly newsletter.
Saturday,  I had hot water after my ex lit the pilot light about 3 am.  I went to pick up some flannel from a Buy Nothing group member.  My quilting group makes receiving blankets for homeless shelters and NICU, if we get going after COVID.  In the meantime, my daughter and I can continue making them.  I picked most of the lettuce in the garden to make a big salad for dinner. Our neighbor also gave us cucumbers and grape tomatoes.  It's 94F (34C) but a nice breeze so it's not as bad as you might expect.   I didn't get as much accomplished as I hoped because my brother called and we talked money. He thinks I should calculate when I should take social security.  There are the considerations he and my parents considered: health,  current work / income (and if you like it),  percent difference between taking earlier vs. later,  and inflation.
I'll leave you with a throwback 15 years ago of my daughter and two nieces in the whirlpool tub after swimming and tubing in the lake all afternoon.
---
Things I Learned This Week:
OK  if I'm asking for help, I'm also going to share the cool things I learn. You may already know them but hopefully it will help someone.
I use Gmail and have for many years.  My main "book" email started getting messages about the 15GB was almost full and I would have to buy more storage.  So I started deleting old stuff.  I went thru the Google drive and then all my email folders.  I only had one or two folders left and there was still 13.7GB out of 15 which was nearly the same as when I started.  Those ~50 folders I worked on for hours only freed up .5GB.  The culprit was the SENT folder.  It apparently has no mechanism to clear automatically.  I had thousands of emails all the way back to 2010.   Deleting older ones took me down to 1.37GB!

Stacking the Shelves is hosted by Reading Reality.  These are the exciting ARCs I received this week (If you click on the cover, it will take you to the Goodreads entry):
Thanks so much to Tor Books,  and Thea Harrison. 
(If you click on the cover, it will take you to the Goodreads entry)
I found a few things at the 2-1 credit sale at Audible.
I got these 2 books in the Prime Amazon first reads.

Now the really scary one. This is all the Kindle and Audible freebies I grabbed this past week. You can see why I need to do Thrifty Thursday to be sure I read a few at least one each month.
I really meant to cut back on freebies BUT  they are free so I guess that won't be happening.

I'm not including things like reviews posted or upcoming as they are always in the right sidebar. And, my challenge status is also there.
Anne
Latest posts by Anne - Books of My Heart
(see all)