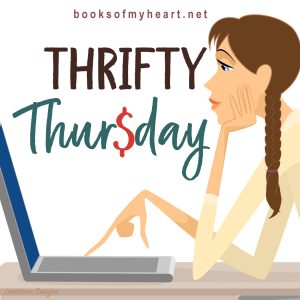 The purpose of Thrifty Thursday is to read a book which was free (at some point).
Kindle freebie on April 9, 2013  (currently $3.99  as of writing this post)
Overall rating 3.75 with 5,864 ratings and 375 reviews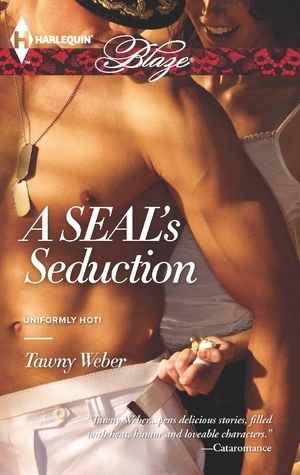 A Seal's Seduction
by
Tawny Weber
Series:
Uniformly Hot SEALS #1
Published by
Harlequin
on April 1, 2013
Genres:
Contemporary Romance
Pages:
229
Format:
eBook
Source:
Purchased
Goodreads
Amazon
, 
Barnes & Noble
, 
Apple




Subject: Navy SEAL Lieutenant Blake Landon Current Status: Two weeks of enforced leave

Mission: Distract himself in any way possible

Obstacle: A woman who tempts him to break the rules...including his own!

Navy SEAL Blake Landon (aka "Boy Scout") knows the rule book inside and out. Checked. Rechecked. But when a mission ends badly, his entire team is ordered on leave. And that's when Blake sees the tall redhead whose dark eyes suggest that the rules-especially those in bed-are made to be broken.

Scientist Alexia Lane has sex on the brain-partly for work, but mostly because she needs a man who makes her girly parts do the happy dance. Her only no-no? No military dudes. But Blake's rockin' bod promises delicious pleasures, and Alexia is halfway to sexual Nirvana before she can find out he's actually a Navy SEAL.

And where one rule is broken, more are sure to follow..
ICYMI is a post from my early days of blogging at Yummy Men & KickAss Chicks.   You can see the original joint review here.
Yummy Man – Blake Landon
Kick Ass Chick – Alexia Pierce
---
I got this book free in April 2013 when it was just a new book from a new indie author. It ended up winning the Romantic Times Reviewer's Choice award for the year. It has over 4,000 ratings on Goodreads with a 3.74 average.
A SEAL's Seduction by Tawny Weber is a bit of a genre puzzle. It's a contemporary romance, but the beginning reads a bit like erotica, and the ending more like romantic suspense. The couple is a Navy SEAL from humble beginnings and a scientist from a military family.
Alexia has just moved back to the town where the rest of her family lives for a new project. Her relationship with her parents is horrible. I find this one of the unbelievable things about this book. She's smart, pretty, and has a successful life. Why would she get no support or not feel rapport with either of her parents? She is close to her brother who also has trouble with the parents. Her military father is not very available, physically or emotionally, and is rather controlling.
Blake has never had much until his military career and doesn't expect much beyond it. He hasn't felt he could have a relationship with his life at risk and on the road. He doesn't believe it would be fair to ask any woman to love him with that situation.
Alexia and Blake meet, have chemistry and end up having lots of wild, monkey sex without really talking. Alexia would never date a military man because of her father. Blake has never wanted a woman in his life longer term until Alexia. They connect. After a long weekend together, they separate for real life obligations without sharing much, only planning to get together later in the evening.
That's when it all blows up. I find this part rather unrealistic. They spent a few days together and didn't talk enough to know a few basic things about each other? C'mon! Then Alexia is so mad at Blake, she refuses to see him. Fate brings them together and then the story goes forward.
If you leave the disconnect from reality out of it, it's a fun story. They are smart and funny. The sexy times are fun and HOT. It was easy to read and to want to keep reading. Blake is an amazing guy. He cares so much for Alexia and treats her very well.
Alexia is really my problem. She brings in most of the unreality. If she were younger, I might be more forgiving. But to stereotype all military men based on her father seems ridiculous. And the whole thing with her parents seems wrong. If she were more of an intellectual with poor social skills, more of a loner just absorbed in her science, it might work better, but she is people savvy. So it doesn't fit for me.
I like Blake and Alexia. They're good together and it's an interesting story. If you like hot military men, plenty of sex, and some action, you will probably enjoy A SEAL's Seduction.
Giggle worthy quote –
"Hold my belt and keep up," he told her as soon as they were clear. "Most of the enemy will be focused on the invasion. But if they're smart, they'll have people securing the perimeter."
"They didn't impress me as being too smart," she said, showing a little of the sass he remembered so fondly. " But they did have the devil' s own luck on their side. So run as fast as you want. I'll keep up."
---
These are only Kindle freebies I get, or ones through author newsletters which anyone can sign up and get for free. I don't include things like Kindle Unlimited or Prime Free Reading (I do have it). Both Tantor and Audible have occasional free audios (to anyone) and I do include those.  Since I one-click on 1-2 freebies a day or probably at least 5 a week, I came up with this feature to make sure I start reading them.
So I have thought about doing a Thrifty Thursday Challenge someday. For now,  what I think would be fun is if you have read and reviewed  a freebie, link up to your review (Goodreads, blog, facebook or wherever) below.
---
Add your review link here: 
Mister Linky's Magical Widgets — Thumb-Linky widget will appear right here!
This preview will disappear when the widget is displayed on your site.
If this widget does not appear,
click here
to display it.
Latest posts by Anne - Books of My Heart
(see all)
Related Posts