Review copy was received from Publisher. This does not affect my opinion of the book or the content of my review.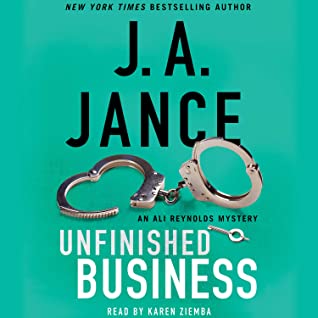 Unfinished Business
by
J. A. Jance
Narrator:
Karen Ziemba
Series:
Ali Reynolds #16
Published by
Simon & Schuster Audio
on June 1, 2021
Genres:
Mystery
Length:
11 hours, 40 minutes
Format:
Audiobook
Source:
Publisher
Goodreads
Amazon
, 
Audible
, 
Audiobook
, 
Barnes & Noble
, 
Apple




Mateo Vega, a one-time employee of Ali Reynold's husband, B. Simpson, has spent the last sixteen years of his life behind bars. According to the courts, he murdered his girlfriend. But Mateo knows that her real killer is still on the loose, and the first thing he's going to do when he gets a taste of freedom is track him down.

After being granted parole, a wary Mateo approaches Stu Ramey of High Noon Enterprises for a reference letter for a job application, but to his surprise, Stu gives him one better: He asks him to come on board and work for B. once again. Just as Mateo starts his new job, though, chaos breaks out at High Noon—a deadbeat tenant who is in arrears has just fled, and tech expert Cami Lee has gone missing.

As Ali races to both find a connection between the two disappearances and help Mateo clear his name with the help of PI J.P. Beaumont, tragedy strikes in her personal life, and with lives hanging in the balance, she must thread the needle between good and evil before it's too late.
I have read all three series by J.A. Jance for a long time.   I always recommend to read series in order. This Ali Reynolds series is probably the least realistic of the three, and is not based on law enforcement personnel like the other series.  I still love it. Ali was a news anchor who was briefly in law enforcement and now works with her husband's high-tech firm.
I really enjoyed the clever and compassionate story in Unfinished Business.  There are multiple aspects, layers to things happening, which is very much like real life.   I loved seeing many favorite characters like Ali's parents, children, grandchildren, Alonzo, Sister Anselm, Dave, and even JP Beaumont.  Of course, we got more Stuart, Cami and Frigg.  The AI Frigg is a complete joy for me.
One story line is evicting a renter in their office park for not paying rent for months.  He is enraged by this and sets out to get revenge.  In the process, he exposes more of his past.
Ali's parents are getting older.  They retired awhile ago from running the Sugarloaf Cafe.  Now they are having some issues which are hard for Ali to accept.  She steps up to help and support them but it isn't easy.
Someone who used to work for B. and Stuart when they were first starting out is just out of prison.  Mateo took a plea deal but always insisted he didn't kill his girlfriend.  He tries to figure out how he might get a job in his field instead of manual labor and sees an article about High Noon with his old boss and co-workers' names.  He contacts Stu to see if he will give him a reference and ends up getting an interview with High Noon.   Mateo is such a great guy and it's tragic what happened to him.  I'm so happy that Ali and the High Noon folks help him get a second chance.
I really love this series and the characters.  It's a pleasure to read about them in their Intelligent and worthwhile endeavors.  They are caring people who have some integrity.  Even though Frigg has had to learn the difference between the complete information and the legal information available.  The AI is quite a talented hacker. lol
Narration:
Karen Ziemba narrated the previous books, so I am familiar and comfortable with her.    She was easy to understand and her voices were varied somewhat for each character. Her male and female voices felt appropriate.  I love her voice for Frigg!  The performance was very enjoyable.  I was able to listen at my normal 1.5x speed.
Listen to a clip:

Rating Breakdown
Plot
Writing
Characters
Narration (Audio)
Overall:
Latest posts by Anne - Books of My Heart
(see all)
Reading this book contributed to these challenges:
Related Posts