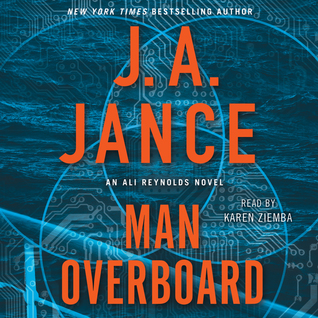 Man Overboard
by
J. A. Jance
Narrator:
Karen Ziemba
Series:
Ali Reynolds #12
Published by
Simon & Schuster Audio
on March 21, 2017
Genres:
Mystery
Length:
10 hours, 36 minutes
Format:
Audiobook
Source:
Library
Goodreads
Audible
, 
Libro.fm




Cybersecurity expert Roger McGeary finally has his life back on track after years of struggling with depression. But when he falls from the balcony of his suite on an all-expenses-paid cruise, the police quickly dismiss it as "death by misadventure," a vague phrase leaving much to interpretation.

Unsatisfied, Roger's tough-as-nails aunt, Julia Miller, is determined to find answers and closure. By contacting Roger's childhood friend Stuart Ramey to help her solve the mystery of his fate, Julia unwittingly sets up a collision course with a serial killer.

Stuart, his sidekick Cami Lee, and journalist turned amateur sleuth Ali Reynolds put the full resources of cutting edge online security firm High Noon Enterprises into learning the truth about Roger's death. With Cami on the high seas investigating the ship from which Roger disappeared, Stuart stays tied to his computer, locked in a battle of wits and technology against an unusually twisted adversary. Aided by Frigg, an artificial intelligence companion of his own creation, the killer targets victims who have lost parents to suicide and attempts to drive them to the same tragic end.

When the heartless killer and his cyber accomplice set their sights on Stuart, High Noon must race against time to save him and countless others.
I am a long-time mystery reader. In fact, I used to ONLY read mysteries for about 15 years. So when a new book is released in a series I have read for years, I don't have to play catch-up and I figure I might as well review it.  Plus this one is a trifecta: new release, library book and audio so it fits all three challenges!!
I read all three series by J. A. Jance. The other two series feature law enforcement professionals. In the Ali Reynolds series, she is a news anchor who was briefly law enforcement and now works with her husband's high-tech firm. I enjoy the nerdy aspects and this one delves into AI, artificial intelligence. This series is the least realistic of the three, being a bit more fluffy and unrealistic in some aspects. I don't enjoy it any less; it doesn't seem to bother me when I know it's fiction.
I have not listened to Karen Ziemba before. I am new to being a big fan of audiobooks. I mostly recognize when something about the narrator bothers me. If there isn't anything annoying, then they are doing well as I am absorbed in the book. I did like the unique voices for different characters and I don't always notice them. She was easy to understand and it was a pleasure to listen to her.
The story focuses on people committing suicide, who had a parent who committed suicide,  just when they are doing well. Dr. Cannon is a therapist who worked with some of these patients. She has devoted her career to these patients, as she is also a child of a parent who committed suicide. Some of the friends and family suspect the suicides are murder. Ali and High Noon Enterprises investigate.
The killer is also the child of a parent who committed suicide and has isolated himself with his technology. He works with his artificial intelligence, Frigg, as his only real companion. High Noon and the aided killer battle wits and technology throughout. I love these stories since they are always solved with a HEA outcome including growth of the characters.
Listen to a clip here.
Rating Breakdown
Narration (Audio)
Overall:
Latest posts by Anne - Books of My Heart
(see all)
Reading this book contributed to these challenges:
Anne: 2017 Library Love Challenge
Anne: 2017 New Release Challenge
Related Posts