Review copy was received from NetGalley. This does not affect my opinion of the book or the content of my review.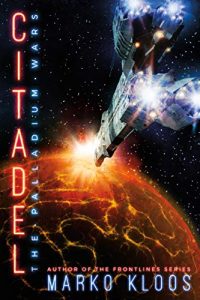 Citadel
by
Marko Kloos
Narrator:
Korey Jackson
Series:
The Palladium Wars #3
Published by
Brilliance Audio
on August 10 , 2021
Genres:
Science Fiction
,
Space Opera
Pages:
332
Format:
eARC
Source:
NetGalley
Goodreads
Amazon





An interplanetary battle is renewed in an epic novel of a warring solar system by the author of Ballistic.

The war should have been over. But it's not for a group of nationalists grabbing for control.

It's been two weeks since a missile with a nuclear warhead tore through the planetary defenses in the most blistering large-scale attack ever committed in the history of the Gaia system. Commander Dunstan Park of the Rhodian navy has been handpicked to command an experimental cruiser that could dictate the course of the escalating conflict. All he has to do is keep the ship from falling into the wrong hands.

On Gretia, the powder keg is beyond control. A terrorist attack against civilians draws Idina Chaudhary into a costly battle. It also forces a cautious Aden Jansen back into the fray. Now dedicated to a just cause, he's still keeping his past hidden. The risk of exposing his former alliance could twist not only his fate but also that of his sister, Solveig, heir to the family empire.

With no time to waste, Dunstan hits the ground running. But as insurgents threaten the unstable peace, what's ahead for both sides could change the destiny of the Gaia system forever.
Citadel is the third book in the ongoing Palladium Wars series following the flare up of some nationalists trying to fight against the occupancy of their planet following the war.  Gretia lost and the rest of the universe is trying to make sure they never have that much power again.  The rebels are making that really hard though and just sent a nuke to one planet to let the universe know they are not as defeated as previously thought.
This is a fast paced series, a lot happens in really short periods of time and with the swapping four PoV style writing, we get a good sense of what is going on from various angles.  This keeps everything feeling pretty intense and sometimes we get to see a specific scene from more than one PoV since a few times characters overlapped a little.
Dunstan is in the Rhodian navy.  His planet just endured the nuclear strike and tensions are high.  After fighting a ship far above his weight class and living to tell the tale he has been given a new ship with amazing capabilities, that can never fall into enemy hands.  It's time to go hunting for the ship that got through his planets defenses to fire the Nuke.
Aiden, a Gretia soldier and former prisoner, is on a smugglers crew, who are in a lot of hot water.  After learning what their cargo was in the last book they decided to turn it in instead of making the delivery.  The people who hired them are not happy and have set some pretty high demands for recompense.  The crew has to decide how they are going to get out of this mess with their lives if possible.
Solvieg is Aiden's sister.  Her father was ousted from his position in a major company after losing the war.  Solvieg is just out of university and set up as an executive.  In her father's eyes, she is a pawn and his way to still have a foot in the company.  She has ideas of her own and wants to branch out as her own person instead of being under his thumb.  She also has noticed that her father might not be as removed as she once thought he was.
Idina, our final PoV, is a soldier stationed on Gretia.  She had been working with other Gretia cops to try and build relationships and trust between the two peoples.  After the nuke those were closed down and she is on glorified babysitting duty to dignitaries.  She is looking for Oden's wolves, the rebels on the ground but she is tied up trying to get officials to listen to her.  She ends up in the middle of multiple conflicts and gives a good view of the shock warfare on the ground.
Kloos does a great job of building tension and leaves a lot of chapters at really tense moments.  This was a really fast read for me.  I'm not sure how many books are planned for the series but it seems like the war is just getting going and starting to pick up steam.  This ended with some significant developments that will definitely impact all of our characters.
---
Review copy was received from Publisher. This does not affect my opinion of the book or the content of my review.
Citadel
by
Marko Kloos
Narrator:
Korey Jackson
Published by
Brilliance Audio
on August 10, 2021
Format:
Audiobook
Source:
Publisher
Audible





Narration:
Korey Jackson has been the narrator of this series since book one.  He does a really good job with the multiple PoV set up and makes each come to life.  He brings a lot of tension to the high drama parts and conveys the emotion of the characters well.  I was able to listen at my usual 1.5x speed.
Listen to a clip:  HERE
Rating Breakdown
Plot
Writing
Characters
Dialogue
Narration (Audio)
Overall:
Related Posts