The Sunday Post is a weekly meme hosted by Kimberly  @ Caffeinated Reviewer. It's a chance to share news~ A post to recap the past week, and showcase books and things we have received.
---
Don't forget to look at my giveaways on the right sidebar.
Sunday, we had thunder but not much rain until after dark.  My daughter trimmed Lulu's hair so short she looks shaved so I put a sweater on her.   I did my blog visiting and got my new audio ARCs downloaded to my phone.
Monday,  the roofers were back to finish up just a few things and leave me off a few leftover shingles.  I mowed the backyard while they were here and by the time I was done I needed a second shower, as expected.  I noticed my standard dwarf bearded iris is reblooming!   I got more posts ready to go on the blog.  Then I finally called AT&T to see what they could do for me on Internet because they can't just give you a price which stays, you have to call and ask for a new promotion every year.
Tuesday,  was another day of some rain, off and on.  I wrote a couple reviews, found some new ARCs I wanted. I scrubbed out the old freezer and moved it over to where it could be plugged in directly again and put a thermometer in it.   I was too tired to read and just went to sleep.
Wednesday,  my daughter was still up when I got up up at 7:30am but then she only got up last night at 8pm.  I drifted back to sleep. I am just tired.  I got a nasty gram from the HOA and they want me to stain my fence within 30 days.  Don't they know that it takes a week or so at least to get a contractor to come out for an estimate, and then another 1-4 weeks to get the estimate and then a few more weeks to actually do the work?  This wasn't really in my budget this summer with just having done the roof, the new freezer and the kitchen.  It's in the backyard where no one can see it anyway, with 6 feet of trees at the back before the next neighborhood. I feel overwhelmed. I sent them some questions to try to determine what their issue really is.
Thursday,  my daughter was still up when I got up at 9:30 and didn't go to bed until 11:30am.  Lulu was so exhausted being up with her all night after all day yesterday with me.  I did a lot of reading to try to catch up.
Friday,  I feel like I am fighting a low grade cold.  It's mostly at bedtime I notice, not as much during the day.  Or maybe it's an allergy thing.  My sinuses don't feel quite right and I've had a bit of coughing and wheezing.  If I don't take ibuprofen at bedtime, I usually wake up during the night in hip pain and then the interrupted sleep only makes me more tired. So I've been taking it easy some this week.
Saturday, I got up extra early to mow the front lawn.  I asked one of the lawn service guys from the neighborhood, who's helped me before, to do some edging again and he's agreed to take my old freezer to the multi-recycle facility. This is great because even though I've lived here 6 years I don't know anyone else with a truck or trailer.  I planned to go back to bed after showering but once I'm up that didn't fly.  I worked on posts and emails and did some more planning for the 2022 Read-along. I also updated the links for COYER and Library Love with the books I've read so far in August.

Stacking the Shelves is hosted by Reading Reality.  These are the exciting ARCs I received this week (If you click on the cover, it will take you to the Goodreads entry):
My grateful thanks to Thomas & Mercer,  PICT Tours, and Tantor Audio.
(If you click on the cover, it will take you to the Goodreads entry)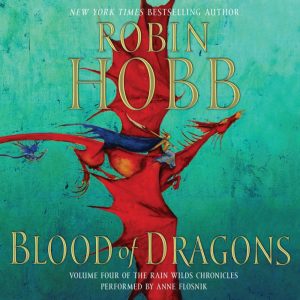 I grabbed another on my Robin Hobb wishlist at Chirp for $4.99.

Now the really scary one. This is all the Kindle and Audible freebies I grabbed this past week. You can see why I need to do Thrifty Thursday to be sure I read a few at least one each month.
I really meant to cut back on freebies BUT  they are free so I guess that won't be happening.

I'm not including things like reviews posted or upcoming as they are always in the right sidebar. And, my challenge status is also there.
Anne
Latest posts by Anne - Books of My Heart
(see all)