Tangle of Need
by
Nalini Singh
Series:
Psy-Changeling #11
Published by
Berkley
on May 29, 2012
Genres:
Paranormal Romance
Pages:
428
Format:
eBook
Source:
Library
Goodreads
Amazon
, 
Audible
, 
Audiobook
, 
Barnes & Noble
, 
Apple






Adria, wolf changeling and resilient soldier, has made a break with the past--one as unpredictable in love as it was in war. Now comes a new territory, and a devastating new complication: Riaz, a SnowDancer lieutenant already sworn to a desperate woman who belongs to another.

For Riaz, the primal attraction he feels for Adria is a staggering betrayal. For Adria, his dangerous lone-wolf appeal is beyond sexual. It consumes her. It terrifies her. It threatens to undermine everything she has built of her new life. But fighting their wild compulsion toward one another proves a losing battle.

Their coming together is an inferno...and a melding of two wounded souls who promise each other no commitment, no ties, no bonds. Only pleasure. Too late, they realize that they have more to lose than they ever imagined. Drawn into a cataclysmic Psy war that may alter the fate of the world itself, they must make a decision that might just break them both.
Tangle of Need is the latest installment of our 2021 Read-Along and I'm excited to talk about this book today!  This eleventh book in the series is much longer than the first books in the series, and not only do we have a main couple; we also have several important plots and relationships featured in Tangle of Need.  It's understandable that Nalini Singh chose to write this way, as I think I am not alone in thinking that Adria and Riaz are a nice couple but not compelling.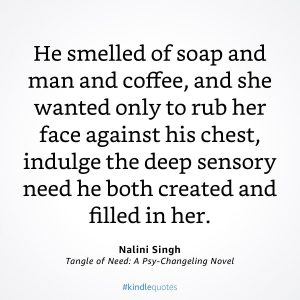 Their story is a soft, sweet telling of a couple who have had their hearts' broken and their confidence shaken. I enjoyed watching them overcome the missing mating bond.  I was grateful that in the end, there was no magic twist that gave them a mating bond, instead they realized they didn't need a mating bond to build a life together.  A lovely story–but not enough to carry this book.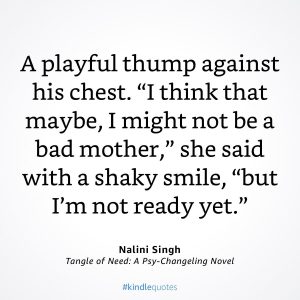 Instead we got lots of plots!  View Spoiler »New alliances!  The humans have leveled up! My favorite Arrows off'd a terrible Councilor! Our first interspecies pregnancy! Alice awoke! Hawke and Sienna made cookies and we had several scenes of Judd Lauren just being his amazing awesome hot self.  But wait there was more, we learned specifically about how Anchors work to keep the PsyNet together and we found out there is even more about Kaleb that is rare.   « Hide Spoiler
So much was going on in this book that for the first time, I needed to use the character listing in the front of the book to keep up. I am amazed at Nalini Singh's world building consistency and I can't wait to read what happens in the next book. 
A two-part question before I close, in this series has there been a Psy/Psy couple (post silence)? Do you think there will be one? 
4.25 stars. The .25 is for Judd *heart-eyes emoji*
---
Games:
Who said (enter the answer in the Rafflecopter, don't put in the comments)
"I gave you multiple pupcubs. I have prowess."
There are other options in the rafflecopter for you to enter discussion questions and quotes to share.
The quote for Who said ""Silence is falling. "." in Kiss of Snow is Aden.
The villain was Pure Psy & Henry Scott.
---
Share your review/ thoughts on Tangle of Need:
I thought it might be fun to link up reviews so we can find them all easily.  It can be a link to Goodreads or a blog, or wherever you have a review (short or long).
Mister Linky's Magical Widgets — Easy-Linky widget will appear right here!
This preview will disappear when the widget is displayed on your site.
If this widget does not appear,
click here
to display it.
---
Observations and questions you shared from Kiss of Snow:
(Thank you  so much for sharing!)
I wish there was more information about the X-Psy
 What species will the children of Sacha and Lucas be? Will they have characteristics of one or both parents?
How will the new Psy – Changeling net work out?  How much mental connection will there be with Changelings?
---
Quotes you readers shared from Kiss of Snow:
(Thank you for sharing!)
""The LaurenNet is gone."
---
Here's your to-do list:
Find your copies of these books, borrow them from a friend, get them at the library or buy them.
Read 11.5 Partners in Persuation, in novella anthology Wild Embrace.
Read 11.6 Dancing with Cooper,  newsletter short story
Read 11.7 Poker Night newsletter short story.
Read 11.8 Making Dinner, on author's site.
Read 11.9 Sunday Morning, on author's site.
 Read Book 12, Heart of Obsidian, by September 17.
Make a list of a favorite quote or two as you read the book.
If you haven't read the books before, make a list of questions you have for the discussion. If you have read them, please don't spoil new readers.
Link up your review on Goodreads or your site to the post.
Join the COYER book chat on the Sunday following the post.
Enter the giveaways!
---
COYER Challenge is adopting our Read-along.  You can read about COYER and join that challenge or just the Facebook community chat HERE.
Tangle of Need chat in a FB room (like we do for COYER book club) is:
August 8 at 12 PT, 2 CT, 3 ET and 9pm Europe, for a one hour chat.
You do not have to join the COYER challenge to participate, only the Facebook group.
---
Schedule:   
We are doing one book every 3-4 weeks, posting on Fridays. We should have a review for most of the books with the team here at Books of My Heart plus some of our friends.
Aug 27:  Tangle of Need              –  Victoria @ First of All
Sep 17:   Heart of Obsidian        – Linda @ Unconventional Bookworms
Oct 15:    Shield of Winter         – Samantha @ The Book Disciple
Nov 5:    Shards of Hope            –  Jen @ That's What I'm Talking About
Dec 3:    Allegiance of Honor   – Anne
Miss a post?
Jan 1:    Slave to Sensation       – Stephanie @ Once Upon a Chapter
Jan 29:   Visions of Heat           – Rachel @ Waves of Fiction
Feb 19:   Caressed by Ice           – Kim @ Caffeinated Reviewer
Mar 19:   Mine to Possess          – KC
Apr 16:   Hostage to Pleasure   – Berls @ Because Reading
May 7:   Branded by Fire             – Kai @ Fiction State of Mind
May 28:  Blaze of Memory          – Sophia
Jun 18:   Bonds of Justice           – Angela @ Angel's Guilty Pleasures 
Jul 16:   Play of Passion              – Robin
Aug 6:   Kiss of Snow                   – Jen from Red Hot Books
---
Be sure to enter the giveaways!!!
Giveaway:
A copy of Shield of Winter, book 13.
Grand-Prize Giveaway: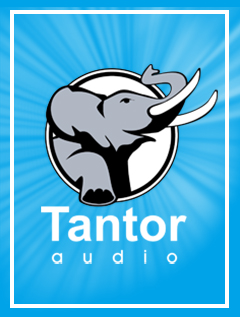 Tantor Audio is generously donating a set of 15 codes for the entire set on audio.  Codes will work US or Intl.
Latest posts by Anne - Books of My Heart
(see all)
Reading this book contributed to these challenges:
Related Posts