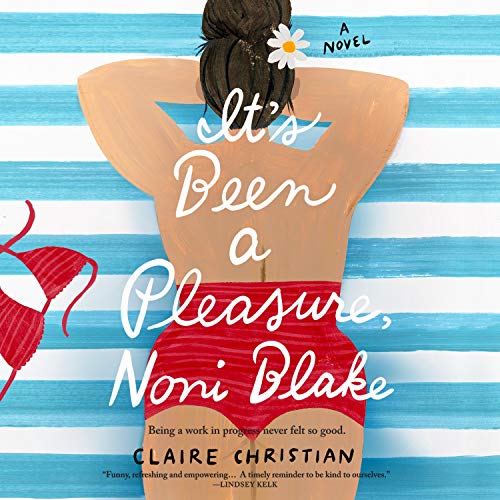 It's Been A Pleasure, Noni Blake
by
Claire Christian
Narrator:
Ione Butler
Published by
Harlequin Audio
on February 23, 2021
Genres:
Contemporary Romance
Length:
10 hours, 26 minutes
Format:
Audiobook
Source:
Library
Goodreads
Amazon
, 
Audible
, 
Audiobook
, 
Barnes & Noble
, 
Apple





What if you made yourself your number one priority?

Of all the women and men Noni Blake has pleased in her life, there's one she's often overlooked—herself. After the end of a decade-long relationship, Noni decides it's time for that to change. She's finally going to prioritize her wants and desires and only do things (and people) that feel good in the moment.

As she embarks on a pleasure-seeking quest that takes her halfway around the world, she discovers that maybe she can have everything, and everyone, she's ever wanted.

Effortlessly hilarious and relatable, Claire Christian spins a fresh, feel-good tale about starting over as a thirtysomething woman who's been living life for everyone else. A story of self-discovery for the ages, Noni's journey serves as a sparkling reminder that life is what we make of it—so why not enjoy it?
YOLO.  We all know what this means (and it is NOT You Obviously Love Owls).  Not just a battle cry of the 2000's, it felt like an over-arching theme in the queer, romantic comedy It's Been a Pleasure, Noni Blake, by Claire Christian.  This was an hilarious, feel-good, fun read that had me in stitches most of the time.  Amidst the humor and hijinks is a message about loving oneself and owning one's own happiness.
Noni Blake has been in a slump since she broke up with her long-term partner.  Her relationship with loneliness is a "relationship full of wishes, what could've-beens…Missing my dog and my previous life."  She's plodding along on the path to recovery, when she gets a wake-up call that forces her to examine her life head-on.  She realizes she's not actually doing her life justice and that it is time that she makes changes; to take control of the things that bring her pleasure.
I don't want to make this sound too deep, because, after all, Noni's quest starts with her "Should've Boned" list.  It eventually morphs into a "Pleasure" list, where she decides to pursue things that will bring her pleasure.  The use of the term 'pleasure' is a little deceptive.  It seems to focus on the physical, and while there is plenty of physical, Noni does so much more.  She blows her savings on a 6 month holiday in Europe, hangs out with bands, gets a tattoo, does naked yoga, and the list goes on.  She makes friends with unlikely characters and learns to live outside of her own expectations. She learns to listen to the voice in her head that tells her she is beautiful and deserving of happiness.
"The voice isn't new.  It's always been there.  I think I've just finally started listening to it."
The characters are extremely likable.  Noni herself is a chaotic mess of quirkiness and practicality.  She's brave, vulnerable, and self-deprecating.  I found that I could relate to her, although her life and experience are nothing like my own.  Beau is the typical hero, almost too good to be true.  He's handsome, mature, and has lived enough life to know what he wants.  Lindell is the sharp-talking, quick-witted best friend we all wish we had.  He supports Noni with snarky quips and warm fuzzies, and is really the voice of encouragement that keeps Noni honest in her journey.
I found It's Been a Pleasure, Noni Blake extremely entertaining.  I think the author did a brilliant job of capturing Noni's path to self-acceptance without an excess drama and angst.  There is gravity to the message of this story that flows below the surface of the light-hearted narrative.  The writing is down-to-earth and relatable.  While I was sure Noni would get an HEA in the end, I wasn't entirely sure what that would look like.  I can appreciate the unpredictability in the story line and loved how the author didn't make me feel like Noni needed a hero (or heroine) to be happy.
Narration:
I really feel like this is one book that should be listened to rather than read.  Noni is Australian, and unless you automatically think with an Aussie accent, there is something special that comes across in the audio I wouldn't want readers to miss.  The narrator did a wonderful job with the huge range of characters and accents.  I really appreciate the matter-of-fact delivery of some pretty funny moments.
Listen to a clip:

Rating Breakdown
Plot
Writing
Characters
Dialogue
Narration (Audio)
Overall:
Related Posts