Review copy was received from Publisher. This does not affect my opinion of the book or the content of my review.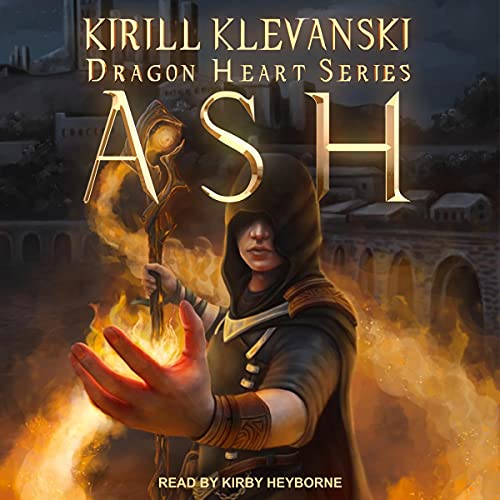 Ash
by
Kirill Klevanski
Narrator:
Kirby Heyborne
Published by
Tantor Audio
on September 21, 2021
Genres:
Fantasy
Length:
16 hours, 17 minutes
Format:
Audiobook
Source:
Publisher
Goodreads
Amazon
, 
Audible
, 
Libro.fm




This is the legend of Ash, the Master of a Thousand Words, the Bloody General. What's true and what is fiction is up to you to decide. But this is how his story was told to young children, so that they wouldn't be afraid and have nightmares, back when the legends of the old world were still remembered.

Note:
The Legends of the Nameless World includes the stories of key characters of the Dragon Heart saga. 'ASH' is the first of the prequels to the Dragon Heart series and can be listened to and/or read as a stand-alone.
Ash is the first book in prequel to the Dragonheart Saga by the same author.  I have not read that series so can't comment on how it ties in but it can be read without any prior knowledge of this world.  The story is told in the present with jumps back to the past for context.  I will say that normally this works for me in storytelling.  For some reason, and it could be that I hated past Ash, this didn't work for me in this instance.
Ash is a half fae, half human creature raised by a witch of sorts.  As a youth, he was an emotionless person never understanding feelings.  He is a part of some truly heinous acts and even though he didn't really participate, he facilitated them so it was a struggle to read those parts as they were brutal.  Present Ash is more likeable and reminds you a little of a court jester always trying to make the crew he is with laugh and more interested in food and fun than the job at hand.  He is a bit in hiding as there is currently a huge bounty on his head and so he is pretending to just be a low class mage.  His team is always surprised when they live through each new crisis that comes along.  They are on a quest to get a magical flower that will have the power to save the King's daughter and set the crew up with a great reputation and the reward.
I've read stories before where the current hero was in a dark place before and came to the light later in life.  Sometimes you have already built a relationship with them in other books and other times you get more time before you learn their dark past.  Somehow the delivery of Ash's past didn't make him sympathetic at all to me and so I didn't really enjoy any of his early years.  The years after he was saved and learned to have emotions were better and I did enjoy his time with his adventure party.  But, his past really colored the entire story for me.
I think this book would work well for people who like the set up of a dungeons and dragons type story.  I believe it also could have done with some editing to cut out some events and streamline it a little better.
Narration:
Kirby Heyborne has a huge catalog of work behind him.  I've listened to him before in a few different novels.  His voice fit the story well and captured the voice of all the characters.  It was very well narrated.
Listen to a clip:   HERE
Rating Breakdown
Plot
Writing
Characters
Dialogue
Narration (Audio)
Overall:
Related Posts