Review copy was received from NetGalley. This does not affect my opinion of the book or the content of my review.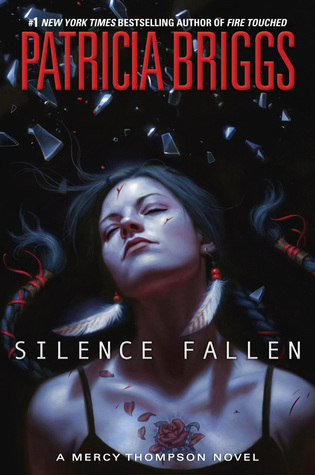 Silence Fallen
by
Patricia Briggs
Series:
Mercy Thompson #10
Published by
Ace
on March 7, 2017
Genres:
Urban Fantasy
Pages:
352
Format:
eARC
Source:
NetGalley
Goodreads
Amazon
, 
Audible
, 
Libro.fm






Attacked and abducted in her home territory, Mercy finds herself in the clutches of the most powerful vampire in the world, taken as a weapon to use against alpha werewolf Adam and the ruler of the Tri-Cities vampires. In coyote form, Mercy escapes—only to find herself without money, without clothing, and alone in the heart of Europe...

Unable to contact Adam and the rest of the pack, Mercy has allies to find and enemies to fight, and she needs to figure out which is which. Ancient powers stir, and Mercy must be her agile best to avoid causing a war between vampires and werewolves, and between werewolves and werewolves. And in the heart of the ancient city of Prague, old ghosts rise...
As with every book in the Mercy Thompson series, I love these characters and especially Mercy. She has such spirit, compassion and intelligence. Her relationship with Adam is so solid now; the commitment is complete. Everyone else was just there in small bits. I did love seeing Stefan again; I've always liked him even though he is not completely safe – no vampire in this world is safe.
Silence Fallen is rife with politics and manipulations. This gives everyone a chance to learn more about everyone else, and themselves. Mercy learns more about her capabilities. When things are bad, and they are, everyone joins in to save Mercy. But the captors and friends can both be surprised, she doesn't require much saving. I loved the twists and bits we learn about the characters and that add to this world.
There have been comments about the weird timelines. The chapters go back and forth between Adam and Mercy as they are not geographically together most of the time. This didn't bother me at all. It must have been needed to let the information unfold in proper sequence. Anyway, I loved it! Humor always adds the extra for me.
Giggle-worthy quotes:
"Running from vampires, again. Still. Go me!"

"I only get weirder the longer you know me"
---
Jennifer's Audio Review
Since I'm doing the audio review, I'll address my thoughts on it first and in more detail.
I've mentioned before that I had a hard time listening to Lorelei King narrate Mercy. It's not because I'm to a fan of King's work, I am. But since I started out reading the series my mind was set on how Mercy sounded and her tone and personality. King blew that image out of the water and at first it was not a good thing [for me]. I have King firmly planted in my mind as Charley Davidson [by Darynda Jones]. The two series have different types of humor. In fact until I listened to King narrate Mercy Thompson, I didn't pick up on much of the humor in the series. I read it much dryer and darker.
Now that I've listened to King narrate Silence Fallen I see Mercy and in a new light and I'm ok with it. In fact I'm more than ok with it. Mercy's world doesn't seem so dark and bland now. After listening to two Charley Davidson's titles recently I can tell a difference in King's performance between the two series. It's subtle.
Many others have complained about the addition of the new male narrator,  George Newbern but I really enjoyed his work on Adam's POVs. I was a fan of Newborn's performance within the first 10 minutes hearing him. I have never listen to him [unless he uses another name] but his voice sounded familiar*.
As much as I enjoyed the audio version of Silence Fallen I've come the realization this series is too complex for me listen to the audio while doing other things. I need to focus 100% to know what's going on. I think a series reread is in order before the next release. I think I will stick to the audios as rereads and read it the first time around to get the full picture as to what is going on. I found myself lost a few times as to what was going on because I got distracted by the chores and my time at the gym.
As an installment in the series, Silence Fallen was a sort of road trip book where Mercy and the gang find themselves across the pond in Europe. Fans of the series know that Mercy is someone that can take care of her self. Now she reminds everyone around her that she doesn't need help getting out of trouble. She's been underestimated by several people in the past and it's always fun to see her as the "Wile E. Coyote". She truly is the strongest person in her pack.
Even though Silence Fallen was full of supernatural political crap that I could do without, it made me think of the earlier Mercy books before she joined Adam's pack. Mercy is no damsel in distress and Adam lets everyone know it. I love how he believes in her and knows he doesn't have to protect her but wants to.
I said before the audio portion of this review about the changing POVs. I really liked getting Adam's POV. Briggs has a warning at the beginning that the timeline can be confusing but I didn't have an issue. The story was told in a parallel type storytelling, kind of a "mean while". Many of the chapters' events are happening at the same time but of course we can't read them at the same time since most of the book Mercy and Adam are not together.
I think fans of the Mercy Thompson series will highly enjoy Silence Fallen even with the different layout of the changing POVs. Dr. Who fans will have a giggle or two with the references.
*Now I know why George Newbern's voice sounded familiar. After looking him up to add his bio to the blog he's an actor I've seen in tons of movies.
Rating Breakdown
Plot
Writing
Characters
Dialogue
Narration (Audio)
Overall:
Latest posts by Anne - Books of My Heart
(see all)
Reading this book contributed to these challenges:
Anne: 2017 New Release Challenge
Anne: COYER Winter Storm
Related Posts