Review copy was received from NetGalley. This does not affect my opinion of the book or the content of my review.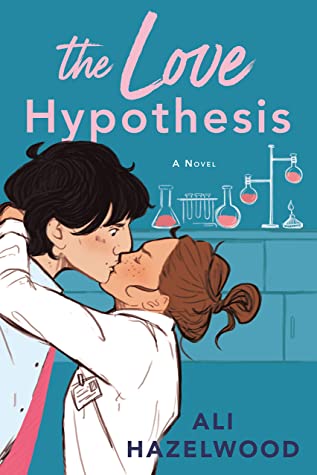 The Love Hypothesis
by
Ali Hazelwood
Published by
Berkley
on September 14, 2021
Genres:
Contemporary Romance
Pages:
384
Format:
eARC
Source:
NetGalley
Goodreads
Amazon
, 
Audible
, 
Libro.fm
, 
Barnes & Noble
, 
Apple






As a third-year Ph.D. candidate, Olive Smith doesn't believe in lasting romantic relationships--but her best friend does, and that's what got her into this situation. Convincing Anh that Olive is dating and well on her way to a happily ever after was always going to take more than hand-wavy Jedi mind tricks: Scientists require proof. So, like any self-respecting biologist, Olive panics and kisses the first man she sees.

That man is none other than Adam Carlsen, a young hotshot professor--and well-known ass. Which is why Olive is positively floored when Stanford's reigning lab tyrant agrees to keep her charade a secret and be her fake boyfriend. But when a big science conference goes haywire, putting Olive's career on the Bunsen burner, Adam surprises her again with his unyielding support and even more unyielding...six-pack abs.

Suddenly their little experiment feels dangerously close to combustion. And Olive discovers that the only thing more complicated than a hypothesis on love is putting her own heart under the microscope.
I got behind reading at night because I kept falling asleep. So I read this starting first thing in the morning before even eating breakfast.  I could NOT put it down.  In fact, I read it straight through without eating or leaving the spot I was curled up in at all.
Olive is just so genuine and kind to others.  While she may have felt alone at times in her life, she has a couple amazing friends now.  She is also working on a scientific project which is meaningful to her. I'm a huge math & science fan so that was fun.  I could relate to her focus on her project work.  She mostly avoids a personal life other than her two close friends. She's busy and happy.
But then she wants her friend to be happy and is afraid she won't date a guy because she went out with him and that's how she ends up in a fake relationship with Adam, a top professor in her department at university. He's such a grumpy curmudgeon but his banter with Olive is precious.  This is what Olive had to say about their arrangement on the fake dating, when Adam decided to share why he was willing.
" I think we can both agree that nothing that has happened in this room should ever leave it."
Everyone else is afraid of him or hates him for being such a stickler on their graduate work. He is not her advisor, so it's not against the rules for them to date. And he is so kind to her! She is sassy with him, teasing him. I think he enjoys that because no one else would dare, except maybe another professor, Holden, who is his friend.
"I'd like to eventually graduate, ideally without sobbing in a bathroom after each committee meeting."
Olive gets some exciting professional developments, but it will mean public speaking and public relations sorts of things, which makes her nervous and uncomfortable.  Adam is more than happy to help her by reviewing her presentation, but she's uncertain.
"How likely is it that your feedback will cause me to cry under the shower?"

"That depends on the quality of your slides."

She smiled. "Don't feel like you have to hold back."
The development of their relationship is just so heartwarming. I enjoyed the little hypotheses at the beginning of the chapters – so fun!  It isn't easy for two people more absorbed in their work and with very little dating experience.  But somehow, they manage, and they both excel at the "grand gestures"  which made me so happy at how they supported each other and cared about the other person, almost more than themselves.  I just loved this so, so much!
Latest posts by Anne - Books of My Heart
(see all)
Reading this book contributed to these challenges:
Related Posts