Review copy was received from NetGalley. This does not affect my opinion of the book or the content of my review.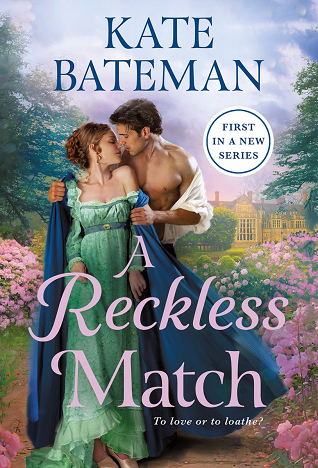 A Reckless Match
by
Kate Bateman
Series:
Ruthless Rivals #1
Published by
St. Martin's Press
on September 28, 2021
Genres:
Historical Romance
Pages:
320
Format:
eARC
Source:
NetGalley
Goodreads
Amazon
, 
Audible
, 
Audiobook
, 
Barnes & Noble
, 
Apple





CAN LIFELONG HATE

Madeline Montgomery grew up despising––and secretly loving––the roguish Gryffud "Gryff" Davies. Their families have been bitter rivals for hundreds of years, but even if her feelings once crossed the line between love and hate, she's certain Gryff never felt the same. Now, she's too busy saving her family from ruin to think about Gryff and the other "devilish" Davies siblings. Since he's off being scandalous in London, it's not like she'll ever see him again...

TURN TO TRUE LOVE

As the new Earl of Powys, Gryff Davies planned on spending his post-war life enjoying the pleasures of London. But when an illegal duel forces him to retreat to his family's Welsh castle, he realizes the only exciting thing in the dull countryside will be seeing the fiery Maddie Montgomery. Thoughts of his nemesis sustained Gryff throughout the war; but the girl he loved to tease has grown into a gorgeous, headstrong woman – who loathes him just as much as she ever did. Will secret tunnels, dangerous smugglers, and meddling from their feuding families be enough to make Maddie and Gryff realize that their animosity is really attraction...and maybe even love?

A Reckless Match is the first in a new regency romance series by Kate Bateman about two feuding families, and reunited childhood enemies whose hatred turns to love.
A Reckless Match is the first book of the well names series Ruthless Rivals, which is a romantic spin on a family rivalry akin to Romeo and Juliet or the Hatfield's and McCoys.  Maddie and Gryff's family's have been at it for generations since someone stole a pig or possibly a woman, it has been so long it is hard to say.  Once a year they have to meet on a bridge on a parcel of land between their estates and shake hands.  If one of the families does not send a representative, the shared land is forfeited to the other family.
Gryff and Maddie were rivals as children.  Running around playing tricks on the other and tormenting them.  Gryff has just made it back from the Napoleonic war after the death of his father.  The girl he used to pester has grown into a beautiful woman, full of whit and cunning.  He thought about her a lot during the war but seeing her now has reminded him just how much he enjoyed getting under her skin, since she is definitely under his.
Maddie's family has lost a fortune and could lose everything if they don't come up with a solution.  The easiest is for Maddie to marry someone rich, even though that is outside her moral compass.  She wanted to marry for love if possible.  Still there is a little time and a small sliver of hope if she can find something of value in some tunnels she stumbled across while verbally sparring with Gryff.
Spending time together in some tunnels might not have been wise as the closed in space and dark make it so much easier to feel some intimacies with that blustering man.  If Maddie isn't careful she will give away all of her secrets to the new Earl.
I had a lot of fun with Maddie and Gryff.  He can be a bit pompous at times but most of it seemed like an act to rile Maddie.  She, on the other hand, was so easy to love.  She is trying to save her family but also wants to remain her own woman.  If she marries the horrible man who has offered for her, she knows she will never be happy.  He won't let her work on her Archeology and definitely isn't going to like a wife who is his intellectual equal.  The feud is also funny.  It is amazing that between their fathers it had turned into somewhat of a game between them trying to bet the other.
Overall this is a fun slight enemies to lovers story.  You could see with Maddie and Gryff belonged together from the beginning, so it was so easy to root for them.
Rating Breakdown
Plot
Writing
Characters
Dialogue
Overall:
Related Posts