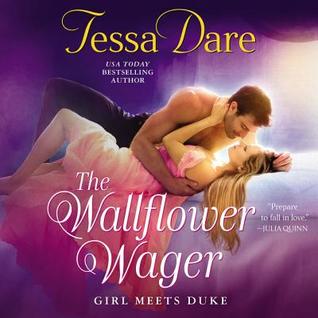 The Wallflower Wager
by
Tessa Dare
Narrator:
Mary Jane Wells
Series:
Girl Meets Duke #3
Published by
HarperAudio
on August 13, 2019
Genres:
Historical Romance
Length:
7 hours, 8 minutes
Format:
Audiobook
Source:
Purchased
Goodreads
Amazon
, 
Audible
, 
Libro.fm
, 
Barnes & Noble
, 
Apple





Wealthy and ruthless, Gabriel Duke clawed his way from the lowliest slums to the pinnacle of high society―and now he wants to get even.

Loyal and passionate, Lady Penelope Campion never met a lost or wounded creature she wouldn't take into her home and her heart.

When her imposing―and attractive―new neighbour demands she clear out the rescued animals, Penny sets him a challenge. She will part with her precious charges, if he can find them loving homes.

Done, Gabriel says. How hard can it be to find homes for a few kittens?
And a two-legged dog.
And a foul-mouthed parrot.
And a goat, an otter, a hedgehog...

Soon, cold-hearted Gabriel, who wouldn't know a loving home from a workhouse, is covered in cat hair, knee-deep in adorable animals, and bewitched by a shyly pretty spinster who defies his every attempt to resist. Now she's set her mind and heart on saving him.

Not if he ruins her first.
Reading a Tessa Dare book, is like going to coffee with a friend you haven't seen in a while.  I always know I'm going to have a good time, it will feel like coming home and there will be some giggling.  The Wallflower Wager didn't disappoint and is everything I've come to expect from Tessa Dare. 
Penelope 'I never met an animal I couldn't rescue' Campion, has a barnyard full at her house and at six and twenty has reached spinster status.  She is threatened by her aunt and brother that if she can't figure out a way to get rid of all the animals at the house and end up in the society pages, she will be hauled off to the country to live out her spinsterhood.  There is no way she is going to find a home for a parrot who formally resided in a house of ill-repute. 
Gabriel is a self-made man who has purchased the home next door and needs Penny to reside there if he has any hope of selling it to someone looking to climb the ranks of society by living next door to an Earl's Daughter.  If he has to figure out how to place all the animals in her care and help her get out into society, then fine, it is a small price to pay. He for the life of him can't understand how someone so beautiful and funny could possibly not be attached to a man with a brood of kids already.  Gabe is great at finding undervalued things, putting a shine to them, and selling them off for more; he's built a fortune on it and Penny is definitely undervalued.
Penny is completely adorable.  I love all the animals in her care and how much trouble they seem to get Penny into.  Then there is the attraction she is feeling toward Gabe and the way he makes her feel, maybe she can save him too.
Both Gabe and Penny have some tragedies in their past and as they get to know one another they find that in some ways they are more alike than once believed.  This did get a little more serious as Penny confronted the tragedy from her past, but there was enough humor to not make it a total mood killer and I did love how she saved herself in the end, she has learned much from the Duke of Ruin.
The Wallflower Wager is the 3rd book in the Girl Meets Duke series, but like most historical romance can be read in any order.  I've liked this the most out of all the books of this series, probably because of Penny and all the animals.  It is a little rushed at the end and there were a few questions still left a little open but they were for minor things and I'm not sure anyone else would notice.
"There is no way in hell that your unmarried state is due to a lack of interest." 

"Please, enlighten me as to the reason." 

"That's simple. You've been hiding yourself, and you're good at it. A master of camouflage." 

She laughed. "Camouflage?" 

"That's the only possible explanation. You've made a frock from the same silk covering the drawing room walls, trimmed it with cat hair and feathers. Then when gentlemen visit, you stand still and blend in."
"Good God. That man is intolerable." 

"Yes," Penny said. "He is." 

Alexandra sat up—no small feat, in her condition—and regarded her with concern. "Oh, Penny."

"What?" 

"The way you said that. You sounded. . . dreamy." 

"I am not dreamy," she fibbed. "Chase remarked that he was intolerable, and I agreed. If you like, I'll add that he's ill-mannered and beastly." 

"Precisely," Nicola said. "That's what worries us. He's just the sort of man you'd be drawn to. We all know how you love a challenge."
Narration:
Mary Jane Wells has performed all of the books in the Girl Meets Duke series.  She does a fantastic job of capturing Tessa Dare's humor and bringing characters to life.  I even think I ended up liking the previous book, The Governess Game, more due to her narrative.  I listened to this at my normal 1.5x speed.
Listen to a clip:

Rating Breakdown
Plot
Writing
Characters
Dialogue
Narration (Audio)
Overall:
Related Posts