Crime Fiction is a recent addition to my reading obsession.  I've read my fair share of Romantic Suspense, Period/Historical Mystery, and Cozies; and absolutely love a good intrigue in books to keep me guessing until the end of the story.  Until this point, I haven't ever been drawn to the grit and reality of Crime fiction.  I started The Dublin Murder Squad series on a friend's recommendation.  I heard Dublin (i.e.: Irish accented narrators) and series (6 books that were available to read now) and didn't have to think any further.  As it turns out, The Dublin Murder Squad isn't anything like I'd normally select, yet I found myself so hopelessly drawn in by Tana French's writing style and nuanced characters that I eagerly devoured each novel.
Each of the books in the series is dramatically different from the other.  It was a little jarring, but by the third book, I began to suss out the connections, and managed my expectations accordingly.  The biggest hurdle for me was that a Happily Ever After is not a given, or even a possibility, in some cases.  While I don't always like it, I think life is a little messy and it would be unrealistic to always end books written to mirror real-life drama tied up with a nice little bow.   There is also a point in each narrative where the protagonist says something to the effect "If I'd known then what I know now, I would have…"  My anxiety ratcheted up a notch waiting for the other shoe to drop, which was thrilling and disconcerting, and certainly contributed to the suspense.
The main character is different in each of the novels.  The author has the significant task of developing that main character in each book, which normally wouldn't be the case in a series.  I think Tana French manages this well, although sometimes it slowed the pace.  There is a lot of inner dialogue and what, at first, might be seen as superfluous scenes with minor characters.  Witnessing how the lead character interacts in varied situations builds a better understanding of what is important to him/her and how it will ultimately impact the case.  The author will also select a secondary character from one of the previous books to become the new main character of the next installment.  Although each of the books could be read independently, I consider this early character development important enough that they should really be read in order.
Although the lead characters and story lines are dramatically different from each other, there is a common theme (beyond a murder investigation).  Each protagonist is forced to make a sacrifice in the course of solving the case.  Whether that is family, career, relationships, self-respect, happiness, or a personal code of ethics, that sacrifice is essential to the story arc.  The story is as much about the lead character as it is about the mystery, which is what I found so appealing about the books.
I hope there will be future installments of the Dublin Murder Squad, because I am not ready to say goodbye to any of these characters.  I've already picked out who I hope to see make an appearance as the lead in the next book.   There is even a TV show based on the series I am excited to check out.  I can certainly thank Tana French for igniting a desire to pursue this genre further.  I hope others are inspired to read outside of their comfort zone.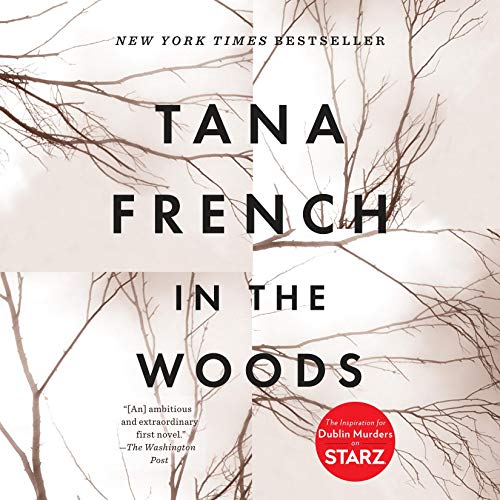 In the Woods
by
Tana French
Narrator:
Steven Crossley
Series:
Dublin Murder Squad #1
Published by
Penguin Audio
on April 20, 2007
Genres:
Mystery
Length:
20 hours, 24 minutes
Format:
Audiobook
Source:
Library
Goodreads
Amazon
, 
Audible
, 
Audiobook
, 
Barnes & Noble
, 
Apple





A 12-year-old girl is found murdered at an archaeological site at the center of a controversial highway construction project. Katy Devlin was a popular girl who had recently been accepted to the Royal Ballet School; her father is an outspoken opponent of the new roadway. But what haunts Detective Rob Ryan about this case is its location: the quiet town of Knocknaree, Ireland -- in the very woods where he used to play as a child.

Twenty years ago, a young Rob and his two best friends went into the woods, chasing each other, playing in a castle of ruins. But they didn't return to their homes at sunset. A search party was dispatched to canvas the woods, finding only a catatonic Rob clawing at a tree, his clothing ripped, his shoes filled with blood.

Detective Ryan has always guarded this secret of his past, but the recent murder forces him to reveal it to his new partner, drawing them closer together in the search for the perpetrator. Is there a connection between Rob's childhood trauma and Katy Devlin's murder? And is Detective Ryan prepared to confront the secrets that lie deep in those woods? Suspects abound in this fast-paced mystery -- a stunning debut that examines the complexities of the human mind and the cost of discovering the truth.
In The Woods is a proper introduction to the series.  I am also the most conflicted about this book.  The complexity of the murder case and the link to the cold case of the past did a great job of grabbing and holding my attention.  But what made this the most special, was the relationship between Rob (the lead character) and his partner, Cassie.  They have an extraordinary rapport that jumped out on the page.  In the beginning, I had the expectations that they'd be the new detective team anchoring the entire series, so perhaps that is why I was totally unprepared for the direction the author chose to take the story.  I am the most unsettled about how this one wound up.  I am strangely attached to Rob and I feel like this is an unfinished story that needs another couple of chapters.  I found myself hoping to get a glimpse of Rob in the subsequent books, only to get some closure on him as a character.
Narration:
The narration was well done in terms of clarity and pacing.  It was little difficult understanding the legal/criminal system terms, but as familiarity with the system increases, that was not a big problem.  The accent was appropriate for Rob, and it was important that he have a British accent as that was part of his story.  However, given the setting is Ireland, I wanted the other characters to sound Irish.
Listen to a clip: HERE
Rating Breakdown
Plot
Writing
Characters
Narration (Audio)
Overall:
---
The Likeness
by
Tana French
Narrator:
Heather O'Neil
Series:
Dublin Murder Squad #2
Published by
Penguin Audio
on February 13, 2018
Genres:
Mystery
Length:
22 hours, 17 minutes
Format:
Audiobook
Source:
Library
Goodreads
Amazon
, 
Audible
, 
Audiobook
, 
Barnes & Noble
, 
Apple





Detective Cassie Maddox is still trying to deal with the events of In the Woods. She is out of the Murder Squad and has started a relationship with fellow detective Sam O'Neill but is too badly shaken to commit to Sam or to her career. Then Sam is allocated a new case, that of a young woman stabbed to death just outside Dublin. He calls Cassie to the murder scene and she finds the victim is strangely familiar. In fact, she is Cassie's double. Not only that, but her ID says she is Lexie Madison the identity Cassie used, years ago, as an undercover detective. With no leads, no suspects and no clues, Cassie's old undercover boss spots the opportunity of a lifetime: to send Cassie undercover in the dead girl's place. She could pick up information the police would never hear and tempt the killer to finish the job. So Cassie moves into Whitethorn House, poses as a post-grad student, and prepares to enter Lexie's world.
Cassie makes an appearance as the lead detective in The Likeness.  I really enjoyed the non-traditional approach to the murder investigation and how it expands on Cassie's experience with undercover.   The mystery aspect was intriguing, and I found the relationships she developed with the suspects to be engrossing.  The effect of being undercover, losing oneself in the role, was as central to The Likeness as the murder itself.  I had to suspend a little bit of belief regarding the actual "likeness" but once I let go of that, I enjoyed how the story played out.  I did still hold out hope Rob would resurface through this entire book, and was disappointed.
Narration:
This was an excellent performance by Heather O'Neill, emotive and engaging.  I didn't having any issues with pacing and listened comfortably at 1.25x.
Listen to a clip:  HERE
Rating Breakdown
Plot
Writing
Characters
Narration (Audio)
Overall:
---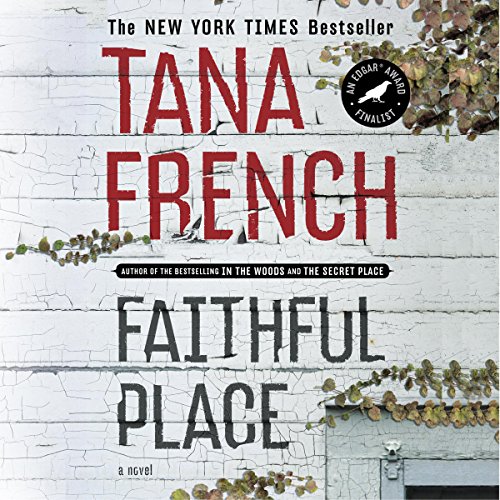 Faithful Place
by
Tana French
Narrator:
Tim Gerard Reynolds
Series:
Dublin Murder Squad #3
Published by
Penguin Audio
on February 13, 2018
Genres:
Fantasy
,
Young Adult
Length:
16 hours, 1 minutes
Format:
Audiobook
Source:
Library
Goodreads
Amazon
, 
Audible
, 
Audiobook
, 
Barnes & Noble
, 
Apple






Faithful Place is Frank's old neighborhood, the town he fled twenty-two years ago, abandoning an abusive alcoholic father, harpy mother, and two brothers and sisters who never made it out. They say going home is never easy, but for Frank, investigating the cold case of the just-discovered body of his teenage girlfriend, it is a tangled, dangerous journey, fraught with mean motivations, black secrets, and tenuous alliances. Because he is too close to the case, and because the Place (including his family) harbors a deep-rooted distrust of cops, Frank must undergo his investigation furtively, using all the skills picked up from years of undercover work to trace the killer and the events of the night that changed his life.
Although the mystery aspect of Faithful Place was not the most interesting, the character of Frank Mackey stole the show.  I laughed out loud at the interactions between him and his family and at his snarky comments.   I have a list of insults and expletives I'd love to be able to work into my own vocabulary.  Frank's worked hard to get out of his low-class neighborhood, and to cut ties with his dysfunctional family, only to find himself caught up in his old life and pulled back into everything he's fought so hard to escape.
The economic impact of Ireland's boom and recession seem to be an underlying theme in Faithful Place.  I liked the deeper connection to what is going on in the country, and its impacts on the socio-economic status of the different characters.  I also found it interesting that while Frank tried so hard to cut himself off from his old family, he's ended up cut off from his new one as well.  Is mending the breach with his past the way to salvage the future he imagined?
Understanding Frank's motivations and actions was about as difficult as solving the murder itself.  There was a little bit of heartbreak in how Faithful Place plays out, but I was left with a surprisingly hopeful feeling.
Narration:
The narration of Faithful Place was fantastic.  Tim Gerard Reynolds really brings Frank Mackey to life.  He does an excellent job with the entire cast of adults and children.  The pacing was great, although I did slow down to regular speed from my standard 1.25x at some points, especially when the Irish was a wee 'tick' (ie: thick).
Listen to a clip:

Rating Breakdown
Plot
Writing
Characters
Narration (Audio)
Overall:
---
Broken Harbor
by
Tana French
Narrator:
Stephen Hogan
Series:
Dublin Murder Squad #4
Published by
Penguin Audio
on May 7, 2019
Genres:
Mystery
Length:
19 hours, 54 minutes
Format:
Audiobook
Source:
Library
Goodreads
Amazon
, 
Audible
, 
Audiobook
, 
Barnes & Noble
, 
Apple





Mick "Scorcherˮ Kennedy is the star of the Dublin Murder Squad. He plays by the books and plays hard, and that's how the biggest case of the year ends up in his hands.

On one of the half-abandoned "luxuryˮ developments that litter Ireland, Patrick Spain and his two young children have been murdered. His wife, Jenny, is in intensive care. At first, Scorcher thinks it's going to be an easy solve, but too many small things can't be explained: the half-dozen baby monitors pointed at holes smashed in the Spains' walls, the files erased from the family's computer, the story Jenny told her sister about a shadowy intruder slipping past the house's locks. And this neighborhood—once called Broken Harbor—holds memories for Scorcher and his troubled sister, Dina: childhood memories that Scorcher thought he had tightly under control.
I have to admit that when Mick "Scorcher" Kennedy appeared in Faithful Place, I was really hoping he'd get to be the lead in one of the subsequent installments.  He's kind of a Captain America, which appeals to me.  It was fascinating to get glimpses into his childhood and family situation, seeing how they impacted the detective he had become.
The setting of Broken Harbor, post-economic recession is bleak and it seemed that there was an over-abundance of symbolism in this installment.  I was a bit lost as to where the story was headed.  I wasn't sure if the entire cast of characters was going crazy or not.  Most importantly, was the 'animal' simply an allegory for Patrick's descent into madness?
As the story progressed I lost sight of Scorcher as a primary character, and my emotions were being pulled in too many directions to be able to empathize with any of the characters at all.  It was a bit overwrought.  Perhaps a romantic interest for Scorcher would have eased some of the tension.  By the end, I honestly didn't care who had killed the family, which was actually horrifying.  I just wanted it to be done.
Narration:
Stephen Hogan did an excellent job narrating Broken Harbor.  He had a strong, precise voice that exactly captured Scorcher's personality.  He did a great job on the various female characters as well.  I listened at 1.25x and thought it translated well for this story.
Listen to a clip:

Rating Breakdown
Plot
Writing
Characters
Narration (Audio)
Overall:
---
The Secret Place
by
Tana French
Narrator:
Stephen Hogan
,
Lara Hutchinson
Series:
Dublin Murder Squad #5
Published by
Penguin Audio
on September 2, 2014
Genres:
Mystery
Length:
20 hours, 35 minutes
Format:
Audiobook
Source:
Library
Goodreads
Amazon
, 
Audible
, 
Audiobook
, 
Barnes & Noble
, 
Apple






A year ago a boy was found murdered at a girls' boarding school, and the case was never solved. Detective Stephen Moran has been waiting for his chance to join Dublin's Murder Squad when sixteen-year-old Holly Mackey arrives in his office with a photo of the boy with the caption: "I KNOW WHO KILLED HIM." Stephen joins with Detective Antoinette Conway to reopen the case—beneath the watchful eye of Holly's father, fellow detective Frank Mackey.

With the clues leading back to Holly's close-knit group of friends, to their rival clique, and to the tangle of relationships that bound them all to the murdered boy, the private underworld of teenage girls turns out to be more mysterious and more dangerous than the detectives imagined.
Stephen Moran, who first appeared as an eager rookie in Faithful Place, returns as a slightly more experienced cold case detective teaming up with the prickly, outcast murder detective, Antoinette Conway in The Secret Place.   A LOT of Moran's time is spent tiptoeing around Conway's moods and working around the huge chip she seems to have on her shoulder.  The bulk of the story takes place at a girls' boarding school, which is its own set of horrors, and the investigation is quickly muddied by friendships and grudges held between rival cliques.  As a commentary on the future of our society, it is frightening.  I was kept off-kilter (in a good way) with regards to the actual crime and I lived in dread at the turn of each page.  The best part was watching Moran and Conway working together as a team, combating prejudice and rumor, and ultimately getting to the bottom of a very difficult case.
I am not a huge fan of flashbacks and alternate time lines within a book.  I prefer a more linear approach.  These are sometimes difficult to follow in audio books, however the author does a great job of announcing the dates in The Secret Place, specifically calling out how much time before the murder will occur.
Narration:
Stephen Hogan and Lara Hutchinson narrate The Secret Place and both do a great job.  It made jumping between the timelines a little easier. I had no trouble listening at 1.25x, although I wouldn't have minded listening at normal speed.
Listen to a clip:

Rating Breakdown
Plot
Writing
Characters
Narration (Audio)
Overall:
---
The Trespasser
by
Tana French
Narrator:
Hilda Fay
Published by
Penguin Audio
on October 4, 2016
Genres:
Mystery
Length:
20 hours, 6 minutes
Format:
Audiobook
Source:
Library
Goodreads
Amazon
, 
Audible
, 
Audiobook
, 
Barnes & Noble
, 
Apple






Being on the Murder squad is nothing like Detective Antoinette Conway dreamed it would be. Her partner, Stephen Moran, is the only person who seems glad she's there. The rest of her working life is a stream of thankless cases, vicious pranks, and harassment. Antoinette is savagely tough, but she's getting close to the breaking point. Their new case looks like yet another by-the-numbers lovers' quarrel gone bad. Aislinn Murray is blond, pretty, groomed to a shine, and dead in her catalogue-perfect living room, next to a table set for a romantic dinner. There's nothing unusual about her except that Antoinette's seen her somewhere before. And that her death won't stay in its neat by-numbers box. Other detectives are trying to push Antoinette and Steve into arresting Aislinn's boyfriend, fast.

There's a shadowy figure at the end of Antoinette's road. Aislinn's friend is hinting that she knew Aislinn was in danger. And everything they find out about Aislinn takes her further from the glossy, passive doll she seemed to be. Antoinette knows the harassment has turned her paranoid, but she can't tell just how far gone she is. Is this case another step in the campaign to force her off the squad, or are there darker currents flowing beneath its polished surface?
Conway and Moran are teamed up again in The Trespasser, except it is Conway who is the primary character.  It was great to see how she and Moran compliment each other, in true partner style, rather than their mentor/mentee relationship in The Secret Place.  While she came across as bossy and defensive in The Secret Place, it was interesting to have more insight as to why she behaved as she did and the difficulties she faced on the job.  Anyone that has experienced bullying could identify with the feelings of mistrust and resentment that grow as a result and how it taints all relationships.
The crime in The Trespasser didn't take a back stage to the character development, as with a couple of the other books in the series.  I enjoyed this installment about as much as In the Woods; maybe more so  because of the unexpected direction of the actual crime and how the author handled the ending.
Narration:
Hilda Fay did a nice job interpreting Conway's brusque character as well as the remaining, primarily male, characters. I listened at 1.25x for most of the book and slowed it down a couple of times to make sure I caught all of the dialogue during some of the interviews.
Listen to a clip:

Rating Breakdown
Plot
Writing
Characters
Narration (Audio)
Overall:
Rating Breakdown
Plot
Writing
Characters
Narration (Audio)
Overall:
Related Posts