The Sunday Post is a weekly meme hosted by Kimberly  @ Caffeinated Reviewer. It's a chance to share news~ A post to recap the past week, and showcase books and things we have received.
---
Don't forget to look at my giveaways on the right sidebar.
Sunday,  I woke up a lot in the night so I didn't get a fast start this morning. I did my blog visiting and then decided I had to get to work mowing at least half the yard.  I have a bunch of errands tomorrow. I mowed the entire yard because I also need to do the weed & feed.   I put up the portable fence web on the back yard for the area not done.  If I'd had enough of the weed & feed I could have done it before I left and wouldn't have needed the fence.  But no,  I ran out and had to order more.  It was rather buggy before I was finished.
Monday,  I read until 3:30am last night and I have a jam packed schedule today.  And my mail service has stopped sending my emails so I had to do some fixups to that.  Sorry if you got 4 emails Monday.  I did the weed & feed in the back yard.   I took back the rest of the blocks to Home Depot that were leftover.  I picked up my plant order at Plant Delights nursery which is an awesome place.  I got a few groceries at Aldi.  I spoke to Walgreens on the phone and they assured me my daughter's 2 Rx would be ready by 3, that the one they ordered on Friday arrived in the shipment.  I then waited a half hour in line for them to say they weren't ready 4-4:30.  I did the Aldi shopping and then waited in line 5-6pm  which at first they told me they couldn't find it, looked and then finally filled it.  I should have been tired but I was fine with cooking fajitas and tacos and then reading til 1 am.
Tuesday,  ok today I was tired and didn't even hear the alarm!  Luckily I woke up about 45 minutes before the contractor was coming.  We opened all the boxes and checked for damage.  Everything is here and no damage so they will start next Monday. EEK!  I really need to get packing.  So then I ate breakfast and started on my computer stuff.  I went down a rabbit hole, organizing emails for free knitting patterns. Sigh.  I really had more important things to do.  I feel distracted by all the things.  The post email didn't go so I had to manually trigger it. UGH.  Thankfully I am home all day tomorrow but Thursday and Friday I have some running to do so tomorrow I MUST pack more. I did a bit of work after dinner.
Wednesday, I didn't get a fast start and my daughter was still up at 10am.  Lulu actually barked when she put her in the crate while I was showering and getting dressed. I got my reviews written for the next 2 days and started updating reviews for the new COYER Season.  I hung some more pictures and did some more packing. I planted the last of the plants and bulbs. I unpacked a box of stuff from the old car which wouldn't fit in the new car which has been sitting around over 3 years.  The bandaids, aloe, insect spray and sunscreen went right into the linen closet where I keep all those things now.  This unpacking is part of cleaning out the dining room so we can set up our temporary kitchen there with fridge, microwave,  some food supplies and the table. I'm actually feeling pretty good  with completing all the fall planting and weednfeed with just the kitchen packing to finish.
Thursday,  I took a few garden and flower shots this morning.  The snow peas and broccoli are coming along well.  The roses and iris are still blooming.  The herbs, basil, rosemary and chives are waist high.  The planter is fully planted. I did some more kitchen packing and picked up some packing paper from a neighbor. Now I can do the wine glasses and mugs. My daughter has her chiro and massage appt.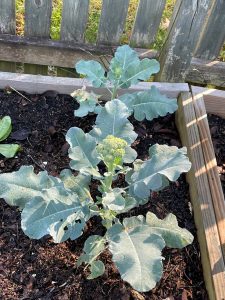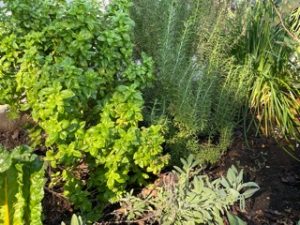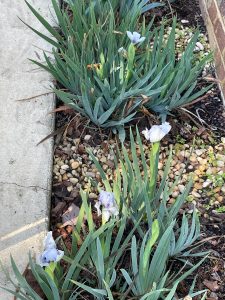 Friday,  I took my car in to the local dealer who has a Volt certified tech because of the check engine light. I haven't had any issues but it won't pass inspection with the light.  They hadn't talked to me by late afternoon, so I called.  They hadn't even looked at it, so now I have another appointment for next Thursday. That was a waste of about 3.5 hours with all the traveling to their dealership and back twice, and waiting.  I did lots more packing and got serious about emptying out every shelf. We've been eating all our favorites that require baking or stovetop which we won't have for about a month.
Saturday,  I finally finished my ebook which was good but I'm having a rough time reading at bedtime because I'm too tired.  And I really don't want to start a new book unless it's a favored author and I know what to expect, if that makes sense.  Today will be laundry day.  Tomorrow will be dishwasher day.  Yes, I need to wash them before they go in boxes and yes, they will be washed again before they go back in cabinets.  It's the last day of 80s for awhile.  It's been 70s-80s with 60s at night and this week will be colder with 60s in the day and down to 40s at night – almost freezing! I look forward to the socks and sweaters. It's more likely to be sweatshirts though.    I wrote 2 reviews.  I had some more issues with the mail server.  If you want to be sure you get the post notifications,  you might want to follow thru Bloglovin (the blue heart on the right sidebar)  or Feedly (the green F on the right sidebar).   Somehow the earbud graphic changed to a ? on all my posts. I changed it back on the October posts but am going to see if it stays before I take time to change all the earlier posts.  While cooking dinner, I packed more.

Stacking the Shelves is hosted by Reading Reality.  These are the exciting ARCs I received this week (If you click on the cover, it will take you to the Goodreads entry):
I am grateful to receive these ARCs from PRH Audio (I also won a print copy in a Goodreads giveaway),  and  Elizabeth Hunter and SocialButterflyPR, 
(If you click on the cover, it will take you to the Goodreads entry)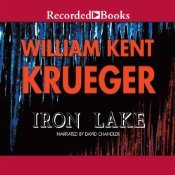 I found one I needed at the Audible sale for $5.

Now the really scary one. This is all the Kindle and Audible freebies I grabbed this past week. You can see why I need to do Thrifty Thursday to be sure I read a few at least one each month.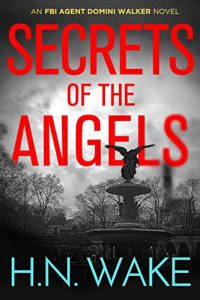 I really meant to cut back on freebies BUT  they are free so I guess that won't be happening.

I'm not including things like reviews posted or upcoming as they are always in the right sidebar. And, my challenge status is also there.
Anne
Latest posts by Anne - Books of My Heart
(see all)