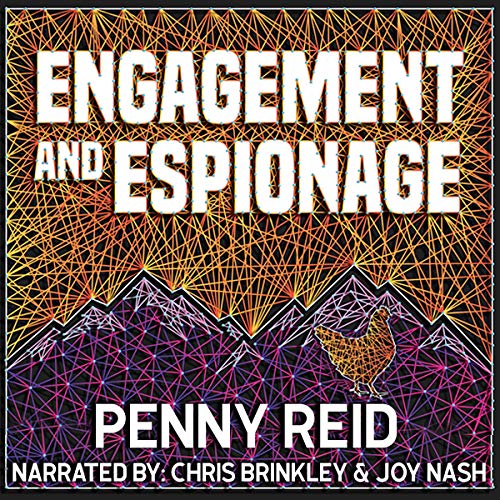 Engagement and Espionage
by
Penny Reid
Narrator:
Chris Brinkley
,
Joy Nash
Series:
Cletus and Jenn Mysteries #1
Published by
Self-Published
on October 8, 2020
Genres:
Contemporary Romance
,
Mystery
Length:
10 hours, 31 minutes
Format:
Audiobook
Source:
Purchased
Goodreads
Amazon
, 
Audible
, 
Audiobook
, 
Barnes & Noble
, 
Apple





Jennifer Sylvester made her deal with the devil . . . and now they're engaged!

But all is not well in Green Valley. A chicken choker is on the loose, 61 dead birds most "fowl" need plucking, and no time remains for Jennifer and her devilish fiancé. Desperate to find a spare moment together, Jenn and Cletus's attempts to reconnect are thwarted by one seemingly coincidental disaster after another. It's not long before Cletus and Jenn see a pattern emerge and the truth becomes clear.

Sabotage! Will an undercover mission unmask the culprit? Or are these love-birds totally plucked?
Any review I write for a Penny Reid book should come with a disclaimer.  Something like "This woman is a genius; it is impossible not to love anything she writes." Of course, it is a double whammy when you add Cletus Winston into the equation.  Engagement and Espionage, the first installment in the Cletus and Jenn mysteries, is a continuation of Cletus and Jen's story line, with a little mystery element.  It is funny, sexy, and smart, with guest appearances from most of the Green Valley characters.
Jen and Cletus are my favorite couple in the series, so getting a  Winston Brothers spin-off featuring the two of them is icing on the cake.  I loved watching how they navigated their new relationship and danced around some key issues (like the actual engagement part).  While the sexual tension was not as high as in Beard Science, the actual sexy times more than made up for it. The mystery part wasn't really that much of a mystery, but it provided excellent opportunities for Cletus to be sneaky. Of course, I love his inner commentary on the antics of his family and the citizen's of Green Valley.
Talking, I was beginning to suspect, was the root of all evil.  The ease of it, in particular was an issue.  Talk it out, talk it over. Talk it through.  Useless.  If more folks thought it out, thought it over, and thought it through, instead of talking, then the world would be less cluttered with opinions and assholes.
Jen, working on her self-assertion and independence, was an primary theme in this book.  Even after taking control of the bakery, and baking on her own terms, her mom is still running roughshod over her.  While it was a little annoying to watch Jen regress, I think it is a realistic depiction of personal growth.  Change doesn't happen overnight, and you can't just flip a switch, especially when you are dealing with family.  I did want to drop-kick Ms. Donner a few times.  Although Jen proves herself to be very capable and strong, there were lovely moments where Cletus could step in and back her up.
This book resumes just a few months after Beard Science.  It took me a moment to mentally reverse and discount all that has happened in the Winston Brothers' lives.  I probably missed some Easter Eggs and while I didn't really need it, I now have an excellent excuse to reread the entire series.  Engagement and Espionage is another win for Penny Reid's Smarty-Pants brand of romance.
Narration:
Joy Nash has such a unique and engaging voice, I love her narration.  She captures the naïve quirkiness of Jen and does a great job with supporting characters.  Chris Brinkley is simply the voice of the Winston brothers.  I absolutely adore his narration.  He gives the characters just the right amount of country and charm.  I love how he performs Cletus the best, but it is amazing how each brother is distinct and recognizable.
Listen to a clip:   HERE
Rating Breakdown
Plot
Writing
Characters
Dialogue
Narration (Audio)
Overall:
Related Posts