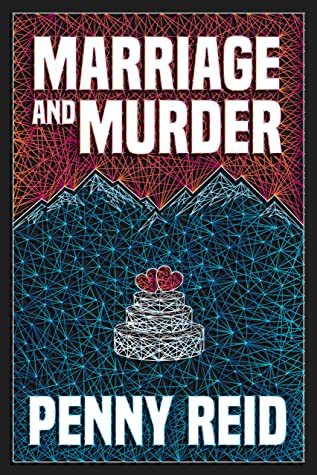 Marriage and Murder
by
Penny Reid
Series:
Cletus and Jenn Mysteries #2
Published by
Self-Published
on March 2, 2021
Genres:
Contemporary Romance
,
Mystery
Pages:
347
Format:
eBook
Source:
Purchased
Goodreads
Amazon
, 
Barnes & Noble
, 
Apple






Cletus Byron Winston wishes to marry Jennifer Anne Donner-Sylvester (aka The Banana Cake Queen) posthaste! He's spent the last year wanting nothing more than for the celebrations to be brief, libations flowing, and BYOB (bring your own blueberries). His future mother-in-law has other plans, plans his intended has been willing to indulge, much to Cletus's chagrin. Therefore, so must he. To a point. But truth be told, he wouldn't mind if the meddlesome matriarch disappeared, at least until the nuptials are over.

On the night of Cletus and Jenn's long-awaited engagement party, just when the surly schemer is of a mind to take matters into his own hands, a shocking event upends everyone's best laid plans and sends the small hamlet of Green Valley into complete disarray. The final months leading up to Cletus and Jenn's matrimonial bliss are plagued with chaos and uncertainty. Will Cletus and Jenn finally make it to the altar? Or will murder and mayhem derail their happily-ever-after? And most importantly, who done it?
I have loved every Winston Brothers series book  and now the spinoff series, the Cletus and Jenn mysteries, with my absolute favorite couple.  The series seems to give us a lot more detail than what was happening in Beard Science and during the rest of the Winston Bros series.
I really enjoyed Marriage and Murder, even more than Engagement and Espionage.  Certainly, the relationship between Cletus and Jenn has developed even further and they work together more.  I love the way Cletus supports and considers what is important to Jenn.   It's a difficult time for Jenn with everything happening with her parents and brother.  It ends up being dangerous too.
The mystery seemed more interesting although it was clear who some of the villains were. Cletus really was more involved with solving and working the situation.  His family also really pitches in helping with everything for Jenn and the wedding.  Everyone wants this kind of family support, although sometimes they can seem a bit too much in your business.
I am trying to figure out what I remember from the Winston Bros series about future events with Jenn's family and can't remember enough.  I would read these in order, because I always prefer that, but also because some of the plot carries on from the previous books. The marriage is included here so I'll definitely be looking forward to more of their adventures as a married couple. I love Cletus and Jenn so much.  It looks like Home and Heist is next in 2022.
Excerpt:
"Here." Cletus suddenly appeared, looking devilishly handsome in the dim light and seemingly all put back together—like we'd been in here holding hands instead of. . . ANYWAY.
He held out my underwear. His eyes were bright even in shadow, and I could see they were half-lidded as they lazily trailed over me. He looked at me like he was hungry, and I was dinner. Despite all the encore orgasms I'd just had, the effect hit me right between my legs.
I wondered what he was thinking, watching as he licked his bottom lip and drew it into his mouth. Was he just as insatiable for me? And if so, was he okay with that?
Tearing my eyes away, I pulled on the lace and fixed my skirt, telling my body to settle down. We were getting married for hootenanny's sake!
Cletus cocked his head to the side while I smoothed my hands down the red fabric, working to get a hold of all this raging want always coursing through my veins whenever he was near. Maybe it was because he was my first, and I guess, my only. Was that why I felt so crazed for him all the time?
"Miraculous," he said.
I surmised he meant the dress. "Right? The wrinkles are hidden, if there are any. It's 'cause they ruched the outer fabric at the seams, see?" I turned to the side to show him the seam, and he stepped forward as though he were going to investigate.
Instead, his hands cupped my face and tilted my chin back. He stared at me with a vibrant intensity I felt all the way to my fingertips. "No, Jenn. Not the dress. You." Cletus gave me a soft kiss, ending it by gently nipping my bottom lip. "You are my miracle."
I sighed. And I smiled. And I felt like I was walking on a cloud instead of in four-inch heels, which was also probably something of a miracle. "You say the sweetest things."
"I think you mean, I say the truest things."
I laughed, and he kissed my forehead. He held me there, in the dark with his lips pressed to my forehead. "I love you so completely, with every cell in my body. I wonder sometimes if I'd cease to exist—just evaporate or disappear—if anything ever happened to you."
"No." I anchored my hands to his wrists and squeezed. "Don't think like that. We've got our whole lives in front of us. There's nothing anyone can—"
Three bangs in quick succession pierced the quiet moment, and not a second later Cletus had me on the ground beneath him, covering my back with his body.
"Gunshots," he whispered in my ear. "From the parking lot. Don't move."
Latest posts by Anne - Books of My Heart
(see all)
Reading this book contributed to these challenges:
Related Posts