Review copy was received from NetGalley. This does not affect my opinion of the book or the content of my review.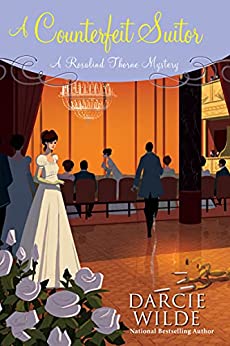 A Counterfeit Suitor
by
Darcie Wilde
Series:
Rosalind Thorne Mysteries #5
Published by
Kensington Books
on November 30, 2021
Genres:
Historical Fiction
,
Mystery
Pages:
352
Format:
eARC
Source:
NetGalley
Goodreads
Amazon
, 
Barnes & Noble
, 
Apple





It is every mama's dearest wish that her daughter marries well. But how to ensure that a seemingly earnest suitor is not merely a fortune hunter? Rosalind is involved in just such a case, discreetly investigating a client's prospective son-in-law, when she is drawn into another predicament shockingly close to home.

Rosalind's estranged father, Sir Reginald Thorne—a drunkard and forger—has fallen into the hands of the vicious scoundrel Russell Fullerton. Angered by her interference in his blackmail schemes, Fullerton intends to unleash Sir Reginald on society and ruin Rosalind. Before Rosalind's enemy can act, Sir Reginald is found murdered—and Fullerton is arrested for the crime. He protests his innocence, and Rosalind reluctantly agrees to uncover the truth, suspecting that this mystery may be linked to her other, ongoing cases.

Aided by her sister, Charlotte, and sundry friends and associates—including handsome Bow Street Runner Adam Harkness—Rosalind sets to work. But with political espionage and Napoleon loyalists in the mix, there may be more sinister motives, and far higher stakes, than she ever imagined..
After turning down the offer of marriage to a duke, a woman with precarious status in society needs to prove her worth, but the appearance of her ne'er-do-well father and his subsequent murder is more than a ticklish problem that she can deftly snap her fingers at.  The Rosalind Thorne stories are more than a mystery series, but the story of a woman living down unearned family reputation and making her own way in English high society.  I've cheered her on from the beginning and love the cunning mysteries she must tackle along the way.
A Counterfeit Suitor is the fifth in the Regency era historical mystery series of books that really must be read in order to see Rosalind's personal story and growing romance from the beginning.
Rosalind turned down her first crush and love along with his title and fortune when it only made sense to take him up on his marriage offer.  A gambling father who shattered the family fortunes and left with his oldest daughter for the continent while Rosalind remained with a depressed mother who eventually passed away and left her alone to face the sneers and snubs of their former high society acquaintances.  She made do by becoming society's Useful Woman for a monetary consideration that was the sole means of keeping her from penury.  All this would have been swept away if she had accepted his hand.  But, too much time has passed and Rosalind has learned to appreciate being an independent woman making her own way.  Not to mention her heart might be tugging in her in an entirely different direction and toward the hard-working lower class Bow Street Runner who has admired and supported, plus aided her in her mystery-solving work all along.
But, now her reputation and work are in jeopardy once again when the malice of an enemy aids her father back into London society right about the time Rosalind has her hands full helping a mother determine if her daughter's suitor is in love or merely a fortune hunter.  Sir Reginald Thorne's death has Rosalind and her courtesan sister, Charlotte, at the top of the suspect list along with another surprising candidate, her enemy, Russell Fullerton.  She has to get to the bottom of the murder and not just to be declared innocent.  There are ties to espionage and Napoleon behind all this.
While the last book was okay and I was relieved to have the love triangle resolved, it didn't exactly sparkle for me.  A Counterfeit Suitor jumped back into all that makes this series something special.  Rosalind is active and in her stride even when she is harried by all that is thrown at her.  There are no wishy-washy moments and she charges right into the fray.  She had to adjust when her housekeeper took off and she went in with Alice and she has to face her embarrassing and ugly past when her father is back in the picture, but Charlotte is there as is the redoubtable Adam and her small circle of friends to get her through.  I loved the added suspense from the war-time espionage aspect and the mystery was well beyond me figuring it out.  But, most of all, I liked seeing her acknowledge her feelings for Adam and that she was in love with a working class man and that was all right.
All in all, this one sparkled and was a cover to cover satisfactory read.  Historical mystery fans who love the Regency world, a growing and strong female lead, and clever mystery plots should check out this series.
Related Posts