The Sunday Post is a weekly meme hosted by Kimberly  @ Caffeinated Reviewer. It's a chance to share news~ A post to recap the past week, and showcase books and things we have received.
---
Don't forget to look at my giveaways on the right sidebar.
Sunday,  I got a lot done yesterday but there is so much more to do yet.  It's a cloudy day so it feels colder.  I'm doing some visiting of blogs.  We also had the last Psy-Changeling chat.  It is such a great series and was wonderful to read.
Monday, I managed to get going pretty well.  I handled some calls. Then I ran a bunch of errands handling returns, ,ailing off some Blogaversary prizes,  and a Walmart pickup.  The weather is really nice.  We managed to torture Lulu with a toenail trim. My daughter walked with Lulu and me on our shortest route.  Then in the almost dark, I blew the leaves off the front yard.   I put up our holiday lights on the front porch.  I loaded up the dishwasher again to try to clear more of the boxes still in the kitchen.  The problem is it is mostly plastics which have to be on the top shelf or hand-wash items.
Tuesday was a frustrating start with Goodreads down and Netgalley being weird.  I waited on hold for Walgreens for 30 minutes and it hung up on me.  I took my daughter to campus to take her final.  While she was there, I got my Rx at Harris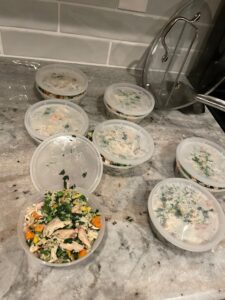 Teeter (no one in line), went to Walgreens to order her Rx (1 in line before me),  ran to Aldis to pick up a couple items,  went back to Walgreens (1 in line before me).  I got back to pick her up about 15 minutes after her test ended.  That's the fastest I've ever gotten through all those errands.  Of course, if I could have gotten through to Walgreens earlier I wouldn't have had to go there twice.  I made a batch of Lulu food (chicken thighs, brown rice, spinach, 4 veg mix, vitamin powder) while cooking our dinner and unloading /reloading the dishwasher as part of unpacking.
Wednesday,  I woke up to cloudy and it had rained.  I'm glad to have a day at home. I'm really working the boxes.  I still have herbs, lettuce, snow peas and broccoli in the garden.  I have roses blooming and I notice a few irises reblooming yesterday.  Our front there are still mums blooming and anemone,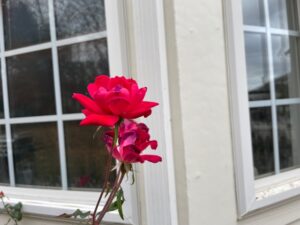 and the azalea.  I worked on doing a lot of post setups this afternoon. The cabinet panel was supposed to be here between 12-4 and arrived at 5:30.   Then Lulu and I went to walk in the nearly dark.
Thursday was a really great day at home.  It was cold so I wore my handknit wool socks.  I worked hard on getting posts set up for the next few weeks and got all my ARCs set up.  I took Lulu for a very short walk, as it was also windy.  It was freezing by dark 32F, 0C but got warmer overnight.
Friday,  I started by emptying the dishwasher and refilling it with plastics.  I have finished unpacking things wrapped in packing paper so I gathered that up with those boxes and another I emptied and hauled those out.  I have 3 boxes left!  It's cloudy but warmer. I got an Instacart order from Food Lion for a few items since I had a $15 promo which ended today.  I did some more unpacking getting rid of another box.  I went to mail prizes at the USPS  and then to buy some basil.  Though cloudy, it was not cold, so Lulu and I went on our walk.  I planted pansies where the impatiens were done. I picked snow peas and herbs to use with dinner.
Saturday,  I got up and got to work on things.  I looked over the college class possibilities because my daughter is not liking the classes or rather some of the teachers we selected in November, and payment is due Monday for Spring. I made some blueberry scones.  I unloaded the dishwasher and loaded it up again.  I made another batch of Lulu food (ground turkey this time).  I called Walgreens and of course, things are messed up.  I went over and picked up what they have at least, since my daughter is totally out.  The weather is really warm and nice,  even though it is cloudy, Lulu and I took a nice walk.  I had washed some soft side coolers.  By tomorrow I should be down to one box!

Stacking the Shelves is hosted by Reading Reality.  These are the exciting ARCs I received this week (If you click on the cover, it will take you to the Goodreads entry):
Special thanks to Tantor audio for the rest of the Georgina Kincaid series from Tantor Audio,  and Berkley.
(If you click on the cover, it will take you to the Goodreads entry)
I bought this Chirp deal for 99¢. Then I got a gift of a credit from Audible.  The box set was 99¢.  Then a $1.99 deal on a future Read-along book (I own all the audios but not the ebooks which are best for highlighting and note-taking)

Now the really scary one. This is all the Kindle and Audible freebies I grabbed this past week. You can see why I need to do Thrifty Thursday to be sure I read a few at least one each month.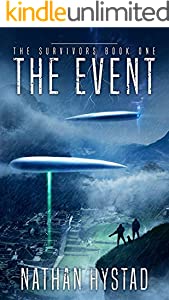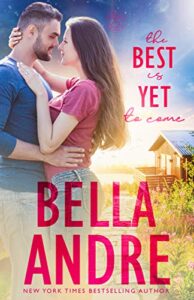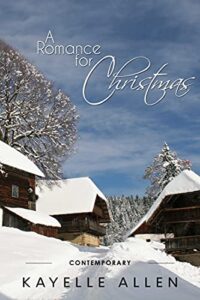 I really meant to cut back on freebies BUT  they are free so I guess that won't be happening.   The 6 Nathan Hystad books are in Kindle Unlimited but are FREE to buy right now,  with the rest of the series at 99¢.

I'm not including things like reviews posted or upcoming as they are always in the right sidebar. And, my challenge status is also there.
Anne
Latest posts by Anne - Books of My Heart
(see all)