Review copy was received from Publisher. This does not affect my opinion of the book or the content of my review.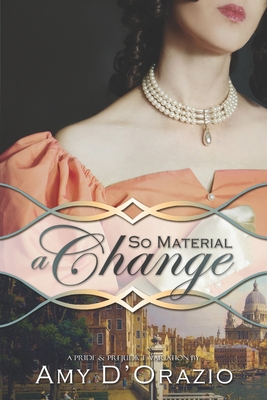 So Material a Change
by
Amy D'Orazio
Published by
Quills & Quartos Publishing
on September 11, 2021
Genres:
Historical Romance
Pages:
410
Format:
Paperback
Source:
Publisher
Goodreads
Amazon
, 
Audible
, 
Apple





MATRIMONY IS THE LAST THING on Elizabeth Bennet's mind when she arrives at Netherfield Park to tend to her ill sister. When proud Mr Darcy acts rashly to thwart a compromise and tells her that the entire household believes they are engaged, she dismisses him outright and refuses his offer of marriage.

BUT MORE SURPRISES AWAIT her at Longbourn. Mr Collins is ready with an offer of marriage and it is not only her mother who thinks it a fine match; Mr Bennet is willing to press the point until Elizabeth makes clear such a connexion is impossible-because she has accepted an offer of marriage from Mr Darcy.

IT IS AN INAUSPICIOUS BEGINNING, an engagement neither desires, driven to by the machinations of others. Yet what begins as a forced alliance soon changes into something quite different. Will it be enough to lead them into love?
Nearly compromised into a forced marriage with a conniving woman he can barely stand, he desperately spouts the first thing he can think of to rescue himself.  Engaged to someone else.  But, then he must follow through with the charade.  Only, it is no longer a charade when the young lady in question discovers her parents plan to serve her up as the family sacrifice to a disgusting buffoon of a man to provide for the family future.  It is with great relief she admits she is already engaged.
Thus, there is an entertaining and curious twist on a marriage for convenience for two of Jane Austen's iconic lovers.
So Material a Change approaches class difference, societal expectation, the darker side of the Regency and a twist on a classic with flair.  At first, I found the "I'm already engaged" responses to two people who had no plans to marry and definitely not to each other, the start of a comedy, but it was obvious this was no game because they had to somehow learn to like, let alone love each other, compromise on some points, and trust each other when they could trust no one else at times.  I enjoyed watching them become a true partnership even while struggling with the unexpected feelings that popped up for each other and made them vulnerable.  I wanted to thump Lizzy for all her doubts, but yet who wouldn't have struggled so hard in the situation she was in.  They both had so far to come and under the pressure of family- of all of London society watching them and most hoping they failed.
But, they did get some support and that leads me to how wonderful the relationships and characters were developed.  Yes, Lizzy and Darcy had a tough-fought swoony romance, but I also speak of secondary romances and some familial ties.  Darcy's Fitzwilliam family were wonderful.  I have to say now that his oldest cousin was the best outlandish oddity that has been written in some time.  That man saw the world in technicolor and said and did everything with panache.  The support he gave his cousin and Lizzy was fabulous, but the revenge he enacted against their worst enemy was the coup de grace.
After all their struggles, I found the longer denouement worked as an excellent counter-balance to all the earlier strain.  I liked seeing what came after and getting a few last minute bits clarified.  And, the epilogue was sugary sweet and left me smiling.
All in all, So Material Change was an abso-fab sweet historical romance classical variation.  No need to have read the classic prior to as this book stands alone fine.  Definitely recommend to Austenesque fans, but historical romancers in general, as well.
Related Posts