The Sunday Post is a weekly meme hosted by Kimberly  @ Caffeinated Reviewer. It's a chance to share news~ A post to recap the past week, and showcase books and things we have received.
---
Don't forget to look at my giveaways on the right sidebar.
Sunday,  I had to use the heating pad for my back last night and a bit this morning plus some ibuprofen.  Power washing did not make my back and neck happy.  My daughter also woke with pain yesterday but seemed better after taking some acetaminophen.  I wish so much I could manage a nap during the Super Bowl so I wouldn't be so tired during the Olympics tonight.  I don't nap well in the daytime though.   I am excited for the Read-along chat this afternoon.  I found out that the Marvel series I've always planned to watch are leaving Netflix at the end of the month so I need to get on that.  I've only watched 2 of 13 I think.  I hope they aren't 24 episode seasons!   Did I mention how I love skiing and I was on a championship curling team my junior year of high school?  I just really connect to these winter Olympics.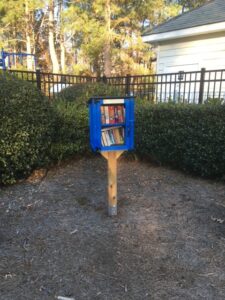 Monday,  yes I am tired and cranky after staying up until 2am watching Olympics.  Same deal tonight. If I decide I can miss the Men's Big Air final I can go to bed at 11:30.  My Instacart was kind of a disaster with bad replacements, a wrong item.  It's not the end of the world but remember I am crabby.  The rest of the day turned out well because I stuck to my tasks and my daughter was feeling great and walked with Lulu and me.  She took photos for me of the swans on the pond and the Little Free Library by our community pool and park.   I did go to bed early.
Tuesday,  I feel rested!  I got up late.  The weather is warming up this week and next.  I am ready to get going! I need to figure out time to go through some emails with review requests from my regular sources. I noticed May and June are really full but I still have some flexibility in March and April.   I even have some ARCs for July and August already too.  We walked a new longer route, with an added loop taking us 2.4 miles, but the extra loop didn't have a sidewalk.
Wednesday,  I didn't get up too early.  I did the usual tasks.  I took Lulu for a shorter walk because it was cloudy and felt cooler.  I made a marinade for the pork tenderloin I'm grilling tomorrow night. I juggled around my reviews in May, as I got offered another ARC.  I updated linkys for challenges. I went to bed earlyish but then I wasn't tired yet so I started reading my book, … and finished at 3am.
Thursday,  I needed to get going a bit earlier.  The roofing guys came to look at the roof where we could still here the water coming down inside the fireplace vent.  They redid that section of roof. It's supposed to rain tonight so we will see how that goes.  I took my daughter to a chiro / massage appointment.  Afterward, we walked Lulu on a medium route.  It was gorgeous and there were lots of people out.  Lulu was SO excited.  I couldn't get my library epub book to read in overdrive (and I know I have done that before) but I got it to work in Libby.  I typed up a pattern for a slipped stripe scarf, adapted from a circular pattern for the hat for my daughter.
I turned on the oven to preheat and something in the bottom of the oven smoked horribly and set off the alarms.  My ex opened all the doors wide and thought Lulu was upstairs.  Unfortunately, she ran out the front door and into the street.  My daughter had been napping but luckily had just got up and ran out to get here.  We were all shaken. She held onto Lulu for an hour and wouldn't let her go.   I was grilling the meat so I just put the sweet potatoes in a pan and roasted them on the grill instead.  I sprayed the oven with Easy off and will clean it tomorrow.  I have no idea what was in the bottom of the oven.
Friday,  well the weather is starting out nice but with strong north winds it will drop 15 degrees over the day. I always have a bunch of things I want to do.  But the contractors are supposed to show up and finish some details between 1 and 4pm. Well they came about 2 and did fix the electric switch, said the trim was still on order (since December) and that they couldn't fix the drawer problem because that would void the warranty, that would have to go through Home Depot.   I put the stuff back in the drawers since it's not going to happen soon.  Afterwards Lulu and I walked.
Saturday,   I got going since I had a Walmart pickup order. Before that I ran into Aldi for just a few items.  At home, I did some computer stuff, laundry, dishes and finally took the Christmas tree out.  We only got it Dec 24th so I expected we would keep it awhile but not this long.  It's very windy and I've felt cold all day, so we didn't walk.  I'm glad it's the last night of the Olympics because it is messing with my schedule.
---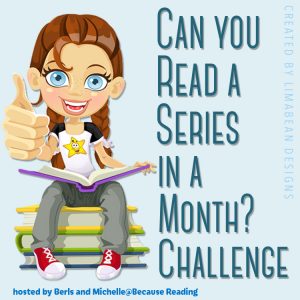 I'll be buddy reading the Psy-Changeling Trinity series by Nalini Singh with Berls.  That's 5 books.   I think we both plan to read the audiobook version, one each week in March.  I'll get mine from the library.
Silver Silence
Ocean Light
Wolf Rain
Alpha Night
Last Guard
---

Stacking the Shelves is hosted by Reading Reality.  These are the exciting ARCs I received this week (If you click on the cover, it will take you to the Goodreads entry):
 Many thanks to Amazon Publishing UK,  Mariner Books,   AceRoc Books,   Minotaur Books,  and Berkley.  
(If you click on the cover, it will take you to the Goodreads entry)
I bought these at the 2-1 credit Audible sale.  
I "bought" these through Amazon First Reads for free. 
Then a Chirp deal for $2.99.   Then I used an Audible coupon (plus I already own the Kindle version) to buy the final Edge book for $2.49.  

Now the really scary one. This is all the Kindle and Audible freebies I grabbed this past week. You can see why I need to do Thrifty Thursday to be sure I read a few at least one each month.
I really meant to cut back on freebies BUT  they are free so I guess that won't be happening.

I'm not including things like reviews posted or upcoming as they are always in the right sidebar. And, my challenge status is also there.
Anne
Latest posts by Anne - Books of My Heart
(see all)