Review copy was received from Purchased. This does not affect my opinion of the book or the content of my review.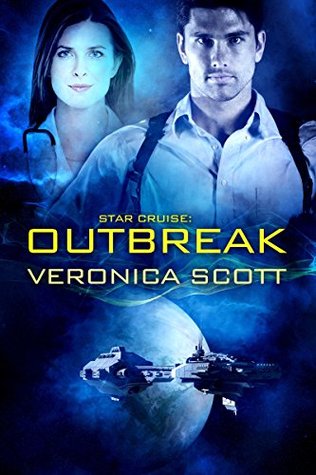 Star Cruise: Outbreak
by
Veronica Scott
Series:
The Sectors #4
on April 8, 2016
Genres:
Romance
,
Science Fiction
Pages:
259
Format:
eBook
Source:
Purchased
Goodreads
Amazon
, 
Audible
, 
Barnes & Noble
, 
Apple





Dr. Emily Shane, veteran of the Sector Wars, is known as "The Angel of Fantalar" for her bravery under fire as a medic. However, the doctor has her own war wounds–severe PTSD and guilt over those she failed to save.

Persuaded to fill a seemingly frivolous berth as ship's doctor on the huge and luxurious interstellar cruise liner Nebula Zephyr, she finds the job brings unexpected perks–a luxe beach deck with water imported from Tahumaroa II, and Security Officer Jake Dilon, a fellow veteran who heats her up like a tropical sun.

However, Emily soon learns she and Jake didn't leave all peril behind in the war. A mysterious ailment aboard the Zephyr begins to claim victim after victim … and they must race against time and space to find the cause and a cure! Trapped on a ship no spaceport will allow to dock, their efforts are complicated by a temperamental princess and a terrorist–one who won't hesitate to take down any being in the way of his target. If anyone's left when the disease is through with them …
Returning to the far future sci-fi world of The Sectors, the latest adventure tackles a space cruise ship beset by a mysterious plague and highlights a former military doctor never quite over her time in war, but needing to step up during the crisis.  Each The Sectors book has a unique situation and couple and highlights various future far-flung bits of the galaxy so that readers come to anticipate another intriguing sci-fi adventure each time.
Star Cruise Outbreak is the fourth book and a standalone story though it becomes the first of the books and novellas set on the Nebula Zephyr and does have a few references to previous standalone books.
Jake's life was saved by Dr. Shane and he is half-way in love with her because of her work in the field, but the reality of this version of his 'Angel of Fandolar' is a tough pill to swallow.  She doesn't want to remember back, she doesn't want to socialize and get to know the rest of the crew officers and she most especially is salty about Maeve, the ship's brilliant and nearly sentient AI.  His understanding of PTSD and having been in the forward theater of battle as well as his patient efforts to keep trying spark something between them right as a mysterious illness overtakes many passengers and he has a volatile political situation going on with some of the passengers from the same race.  Love in the time of outbreak, indeed.
I appreciate how the author introduces the tough part of post war for the medical staff, as well as the soldiers, and integrates that into this latest Sectors story.  Emily is trying to tough it out without getting help and Jake shows her  it is perfectly okay to open up about her troubles with others and get help from available sources.  Their romance came on quickly, but it was a desperate time and they were in close proximity with a great deal in common, so I was onboard from the beginning and loved seeing them become a team against the disease threat and a romantic team.
The outbreak on the ship and the way they had to work to contain it, figure out what it is and how to fight it all felt a bit on the nose with what has been our world this past few years.  It was fascinating and familiar in ways, but I appreciated the tension and the mystery that was constantly up against the ticking clock, the short-handedness of qualified staff and passenger volunteers, and of course the way passengers and crew reacted to the threat.  I flew through this book because of the level of suspense and excitement.
These books just keep bringing the good stuff and I am anticipating each further entry in the series.  Those who love their sci-fi romances packed with action and intrigue should definitely give this series a go.
Related Posts