The Sunday Post is a weekly meme hosted by Kimberly  @ Caffeinated Reviewer. It's a chance to share news~ A post to recap the past week, and showcase books and things we have received.
---
Don't forget to look at my giveaways on the right sidebar.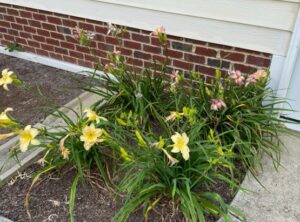 Sunday was another beautiful day with the wind from the north. My daughter was still up when I got up and didn't go to bed until 3pm!  She was reading. lol  I visited blogs,  put away and washed more china.  I wrote a review and finalized a post.  Lulu and I walked the long route by the swans.  The flowers are blooming! Every day there are new varieties of daylilies blooming. My daughter got up for dinner and then went back to bed.  I saw a post on the neighborhood facebook page about the swans.  The babies should be out by now but apparently the eggs are gone and they think a predator got them!  I'm so sad.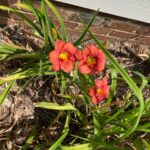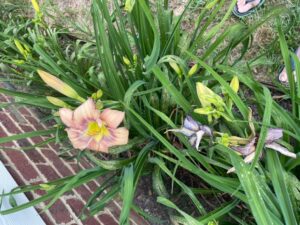 Monday,  I slept well. Another nice day but by late afternoon the wind shifts to the south.  I'm participating in a series of posts for June is Audiobook Month and the promos are posting on my Facebook page weekdays at 12 noon. I finally got the last of the china washed and put away.  I went to walk Lulu at 2 but I forgot my earbuds!  So we walked the longest hilliest route in the neighborhood.  Afterward, I went to Harris Teeter to pick up RX for me and my daughter and a few grocery items.  I was listening to my audio and it was so slow I fell asleep, only for a moment, and I realized I had it at 1x instead of 1.5x speed!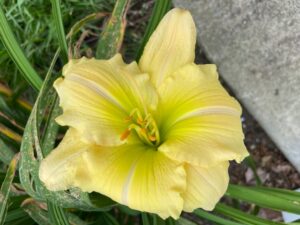 Tuesday,  started with a call from the HVAC contractor.  He came over and checked over the old HVAC in the attic to give me a quote on a new one.  He says it is old but working fine.  I worked on various emails, visiting, and writing a review.  My daughter had an afternoon OBGYN checkup. I did more work on some blog posts. After dinner,  we walked Lulu to the park and back.
Wednesday,  the daylilies are going wild blooming.  For being near 90F, the weather isn't unpleasant unless you are in the direct sun too long. I did the usual blog visiting, handling emails,.  I placed a curbside pickup order for BJs since we will be next door tomorrow for doctor checkups.   My daughter had a doc appt today and I went nearby to do our latest Amazon returns.  Then I made a quick stop at Food Lion since they had our favorite ice cream on sale.  It rained as we were on the way home, but stopped by the time we got there.  So then I took Lulu for a short walk.  After dinner we played some Skip Bo and then started a 750 piece puzzle.
Thursday,  we had doctor checkups. Then I did a BJs curbside pickup.  Afterward I was so tired, really unlike me.  But I got it together.  I uploaded review audios to my iphone, wrote a couple reviews.  I have been wanting to get started on the banners and stuff for Read-along 2023, so I started just a little.
Friday,  I did not sleep well.  Lulu and I went to Wegmans for a curbside pickup.  I did the usual things and then remembered my daughter had an RX at Harris Teeter so I ran over there.  Then I took Lulu on the long route we like.  It's a nice day about 80.
Saturday, I slept late and then I read through 2 rounds of DEAR (Drop Everything and Read).   It was the last nice day for awhile so I should have done more but I was in a reading mood.   It's going to be very hot around 100F / 38C for the next 5 days.   Then I think we are in the 90s through August.

Stacking the Shelves is hosted by Reading Reality.  These are the exciting ARCs I received this week (If you click on the cover, it will take you to the Goodreads entry):
Thanks so much to Harper Audio, Karen Grey and Elizabeth Hunter.                           
(If you click on the cover, it will take you to the Goodreads entry)
I used some Audible promo credits for delayed delivery to buy the next ones in this series for $5 and $6, but I only paid 97¢.

Now the really scary one. This is all the Kindle and Audible freebies I grabbed this past week. You can see why I need to do Thrifty Thursday to be sure I read a few at least one each month.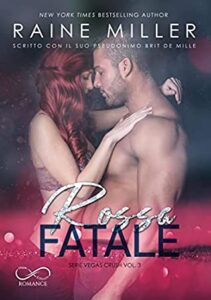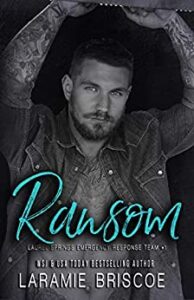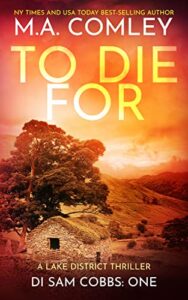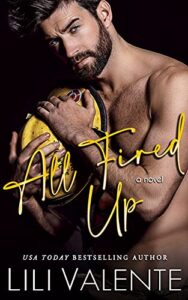 I really meant to cut back on freebies BUT  they are free so I guess that won't be happening.

I'm not including things like reviews posted or upcoming as they are always in the right sidebar. And, my challenge status is also there.
Anne
Latest posts by Anne - Books of My Heart
(see all)