Review copy was received from Author. This does not affect my opinion of the book or the content of my review.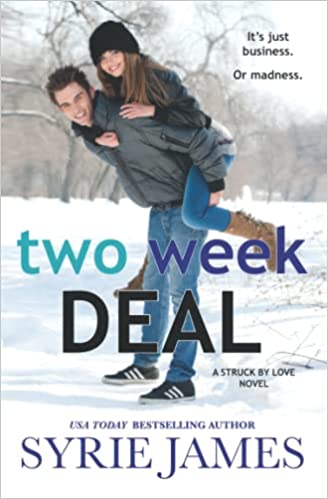 Two Week Deal
by
Syrie James
Series:
Struck by Love #2
on October 31, 2021
Genres:
Contemporary Romance
Pages:
227
Format:
eARC
Source:
Author
Goodreads
Amazon




A fiercely independent graphic artist gets the opportunity of a lifetime working with the headstrong owner of an advertising agency. But can business and pleasure mix?

At a holiday mixer on a cold winter's eve in December 1987, freelance graphic artist Kelli Ann Harrison gets an unexpected job offer that throws all her plans into disarray. She came to South Lake Tahoe to oversee the final phase of construction on her brother's glamorous vacation house and hoped to get in a little skiing on the side.

But when Grant Pembroke, a smart, attractive, take-charge advertising executive invites her to team up with him for two weeks on an ad campaign for a local casino, it's a proposition that's too exciting to refuse.
An ad artist and an advertiser meet in a wintry Tahoe and agree to a short-term work only relationship, but that pesky attraction thing keeps getting in the way.  I've enjoyed so many of the author's past books that I was jazzed to pick up this latest which is a re-make of the older title Propositions.
Two Week Deal is a standalone follow up to Floating on Air and tackles another Harrison sibling's romance life.  Readers don't have to have read the first one to appreciate Two Week Deal.
Kelli Ann Harrison is in town to put the finishing touches on her brother's vacation home and decides to have a bit of fun while in the winter playground and casino town.  That's when she runs into the most attractive man.  Literally.  Turns out he can use her graphic artistic talent to help him get the edge on his competitor in advertising campaign for a new casino.  Kelli is fiercely independent and Grant is used to being in charge.  Naturally, this pair clashes, but the fireworks aren't all of a business nature.  Kelli wants to keep it that way, but she can't deny the undercurrent between them or that Grant looks on her like she is someone extra special.
Tahoe is the gorgeous third main character and I loved that it is the vibrant backdrop to this clever, ambitious, artistic pair who think they want one thing when fate has other ideas.  Kelli had to work out that her life could have balance and more than one focus just like Grant.  I really enjoyed seeing them figure it out even though yes, they had to find out the hard way to keep things interesting.
The book read swiftly, though the pacing was even and I felt I knew the pair and the situation.  I love that swoony and slightly spicy romantic quality Syrie James instills in her romances.  There are a few more potential romance opportunities within the Harrison family and it would be fun to see this series of standalones continue.  Definitely one for contemporary romance lovers who like the emphasis to be on the romance.
Related Posts