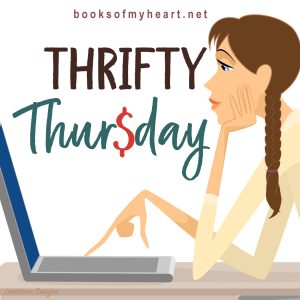 I chose to do a theme for this month's meme of books with an FBI agent as a main character.  Books in this category are mainly mystery police procedural or romantic suspense.
The purpose of Thrifty Thursday is to read a book which was free (at some point).
Newsletter freebie on June 2, 2019  (currently $2.99 and in Kindle Unlimited as of writing this post)
Overall rating 3.93 with 314 ratings and 42 reviews
Talking with the Dead
by
Shiloh Walker
Series:
FBI Psychics #0.5
Published by
Self-Published
on June 16, 2017
Genres:
Romantic Suspense
Pages:
121
Format:
eBook
Source:
Gift
Goodreads
Amazon
, 
Barnes & Noble
, 
Apple




A horrific tragedy blasted open a door in young Michael O'Rourke's mind—cursing him with the ability to talk with the Dead. Nearly two decades later, Michael has moved from victim to survivor, using his abilities to seek out those who would go unjudged.

With his gift, he talks to those who've died violently and seeks out their killers. Only once he's found the murderer, can the victims be at rest. After his last case, the only thing he wants is peace and he hopes to find it in the small town of Mitchell, Indiana.

But something is horribly wrong—the dead are waiting for him there, as well.

Small town sheriff Daisy Crandall is frustrated. The murder investigation she's leading is going nowhere, the few leads she's had haven't panned out. She needs a break—this case is personal and when a stranger arrives, turning up where he shouldn't be, she's suspicious. Finding out that he is more than what he appears to be should shock her but doesn't. The fact she's highly attracted to him at the worst possible time is a hindrance.
Honestly, I started with Talking with the Dead as it was the shortest book I had on the list. I try to be selective on the front end and not take freebies which are less than 3.5 ratings on Goodreads.   I've also read this author previously.
I was very excited because one of my favorite things is psychics. That aspect was fine although a bit murky as to how it worked.  I was just disappointed by the police procedures which seemed very lax and disorganized.  While the characters were competent, they didn't seem like other police in detail and methods.  There may have been a factor of some of this being in a smaller town.
The romance was very insta-lust-love which had to be fast in short, sort of half book.  Yet it seemed to take half the page time and I'd rather have it be a background element in a book this short.  I'm also more in a mood to focus on the police procedural which isn't big here, which is on me. I should have looked at the romantic suspense labeling as opposed to mystery.  Others may enjoy a book with more romance.  I'm not  yet sure if I will go on to the next full length book in the FBI Psychics series or not.
---
These are only Kindle freebies I get, or ones through author newsletters which anyone can sign up and get for free. I don't include things like Kindle Unlimited or Prime Free Reading (I do have it). Both Tantor and Audible have occasional free audios (to anyone) and I do include those.  Since I one-click on 1-2 freebies a day or probably at least 5 a week, I came up with this feature to make sure I start reading them.
So I have thought about doing a Thrifty Thursday Challenge someday. For now,  what I think would be fun is if you have read and reviewed  a freebie, link up to your review (Goodreads, blog, facebook or wherever) below.
---
Add your review link here: 
Mister Linky's Magical Widgets — Thumb-Linky widget will appear right here!
This preview will disappear when the widget is displayed on your site.
If this widget does not appear,
click here
to display it.
---
Kindle freebie on May 22, 2022  (currently free at Amazon and Barnes & Noble as of writing this post)
Overall rating 4.24 with 822 ratings and 21 reviews
Not Me
by
Kate Bold
Series:
Camille Grace FBI #1
on April 5, 2022
Genres:
Mystery
,
Suspense
,
Thriller
Pages:
187
Format:
eBook
Source:
Purchased
Goodreads
Amazon
, 
Audible
, 
Audiobook
, 
Barnes & Noble
, 
Apple




Camille Grace, a rising star in the FBI's BAU unit, is dispatched to the one place she vowed to never return: the deep South. A string of murders by a suspected serial killer outside New Orleans forces Camille to face her Creole roots, her tortured past, estranged family—and her buried secrets.

Camille's frustrations mount as she struggles to connect with her newly-assigned partner and as clues don't add up. To make matters worse, Camille is haunted by memories of her sister's disappearance years ago—and this new killer's victims seem to fit the same description.
I enjoyed Not Me as a more traditional police procedural with a strong female lead.  Camille gets a new case which takes her to home area around New Orleans.  She gets paired with a local male agent, Palmer.  They work well together.
The case is a serial killer case with young women of similar looks and an odd ritual.  They aren't sure if there is a connection to voodoo or something else.  At one point, two beat cops see a man with a young girl and are convinced he is fine.  Within two hours that girl is dead.  Camille and Palmer know about this and yet they make no effort to track down the car or get the two cops to do a sketch of the killer.  Otherwise their investigative efforts make sense.
There are small layers of their personal lives both about their careers and relationships. But this book is not a romance.   I liked this balance and as the series goes along the professional and personal aspects may both expand for the character development, but I appreciated the focus on the case to start.
---
Kindle freebie on May 22, 2022  (currently free at Amazon and Barnes & Noble as of writing this post)
Overall rating 3.93 with 888 ratings and 45 reviews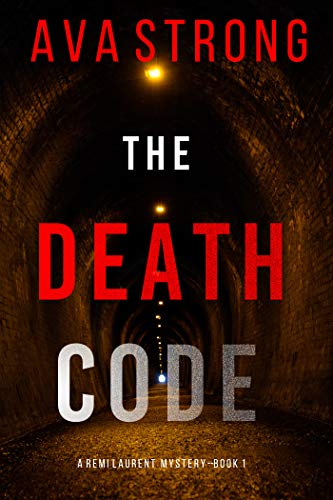 Death Code
by
Ava Strong
Series:
Remi Laurent #1
on October 15, 2021
Genres:
Mystery
Pages:
202
Format:
eBook
Source:
Purchased
Goodreads
Amazon
, 
Audible
, 
Audiobook
, 
Barnes & Noble
, 
Apple




A serial killer is targeting victims in obscure historic settings—the Cloisters in New York City, the Glencairn in Philadelphia. What is the connection? Is there a message to the murders?

FBI Special Agent Daniel Walker, 40, known for his ability to hunt killers, his street-smarts, and his disobedience, is singled out from the Behavioral Analysis Unit and assigned to the FBI's new Antiquities unit. The unit, formed to hunt down priceless relics in the global world of antiquities, has no idea how to enter the mind of a murderer.

Remi Laurent, 34, brilliant history professor at Georgetown, is the world's leading expert in obscure historic artifacts. Shocked when the FBI asks for her help to find a killer, she finds herself reluctantly partnered with this rude American FBI agent. Special Agent Walker and Remi Laurent are an unlikely duo, with his ability to enter killers' minds and her unparalleled scholarship, the only thing they have in common, their determination to decode the clues and stop a killer.
The Death Code has for its main characters an FBI agent who has a lot of knowledge of history and worked in the BAU along with a history professor.  Daniel has been recently moved to the Antiquities Division as there is  new string of thefts with murder on nearly a daily basis.  He enlists the help of Remi who is French but teaching in the US and knowledgeable about the items the killer seeks.
The case is like other serial killer cases in that the deaths are sad and horrific and also fast-paced.  The reasoning is not quite rational and has a religious fervor in it.  The killer is smart and skilled but warped. Obviously. He knows who Remi is and has decided she will become his wife and have several children for him.
I thought the police procedures used to investigate were ok but the execution was rather poor.  Daniel was on his own to arrange local police or museum security at the last minute.  Remi was helpful in determining where the killer might strike and what items but otherwise TSTL (too stupid to live).  She wanted to examine the items herself, and even talk to the killer!  Each of them seemed a bit immature for their age.
There is the start of the back history on Daniel and Remi's personal relationships and family / childhood backgrounds.  I do appreciate that layer of character building.  There could be a connection between them but they are currently already in relationships which are going poorly.  I'm ambivalent about that, not shipping them although they could be a good fit, certainly better than their current ones.
---
Kindle freebie on May 24, 2022  (currently free at Amazon and in Kindle Unlimited as of writing this post)
Overall rating 4.04 with 680 ratings and 61 reviews
The Fugitive's Trail
by
JC Fields
Series:
Sean Kruger #1
on May 15, 2015
Genres:
Mystery
,
Thriller
Pages:
304
Format:
eBook
Source:
Purchased
Goodreads
Amazon
, 
Audible





That's what FBI Agent Sean Kruger must do. He is dispatched to New York City to find a fugitive who is accused of killing one man and wounding another in the lobby of a high profile investment firm. Once there, Kruger learns the only information known about the man is his name. Everything else has been erased from the system.

Once Kruger digs deeper into the case, he discovers wealthy and powerful men working behind the scenes. These men are determined to keep the truth about the incident and the fugitive from being revealed.

In the ensuing search for the suspect, Kruger is pitted against a ruthless foe who is determined to find the fugitive first. When the cat and mouse game turns lethal, Kruger must use all of his skills and experience to save the fugitive, the truth, and even himself.
The Fugitive's Trail is the longest and most detailed of the books I read for this post, but really a regular length book. There is a lot of technology and strategy in the investigation.  The main agent and title character of the Sean Kruger series is Sean.  I liked him but he seems like a lone ranger.  That is interesting because he makes all his decisions and does the work.  He does connect with forensic and technology people for their support.  It does make him a bit vulnerable for arrests but he seems to rely on local teams for those events.
A man who is unknown kills a guard and injures another as he is taken out of a corporate building.  Right away, the stories are all unrealistic and sound rehearsed.  There are a few not from the company which are conflicting.  People are lying and there is more involved.  Sean is assigned to the case with a huge political push.  So politics and government power are tangled in it as well as wealthy corporate executives.
The case runs over almost a year.  We learn about Sean and his personal life, and the fugitive and his new life both professional and personal.  Sean and the fugitive are likable people, as are their friends.   But once the fugitive is found things happen and luckily there is enough skill for the "good guys" to win.  I'll be interested to see how the series develops so I will probably read more.
Latest posts by Anne - Books of My Heart
(see all)
Related Posts