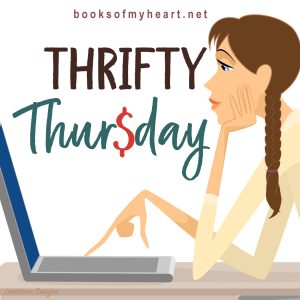 The purpose of Thrifty Thursday is to read a book which was free (at some point).
Kindle freebie on July 5, 2022  (currently $4.99 and in Kindle Unlimited as of writing this post)
Overall rating 4.37 with 1,234 ratings and 102 reviews
Witcher Upper
by
Amy Boyles
Series:
Magical Renovation Mysteries #1
on June 14, 2020
Genres:
Paranormal
,
Cozy Mystery
Pages:
162
Format:
eBook
Source:
Purchased
Goodreads
Amazon




Southern gal Clementine Cooke is busy. The house renovation business she runs with her best friend in the small town of Peachwood, Alabama, is thriving. That is until Clementine discovers her partner dead, face-down in poured concrete.

It looks like murder. Clementine starts to investigate, quickly realizing that not only had her so-called best friend spent years lying to her, but plenty of folks wanted her dead--from the unionized wizard mafia to the old lady quilting club. But even with haters coming out of the woodwork, Clementine finds herself fighting off suspicion. She must locate the killer before the local police chief tosses her in jail and throws away the key.

With no one to turn to, she enlists the help of a wizard suffering from amnesia. But there's a hitch--he might not remember who he is, but Clementine does, and for her own reasons, she's not talking.
I thought it would be fun to read some HGTV type stories.  Witcher Upper has a bit of that but it is more a paranormal story with witches.  It has a bit more of the quirky part of cozy than I enjoy, but the overall it was a fun read.
I really liked Clementine and loved her knowledge about her work. It would be great to learn more about her work and each project. I didn't enjoy her client, her best friend/partner or possible love interests. She's a hard worker and has a talent for what she does.
Clementine learns a lot about her world and certainly has her situation upended.  It will be interesting to see how she manages going forward.  "John" the amnesiac is am explosion waiting to happen.  Clementine is on the fence about how to deal with him.  Witcher Upper is the first in the Magical Renovation Mysteries  series which now has twelve books.
---
Kindle freebie on May 24, 2021  (currently $4.99 at Amazon and in Kindle Unlimited as of writing this post)
Overall rating 4.28 with 1,788 ratings and 75 reviews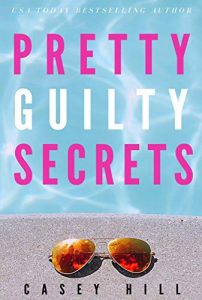 Pretty Guilty Secrets
by
Casey Hill
Series:
CSI Reilly Steel #6
on September 17, 2015
Genres:
Mystery
Pages:
384
Format:
eBook
Source:
Purchased
Goodreads
Amazon




When a celebrity icon is attacked in his home during an apparent robbery-in-progress, the authorities are tasked with tracking down the perpetrator.

Such a national treasure and his equally famous wife means the investigation takes top priority, but not everyone on the task force is convinced. Was it a random attack? Or a carefully choreographed diversion.

Could the famous family's tightly-managed media persona blind everyone to the fact that their charmed life is not quite what it seems? And that there's a LOT more to celebrity than meets the eye...
I've been enjoying the Reilly Steel series and I seem to have several of them as freebies. The others I can get on KindleUnlimited.  Pretty Guilty Secrets is book 6 and there are 2 more books at this time.  The case was a celebrity attempted murder and I didn't enjoy all the press and celebrity hubris.  The team was under a lot of pressure to do something quickly which only made them do some things too quickly only to have problems then.  So the Garda Forensic Unit did a great job with the evidence they had, but Reilly and the detectives were not very effective with their deductions.
Reilly had a few personal issues between some PTSD from a case and her relationships.  I did not enjoy these aspects.  While the case was resolved finally, the personal side will continue into the next book.  I liked this one but it might be my least favorite in the series.
---
Author freebie on June 29, 2018  (currently $7.99 at Amazon and Barnes & Noble as of writing this post)
Overall rating 4.12 with 1,873 ratings and 323 reviews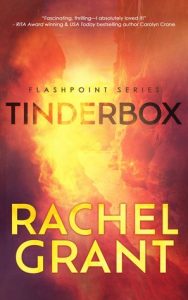 Tinderbox
by
Rachel Grant
Series:
Flashpoint #1
on February 14, 2017
Genres:
Romantic Suspense
Pages:
302
Format:
eBook
Source:
Author
Goodreads
Amazon
, 
Audible
, 
Barnes & Noble
, 
Apple






While working on the Horn of Africa, archaeologist Morgan Adler's work and life are threatened, forcing her to make a desperate dash to a nearby US military base to beg for protection. Green Beret Pax Blanchard has orders to intercept Dr. Adler before she reaches the base, and in so doing saves her life, but his responsibilities toward protecting the woman have only just begun.

Morgan and Pax are forced to work together in the scorching desert heat, but it is the fire that ignites between them that threatens to consume them both. He protects her by day, but can he keep his hands off her when the sun goes down? One thing is certain, his job is no longer a matter of following orders, and he will risk everything to keep her safe.
Wow.  I have wanted to read this author and Tinderbox was a great start. It is the first in the 4 book Flashpoint series.   I liked the setting of Africa and the military aspects of this romantic suspense.  This first book I got in an author newsletter signup or something similar.  But I was able to recently get the entire box set for $2.99 on sale and I'm so glad I did.
I really enjoyed Morgan. She is the daughter of a 2 star general and has always felt he didn't approve of her.  She gave up trying to please him and did what she needed to do.  She got her PHD and now has a contract to survey 2 routes to see which is the best for a new railroad as far as not disturbing historical antiquities.  She is smart and hard-working. She cares about the artifacts but even more about the people of this country.
Pax has known nothing but the military.  He feels he can't have a relationship or commitment to anyone but his Green Beret team.  He won't tolerate the distraction.  But Morgan is a distraction for him anyway.  He ends up handling some of her protective detail and takes an interest in her work.
Morgan needs a protection detail because there are things warlords and the Chinese and local politicians want to hide. There are so many politics involved. Even the American government and military have their opinions on her work, not to mention her father.
I loved this fast paced, action packed thriller with a slow burn romance.  I thought the world-building and setting was very well written.  The characters also felt real to me.  I can't wait to read more in the series.
---
Kindle freebie on December 23, 2022  (currently $4.99 at Amazon and in KindleUnlimited as of writing this post)
Overall rating 4.54 with 46 ratings and 5 reviews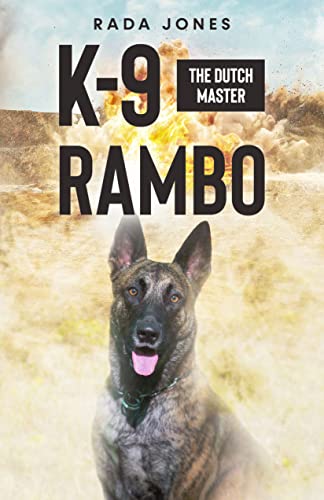 K-9 RAMBO
by
Rada Jones
Series:
K-9 Heroes #5
on May 1, 2022
Genres:
Mystery
,
Thriller
Pages:
202
Format:
eBook
Source:
Purchased
Goodreads
Amazon
, 
Audible
, 
Libro.fm




"In Kandahar's scorching desert, every step could be your last, every car could be a bomb, and every human your killer."

"I, K-9 Rambo, stand between you and your death. I risk my life every day, scouring the minefields for hidden killers. But it only takes one mistake for this mission to be my last."
I also purchased the first book in this K-9 Heroes series as a freebie. The series is very interesting because the entire book is from the dog's point of view.  We learn about their treatment and training which ranges from very bad to very good.  I've only read book 1 and this one which is book 5.   While the story is about Rambo,  other dogs from the series do make appearances.
The dogs have some intelligence, because they are working dogs.  But early in their stories, when they are young, they can make some mistakes.  Because they are in war zones, exposed to criminals, can have bad owners, I worry for them and the stories are suspenseful.
Rambo works first as a explosives detection dog and then an IED detection dog.  His first job is to detect mines in fields in Cambodia.  He's injured and after recovering goes on to many places, then gets additionally trained to find IEDs which is much more dangerous.  The company that owns him leases him out and they get insurance if he dies but he does have his trainer and handler on his side.
---
Kindle freebie on July 8, 2019  (currently $2.99 at Amazon and in KindleUnlimited and AudiblePlus as of writing this post)
Overall rating 4.24 with 7,351 ratings and 476 reviews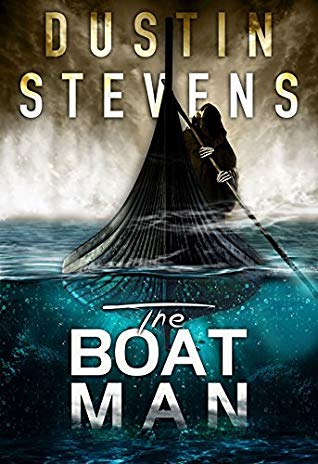 The Boat Man
by
Dustin Stevens
Series:
Reed & Billie #1
on September 11, 2015
Genres:
Mystery
,
Thriller
Pages:
342
Length:
7 hours, 39 minutes
Format:
Audiobook
,
eBook
Source:
Purchased
Goodreads
Amazon
, 
Audible
, 
Libro.fm




Detective Reed Mattox, just three months removed from the death of his partner, has turned invisibility into an art form. Switching to the K-9, taking over the graveyard shift, moving to a farmhouse miles outside of Columbus, his every move has become predicated on putting as much distance between himself and the outside world as possible.

That distance is shattered though when bodies begin turning up in The Bottoms, the poverty-stricken section of town he is assigned to patrol. Grisly, horrific scenes start to pop up in the middle of the night and the overburdened precinct has no choice but to put Reed on it.

Now operating far outside of his comfort zone with a Belgian Malinois for a partner that attracts attention wherever they go, Reed is forced to unravel the murders, taking him clear across the city and back years in time, to an event that some very influential people will do anything to keep buried...
I have the Kindle freebie and the audio through Audible Plus.  I wouldn't include it here if I didn't have the Kindle freebie.  In this start to the Reed & Billie series,  Reed is matched up with his new K9 partner Billie.  His old human partner died and he doesn't feel comfortable with any new partner.  He thought a K9 partner might be easier, but he's been paired with a couple other K9 which didn't work. He's been working the night shift, when a gruesome murder happens.
Reed is assigned the case which is a race since murders continue.  Billie does help him with evidence and he starts protecting her against others who don't respect her.   He works the case in an intelligence manner despite flack from other officers. He solves the case which involves some police coverups.  It helps him connect with Billie, too.
The Boat Man is just the first and I hope there will be more work with Billie and actual K9 aspects and training.  There is some but not as much as I would like, but I like more than most people.  Billie is certainly smart and works well.
---
These are only Kindle freebies I get, or ones through author newsletters which anyone can sign up and get for free. I don't include things like Kindle Unlimited or Prime Free Reading (I do have it). Both Tantor and Audible have occasional free audios (to anyone) and I do include those.  Since I one-click on 1-2 freebies a day or probably at least 5 a week, I came up with this feature to make sure I start reading them.
FYI – My Thrifty Thursday post with my reviews and the linkups and giveaway will normally post on the 3rd Thursday of the month. Sometimes though, due to blog tours, mood reading, and other personal problems, it will be moved around. There WILL be one each month on some Thursday.  You can post your reviews any Thursday though on your own site.  The linkup will be open until the next month's post is published. You can easily find all the Thrifty Thursday posts under the Features tab on my top menu.
(Reminder – If I get more than 10 linkups in a month, I will randomly pick one to select a prize from a list I send them which may include gift cards or giveaway books I have. (Open International))
---
Add your review link here: 
Mister Linky's Magical Widgets — Thumb-Linky widget will appear right here!
This preview will disappear when the widget is displayed on your site.
If this widget does not appear,
click here
to display it.
Giveaway:
The prize will be an Amazon Gift card of $25 or $25 worth of Books on Book Depository.  Open International.  Runs January 1, 2023 to January 7, 2024.
You can sign up for the 2023 Thrifty Thursday Challenge HERE
Latest posts by Anne - Books of My Heart
(see all)
Related Posts