Review copy was received from Publisher. This does not affect my opinion of the book or the content of my review.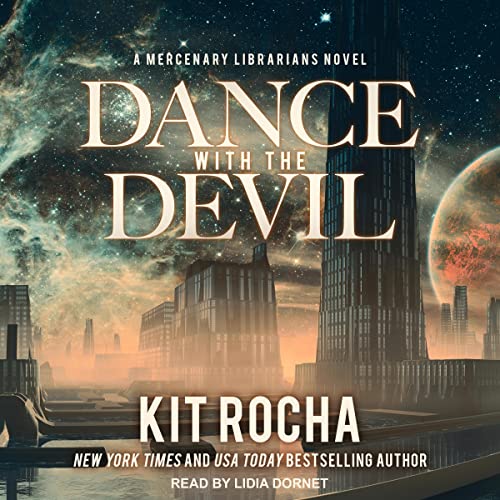 Dance with the Devil
by
Kit Rocha
Narrator:
Lidia Dornet
Series:
Mercenary Librarians #3
Published by
Tantor Audio
on August 16, 2022
Genres:
Dystopia
,
Science Fiction
Length:
12 hours, 10 minutes
Format:
Audiobook
Source:
Publisher
Goodreads
Amazon
, 
Audible
, 
Audiobook
, 
Barnes & Noble
, 
Apple





Tobias Richter, the fearsome VP of Security of TechCorp is dead. The puppetmaster is gone, and the organization is scrambling to maintain control by ruthlessly limiting access to resources to Atlanta, hoping to quell rebellion. Our band of mercenary librarians have decided that the time for revolution has come.

Maya uses her wealth of secrets to weaken the TechCorps from within. Dani strikes from the shadows, picking off the chain of command one ambush at a time. And Nina is organizing their community—not just to survive, but to fight back. When Maya needs to make contact with a sympathetic insider, Dani and Rafe are the only ones with the skill-set and experience to infiltrate the highest levels of the TechCorps. They'll go deep undercover in the decadent, luxury-soaked penthouses on the Hill.

Bringing Dani face-to-face with the man who turned her into a killer. And forcing Rafe to decide how far he'll go to protect both of his families—the one he was born to, and the one he made for himself.
I was excited to be back in Atlanta with the Mercenary Librarians and the Silver Devils. This is a series I've loved from the beginning. It is a dystopian world where everything collapses when solar flares change the world. Now, the people have a new normal. "Government" is somewhat established. It is run by the rich TechCorps. Originally, the TechCorps was trying to innovate technology to make the world better and more sustainable. But as time went on, it began focusing more on the military and using the tech, not to make the general population healthier, but to make super soldiers. This series has followed several people who got out of the system and are just trying to live their lives on the outside and make their community a better place for everyone.
I'll be honest that I'm more into these stories for the characters and the overall series arc than the individual romances. I like the romance aspect of the series, just not as much as the other parts. I love that as we flesh out the romance, we get to know the couple better and we see more of their characters. In this book, we follow Rafe and Dani.
Dani joins the TechCorps and during their experiences, she loses the ability to feel pain. She can feel pressure in an area or feel blood on her body, but it is not registered as pain. She works in the TechCorps in executive security. She sees what the execs do with their time and money. When she leaves, she does what she does best, and really the only thing she knows how to do, she kills people to make a living. That is until she meets Maya and Nina. Then everything changes.
Rafe isn't like so many in the TechCorps Protectorate; he has a loving family. However, he saw this as a chance to help bring home more money to help his family. He is very smart and the implant given to him by TechCorp helps him to be even smarter. He works as military intelligence. Knox and the other Silver Devils become part of his family too. He tries to stay away from his family to protect them. But then he finds out they were discovered anyway. And he will do anything to save them.
This was a good wrapup to the Silver Devils and Mercenary Librarians. I loved seeing how everything wraps up at the end. And Kit Rocha left room for a "spin-off" series following a different group in the same world (kinda like they did with the O'Kanes and Gideon's Riders). I really hope we get to see more of this world, because it is a great world (to read about, but not to live in at this time. Though there are several groups trying to change that). I love watching how people are able to help their community and how the community rallies around each other. It gives me hope that maybe one day, our world can be more community driven again.
Narration:
Lidia Dornet did the narration for all three books. This series is the first series I've listened to with her as a narrator. I've really enjoyed her narration throughout all three books. I liked all the voices she used for each character. I thought she really brought out the emotion of each scene be it a romantic scene, an action scene or just an emotional scene. I look forward to listening to her work in the future.
Listen to a clip: HERE
Rating Breakdown
Characters
Narration (Audio)
Overall:
Related Posts