Review copy was received from Publisher. This does not affect my opinion of the book or the content of my review.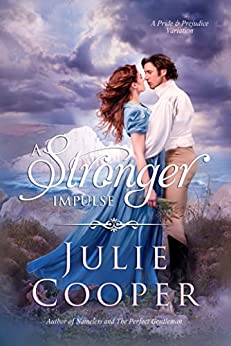 A Stronger Impulse
by
Julie Cooper
Published by
Quills & Quartos Publishing
on July 6, 2022
Genres:
Historical Romance
Pages:
358
Format:
Paperback
Source:
Publisher
Goodreads
Amazon





"…and in his behaviour with me, there were stronger impulses even than pride"

FITZWILLIAM DARCY IS ENRAGED when, already reeling from Elizabeth Bennet's disdain, he discovers his sister locked in a passionate embrace with George Wickham—and suffers an apoplexy at the sight. With proper speech locked uselessly inside his mind, his Fitzwilliam relations are quick to take advantage of the situation, calling his illness insanity, and scheming to keep both Darcys under their control.

ELIZABETH BENNET IS EXPELLED from Longbourn after she refuses Mr Collins' serious proposal and Mr Darcy's mocking one. Always the least favourite child, she is expected to deliver herself up to an unknown uncle in London, from there to be placed into service. A fortunate escape takes her to Ramsgate instead…but it is only a brief reprieve before she must find a new life for herself.

TWO AGAINST THE WORLD. How can two powerless individuals forge a defence against the formidable forces arrayed against them? Darcy cannot afford to indulge himself in a marriage that would prove his relations' opinions of his sanity. Elizabeth must protect herself against a growing but impossible love…and yet, a stronger impulse urges them to stay. To fight. Together.
A gentleman experiences an apoplexy when he discovers his sister in a rake's arms and a disowned young woman is his savior when his relatives are close to declaring him mad.  Lavished with drama and a touch of the gothic, this latest of Julie Cooper's Pride and Prejudice variations raised my expectation and didn't disappoint.
A Stronger Impulse draws the reader into the darker side of the Regency era first with an opening scene of an innocent young girl nearly dashed off in an elopement with a rake and all for her fortune when the woman meant to be her trusted companion on a summer holiday is in league with the rake.  Georgiana Darcy is a teenage girl brought up in wealth and protected by first parents and then older brother so she isn't prepared for such a ploy against her and what to do when so many greedy and ruthless people hedge her in and keep her isolated from her guardians.  Through the book, she comes into her own with the help of an intrepid young lady.
Furthering the edgier side of this historical time, the hero, Fitzwilliam Darcy is taken with apoplexy and the stroke disordered his speech process and connection to the written word so that his relations put him under the care of an unscrupulous doctor ready to declare him insane so his uncle will have control of his fortune and properties.  Later he is treated by a quack doctor his aunt swears by who nearly kills him with his medical methods like blistering, purging, and whipping the demons out of him (yes, the gibbered speech made some think that about stroke patients) that were practiced in that day.  And, if not for a timely rescue, he would have died.  Surviving is only half his battle because this is also a romance.  Here is his second chance if he figures out his heart vs his duty in time to make a better impression on vivacious and a rare woman who wanted nothing to do with his wealth or his proposal the first time.
But, that's not all, the heroine, Elizabeth Bennet, is faced with marriage to a man who disgusts her all because he's her father's heir or be thrown out to make her own way in the world all because her father doubts she is his legitimate child and wants nothing to do with her if she won't sacrifice herself for the rest.  Women often had very little recourse when guardians thrust unwanted marriage prospects at them or refused to support them any longer.  However, Elizabeth ends up on quite an adventure when instead of going to London and an unknown uncle who she fears will be worse than her present situation, she heads to Ramsgate as a companion to her sister's friend and encounters forlorn Georgiana Darcy and learns the shocking fate of her brother, Fitzwilliam Darcy.  The adventure has her seeing the man in an all new light, but she doubts it is enough for him wanting to tie himself to a penniless woman who has questionable relations and unsupported by her own parents.
A Stronger Impulse didn't shy away from struggles without and within for the romance pair.  There is plenty of conflict and suspense, twists and turns so that the reader is left racing through the pages to see how it will all sort out.  Treating the original classic more as a launch point, the reader finds familiar themes, characters, and scenes woven with the author's own clever creation so that anyone who loves dramatic historical romance could pick it up and dive right in.
Related Posts