The Sunday Post is a weekly meme hosted by Kimberly  @ Caffeinated Reviewer. It's a chance to share news~ A post to recap the past week, and showcase books and things we have received.
---
Don't forget to look at my giveaways on the right sidebar.  Last few days to enter the Blogoversary giveaway. 
Sunday, was a hurry up load the car and get on the road.  I drove with Lulu to Ohio.  I'm headed to Illinois to pick up my daughter.  Lulu was a perfect companion.  The hotel here in Ohio is nice and we will stay here again on the way back.  They are dog friendly.   I finished one audiobook and listened to another one during the drive.  I wore my mask and got takeout meals.  I brought my air purifier for the hotel rooms.  It changes out the air 3 times an hour.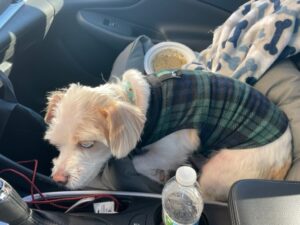 Monday,  I finally got to visit some of the Sunday posts and will try for more tonight or tomorrow.  Today is supposed to be nice, almost 80F.   Another day of driving but Lulu will be very happy to see my daughter.  I reached Peoria IL about 4:30p. At least, I got to do lots of audiobook reading. We all went out to dinner for a Vietnamese restaurant which had good gluten-free options.
Tuesday,  today is a rest day in Peoria.  I went to sleep earlyish so I woke up a bit earlier.  I've been catching up on Sunday visiting and blog visiting.  I took a quick trip to Menards and Aldi for a couple items.  Then Lulu helped me eat some leftover chicken fried rice while my daughter went to zoo with her dad.  It rained almost all day.  It did stop late in the day, but was too dark for loading the car. I was happy to stay in and catch up on various computer stuff. I wrote a review for Friday.  It's going to be sunny tomorrow so I'll just have to get up and do it in the morning.  We got pizza and garlic bread takeout and I made a salad.  My daughter showed me all the fun stuff she got at the zoo and other things from her trip.
Wednesday,  it cleared and was cold in the morning.  My daughter had to pick and choose what things to bring back because the car was fully loaded.   We left later than I wanted and had lots of stops but we managed pretty well. We did go to a great Thai place for lunch which was just yummy and within a mile of Sam's club for gas..    The place we picked for dinner closed as we got there, but they let us get takeout.  It was just fair.  I coordinated the food and gas well so the day was shorter even though we had to go through Indianapolis which is driving hell.  I planned out a route to avoid it.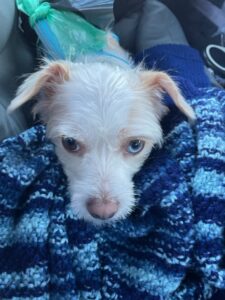 Thursday,  we were able to get going a little faster.  There were still a lot of annoying stops, for gas, for bottles of water, for food, and worst of all for road construction and accidents.  I did manage to finish 2 audiobooks, and get 49% into another one. We went quick with Firehouse Subs for lunch.  My daughter got Carrabba's Italian pasta for dinner with a salad.  I just wasn't hungry.  In the end, we were on the road 12 hours for a 7.5 hour drive, arriving home at 10pm.  With just Lulu and me, we made it in 9 hours last Sunday but we are really efficient with our stops.  I hauled in most of our stuff, cleaned out the cooler, ate an egg on toast, showered and went to bed.  Oh it's so good to be home.
Friday,  I let myself sleep until I woke up.  Today will be plenty of laundry and computer cleanup on tasks.  Then there will be menu planning.  I was a week ahead and now I have nothing finished or ready for next week.  I'm just glad I was a week ahead because while I finished a lot of audiobooks while traveling, time to write reviews was scarce.  Lulu and I did a short walk.  I watered the garden, new sod and flowers.
Saturday, I had a relaxing morning finishing up a book.  Then while I started on chores I finished up an audiobook. Now I have some reviews to write.    I finally caught up with Feedly.  I felt lazy but I knew I needed to walk Lulu.
---

Stacking the Shelves is hosted by Marlene at  Reading Reality.  These are the exciting ARCs I received this week (If you click on the cover, it will take you to the Goodreads entry):
Thank you so much Hachette Audio,   Penguin Audio, Karen Grey,  and William Morrow.                        
(If you click on the cover, it will take you to the Goodreads entry)
NOTHING.

Now the really scary one. This is all the Kindle and Audible freebies I grabbed this past week. You can see why I need to do Thrifty Thursday to be sure I read a few at least one each month.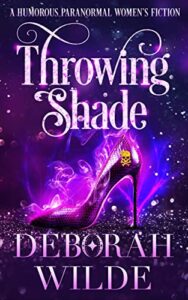 I really meant to cut back on freebies BUT  they are free so I guess that won't be happening.

I'm not including things like reviews posted or upcoming as they are always in the right sidebar. And, my challenge status is also there.
Anne
Latest posts by Anne - Books of My Heart
(see all)