Review copy was received from Publisher. This does not affect my opinion of the book or the content of my review.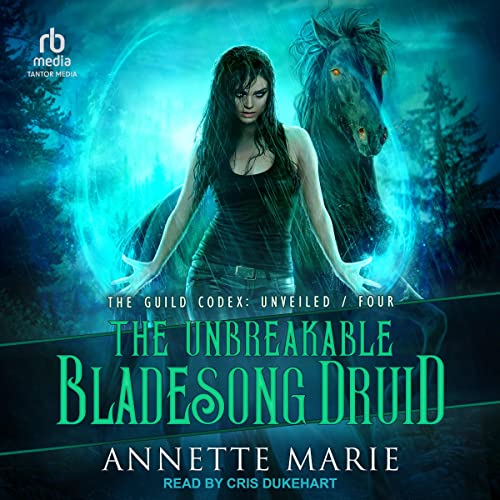 The Unbreakable Bladesong Druid
by
Annette Marie
Narrator:
Cris Dukehart
Series:
The Guild Codex Unveiled #4
Published by
Tantor Audio
on December 20, 2022
Genres:
Urban Fantasy
Length:
7 hours, 50 minutes
Format:
Audiobook
Source:
Publisher
Goodreads
Amazon
, 
Audible
, 
Audiobook






My greatest enemy has always been myself. Over the past few weeks, I've painstakingly put my broken pieces back together, from the dark mysteries of my past to the heart-rending conflict of my present.

But just when I finally start to feel whole again, everything around me falls apart.

Lallakai, the newly ascended Queen of Shadow and Death, betrays us and takes Zak prisoner. Echo, the powerful fae I thought would help save Zak, threatens to kill me. And Ríkr's nemesis, the ruthless Summer Queen, is hunting him again.

With the four ancient fae poised to battle for supremacy, I'm the only one who can prevent a catastrophic clash of their power. But stopping them will require more than druidic magic. It'll take an act of destruction as devastating as they are.
Guild Codex Unveiled  series is a different aspect of the Guild Codex Spellbound world.  I thought this was going to be Zak's story but really it is his and Saber's stories.  I have read all of the Spellbound  and Warped series. I would say you can read Unveiled without Spellbound and Warped  first but I wouldn't.   I really prefer to read in order, yes,  but there is also background on the world, the guilds and some of the characters which is really helpful. PLUS  all the series are awesome!
The Unbreakable Bladesong Druid starts right in the desperate place where The Twice-Scorned Lady of Shadow ended.  You really need to read the series in order to have any hope of understanding what is happening.  Saber is struggling with how to deal with all the enemies and save Zak.   Rikr doesn't seem concerned and she starts to wonder about him, especially after a fight with the summer queen and Echo. Zak thought Echo would help but Saber isn't so sure.
Lallakei uses Zak to gain more power, going after artifacts.  But this puts him right in the MPD oversight and his bounty goes up.   It's great to see Tori and the gang, plus even Kit has his own scheme going.  Things are dire and the gang helps as much as they can but bounty hunters might follow them to Zak.
Saber has a tall order for someone without much magic.  I really hoped we would see her develop more skills with her natural abilities.  But this was more about rescuing Zak and stopping the fae from tearing down the whole area.  Both Saber and Rikr have to make huge moral decisions and it taxes their connection.
I loved the thrilling action and serious danger as Saber tries to get Zak free and save the world from the fae.  I was heartened to see Saber and Zak find their happily ever after, as unlikely as it seemed throughout the series.
Narration:
Cris Dukehart is the original narrator for Tori in the Spellbound  and Robin in the  Demonized series.  She is back now for Unveiled.  Since most of the story is Saber's voice, this fits well.   Dukehart is one of my favorite narrators.    I was able to listen at my usual 1.5x speed.
Listen to a clip: HERE
---
KC's Review:





I have my go to favorite authors whom I've followed for years.  But every now and then a new one comes on the scene that completely blows me away.  When I started Annette Marie's first book in the Guild Codex world a couple of years ago, I didn't realize the treasures I'd found.  She is a phenomenal writer that seems to effortlessly weave an overlapping tapestry of exciting and emotional story arcs with characters that are as dynamic as they are distinct from each other.
The Unbreakable Bladesong Druid is the final book in the Guild Codex: Unveiled quartet.  It features a cast of characters whose arcs appeared to be the most challenging to resolve yet.  The stars are definitely Zak and Saber.  I wasn't a huge Zak fan in the previous series, but since book one of Unveiled; he has completely captured my attention.  I love the complexity of his world, how he seems to be so all-powerful, but is essentially a flawed being struggling to make the right choices.  It didn't seem like there could be any kind of match for Zak, other than the toxic Lallakai, but it is clear that Saber is as much of a hero as Zak.  She's fierce and determined and intent on protecting those she loves.  Her loyalty is her salvation.
This is probably the most angsty of all of the books, and there is a lot of dark drama, but that seems to be a given with any story that involves the Fae.  The sexual tension is off the charts, and not just between the lead characters.  I suppose that also seems to be a given with Fae stories. The Unbreakable Bladesong Druid definitely needs to be read after the first three Unveiled books.  To really appreciate this series, I advise starting at the very beginning and following the reading order recommended by the author.  The investment is well worth the time, especially for Urban Fantasy fans.
Narration:
Cris Dukehart is a phenomenal narrator.  I enjoyed her performance and felt she captured the lead characters emotion and personalities perfectly.  I enjoyed listening to this book at 1.25x speed.
Rating Breakdown
Plot
Writing
Characters
Narration (Audio)
Overall:
Latest posts by Anne - Books of My Heart
(see all)
Reading this book contributed to these challenges:
Related Posts