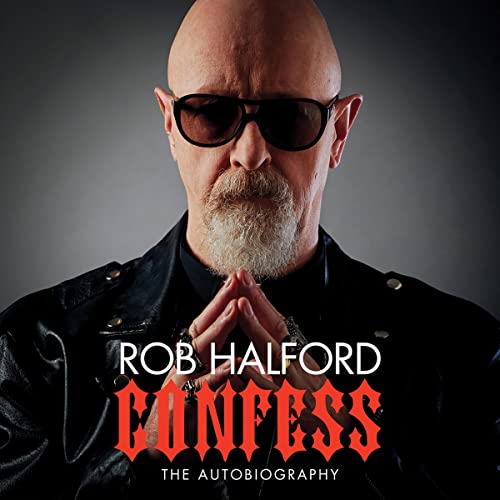 Confess: The Autobiography
by
Rob Halford
Narrator:
Rob Halford
Published by
Hachette Audio
on October 3, 2020
Genres:
Non Fiction
Length:
13 hours and 2 minutes
Format:
Audiobook
Source:
Publisher
Goodreads
Amazon
, 
Audible
, 
Audiobook
, 
Barnes & Noble
, 
Apple





The legendary frontman of Judas Priest, one of the most successful heavy metal bands of all time, celebrates five decades of heavy metal in this tell-all memoir.

Most priests hear confessions. This one is making his.

Rob Halford, front man of global iconic metal band Judas Priest, is a true "Metal God." Raised in Britain's hard-working, heavy industrial heartland, he and his music were forged in the Black Country. Confess, his full autobiography, is an unforgettable rock 'n' roll story-a journey from a Walsall council estate to musical fame via alcoholism, addiction, police cells, ill-fated sexual trysts, and bleak personal tragedy, through to rehab, coming out, redemption . . . and finding love.

Now, he is telling his gospel truth.

Told with Halford's trademark self-deprecating, deadpan Black Country humor, Confess is the story of an extraordinary five decades in the music industry. It is also the tale of unlikely encounters with everybody from Superman to Andy Warhol, Madonna, Jack Nicholson, and the Queen. More than anything else, it's a celebration of the fire and power of heavy metal.

Rob Halford has decided to Confess. Because it's good for the soul.

Named one of the Best Music Books of 2020 by Rolling Stone and Kirkus Reviews
I stumbled across this book when looking at available review books from Hachette on Libro.fm. I've been a big Judas Priest fan going back to middle school. I remember staying up late on Saturday nights to watch the Headbanger's Ball on Mtv. I would even record it on VHS so I could rewatch throughout the week, instead of watching all the pop music shown the majority of the time. I decided I couldn't pass up the chance to hear the life story of a metal icon.
Rob Halford has a very interesting history coming from "the Black Country" part of the United Kingdom, Walsall England. He talks about how thick the air was from the factories in the area; that it felt like choking as he walked home from school. He had a great family to grow up with. He knew he was gay at a young age. And while he didn't "come out" to his family then, they knew and loved him just the same, which was a big thing back then, and sadly still can be today.
This book goes from Rob as a little boy, to his first band, to joining Priest. He talks about how it was hard to be a gay man back in the 70s and 80s, and add-in one of the biggest metal icons in the world, the idea of coming out couldn't enter his mind. I can't even imagine having to hide who you are from everyone around you. He does say that like his family, the band knew and didn't care he was gay. That to me stood out even more than his family accepting him. If it got out he was gay in the 70s, it could ruin the entire band's career, something that wasn't lost on Halford.
He goes on to talk about some of the early relationships he had and how disappointing some of them turned out to be. I really loved when he finally found someone who loved him as much as he loved them. Thomas is his rock and is always by his side.
I had a great time learning about some of the band's antics and learning how Halford even got to be the guy to head Black Sabbath for a few stage performances. He also talks about his time away from Priest, which was a really interesting story of miscommunication and lack of communication. Probably wasn't all bad for Rob, but less good for the band who didn't do well without him (replacing a lead singer like him is rare for a band to be able to carry on, at least from what I've noticed).
He also talks about seeing This is Spinal Tap in the theaters, which made both my husband and I realize we had never watched it, so I grabbed it at the library on BluRay. It is a fun movie, highly recommended. He says how much he and a band mate loved it. And how some of the metal fans that were in the theater with them stormed out in anger, thinking Rob Reiner was making fun of heavy metal. Halford says it is much more documentary than you might think. So much of what is in it is true, according to him.
If you're a fan of heavy metal music, or especially Judas Priest, then you should really check out this book. It was a very interesting read. It goes all the way to the pandemic and canceled 50th anniversary shows and a tour with Ozzy. I could go on and on about some of the stories that were in this book, like when Halford walks right past Jimmy Page without realizing Page was the one calling out his name, or his time spent with Andy Warhal, which was different to say the least. You will not regret listening to this story.
Narration:
As much as I loved this story, it did take me a bit to get into the narration. It started off feeling like he was reading a book report, very little emotion into some really emotional stories. I've listened to a few autobiographies, and I often feel like I'm sitting in a room with the narrator telling me their life story, not someone reading me a book. I will say that as the book went on, I did feel like Halford got better about how he read the book. The voice didn't feel quite as monotone. He isn't a narrator or voice actor by trade, so I shouldn't judge him in the same realm as some of the actors' autobiographies I've listened to. It really, really isn't fair. I don't at all regret listening to this book and will probably grab the next book he's written, Biblical, at some point.
Listen to a clip:

Rating Breakdown
Plot
Writing
Narration (Audio)
Overall:
Related Posts