Review copy was received from Publisher. This does not affect my opinion of the book or the content of my review.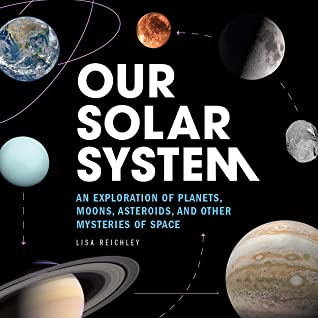 Our Solar System
by
Lisa Reichley
on October 6, 2020
Pages:
149
Format:
eARC
Source:
Publisher
Goodreads
Amazon





The universe is huge. With more than 100 billion galaxies and billions of orbiting astronomical bodies, there's so much to learn. Rocket through the cosmos, and discover everything there is to know about our exciting and mysterious solar system!

From the bright, burning sun to the icy Kuiper Belt, this easy reference guide is packed with fascinating facts about the terrestrial planets, gas giants, and dwarf planets, plus other orbiting astronomical bodies such as satellites and asteroids. Then, explore further into the unknown as you learn about mysterious bodies such as comets and clouds, and how much more we have to discover!

Our Solar System includes:

Fact-filled flight--Learn all about the astronomical bodies in our solar system with profiles covering size, distance from the sun, the length of each year, and more.

Tiny but mighty--Enjoy a detailed look at the smaller bodies in our solar system such as dwarf planets, satellites, asteroids, and the objects in the Kuiper Belt and the Oort cloud.

Out-of-this-world photos--Get up close and personal with real, vibrant photos of our very special solar system.
Rocket through the cosmos and explore the many mysteries of our magnificent solar system!
This summer I sat outside in our backyard and enjoyed watching a meteor shower and then looking at all the bright shinies in the night sky with renewed interest.  "They got an app for that", but I wanted more.  When did Pluto cease to be a planet?  What in blazes is the Kuiper Belt?  My last concentrated study of astronomy was a handful of decades ago and, frankly, my focus has been on terra firma in the meantime so I missed all the discoveries up in the stars.  I needed a good catch-me up that didn't involve a door-stopper sized read.
I spotted this astronomy book, Our Solar System, aimed at six-graders and thought it was apropos since it was my sixth grade teacher who introduced me to astronomy and got me excited about space and space travel.  I had barely read the introduction when I knew Reichley's book was going to suit me just fine.
Our Solar System takes mind-blowing and oft times tedious data and unpacks the infinite aspects of space for a finite mind.  She brushes over origins and historical discovery enough to get one in the ballpark and then delves into the sun, the inner solar system, and then the outer solar system.  Good graphics and charts, succinct and informative explanations make her tour of space in our solar system engaging and fascinating.  I soon grasped what an Astronomical Unit, AU, was, reminded how far a light year was, what exploration and telescopes have been in recent use, and the classification, composition and components of our star, the planets and moons, asteroids and other objects that have been noted and studied in our system.
I knew Pluto got downgraded from planet status, but my head in sand routine left me amazed that there was a new classification, dwarf planet, that also contained four others- two in the inner system and part of the asteroid belt between Mars and Saturn.  I also got gobsmocked over two outer system belts and other fascinating phenomena about old or heretofore undiscovered moons and asteroids.  I had no idea a few of those moons out there were spewing moisture or were in composition much like earth among other new-to-me facts.  And, the photos included from some of the more recent space explorations were jaw-dropping.
So, whether you want to put a middle-schooler onto astronomy or as an adult reacquaint yourself with what is out there, this factual, but engaging approach to the subject is definitely the way to go.  Highly recommend!
Related Posts