Review copy was received from Publicity team. This does not affect my opinion of the book or the content of my review.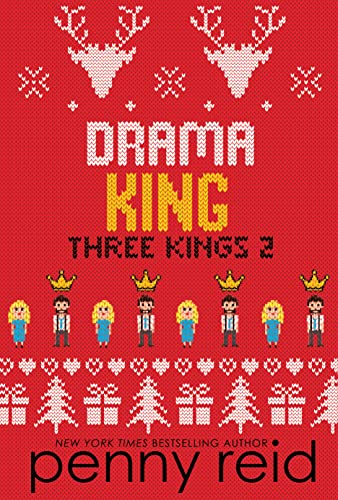 Drama King
by
Penny Reid
Series:
Three Kings #2
Published by
Self-Published
on December 13, 2022
Genres:
Contemporary Romance
Pages:
372
Format:
eARC
Source:
Publicity team
Goodreads
Amazon
, 
Barnes & Noble
, 
Apple





athsheba (Beth) Ryan can't thank her best friend enough for helping her land the job of her dreams. After being relegated to second-string security for politicians in DC, being hired as an undercover personal security specialist by a giant Hollywood studio is exactly the kind of action she's always wanted.

Until she meets her first assignment.

Cyrus Malcom can't thank his agent enough for arranging a blind date with seemingly the woman of his dreams. After spending the past several years playing all the parts and climbing all the ladders, the lonely mega movie star finds himself actually enjoying a night on the town for the first time in ages when he meets the gorgeous, funny, and genuine Ryaine O'Rourke.

Until she shows up at his studio meeting the next day with a completely different name.

A world-wide press tour and too many late-night parties later, Beth simply needs to get through a short, one-day visit during the Christmas holiday, and then she'll be free of Cyrus Malcom's confusing hot looks and cold shoulders for good.

But just as they leave the airport, it starts to snow . . .
I really love Penny Reid's characters and their unique, personal characteristics.  The Three Kings world, based on stories about three talented guys who grew up in Texas and people they know, is fascinating. Each person has so much more to them than the face they present to the world.  Character driven stories are great stories.
We get both Cyrus and Beth's point of view in alternating chapters in Drama King.  We knew Cyrus from Homecoming King and Rex makes a brief appearance here.  I did find the first half of the book dragged a little with each of them in their heads with their personal issues.   Because most of the story was in their head, the time they actually spent together was limited and I wanted them to spend more time together. I also wanted further development of supporting characters.
I liked Cyrus and Beth who are very kind and caring people. Their attraction was believable. Their relationship went from zero to full blast which felt weird.   They navigated their personal demons and supported each other when they got to know each other better.  Each of them had some great personal growth and helped the other to achieve it.  It was gratifying to see their friends and family delighted at their connection and happiness.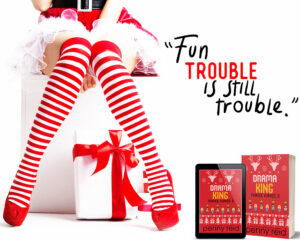 "Do you want to listen to music?" I asked softly. "Or talk radio?"
"No, thank you," he said shortly, shifting in his seat again while he kept on staring and frowning out the window. "You'll need to take a right when you get to Old Whiskey Road."
"You don't want to go through downtown Alenbach?"
"No. I've seen it before." His response was uncharacteristically irritable.
Fighting a bout of nerves, I considered my next question, or whether I should ask a question.
One popped in my head and I wondered if it was too personal. But you know what? I decided, to heck with it. I wouldn't see Cyrus again after today, not in any meaningful way. If he clammed up, so be it. I had nothing to lose.
I waited another mile or so, then asked, "Do you miss it?"
—at the exact same time he demanded, "Why did you pick me up?"
Stiffening at the hostility in his tone, I redoubled my efforts to focus on the road and responded calmly, "I was already here and the studio asked."
I got the sense he was waiting for me to continue. When I didn't, he asked, "That's it? There's no other reason?"
Chewing on my bottom lip, my thoughts drifted to the watch in my pocket. "What other reason would there be?" I hedged, testing the wiper controls to see if it had a higher setting. It didn't. I felt like we were creeping along at this point and we'd be lucky to make it before nightfall.
His eyes still on me, he grumbled something I missed, then asked, "Do I miss what?"
I considered saying, Nothing, forget it, but my reasoning for asking the question was still sound.
"Do you miss Texas? Do you miss being close to your momma and all these wide-open spaces? The culture out here?" I went back to chewing my bottom lip, feeling unaccountably nervous. Carefully, I slowed the car and turned onto Old Whiskey Road. This was the bypass road for Alenbach, which was still some thirty miles ahead.
The snow seemed to thicken while I waited for him to answer. We traveled another mile and I glanced at Cyrus, our eyes connecting for the first time since he'd arrived at the Austin airport.
I absorbed the shock of it, breathed through it. Meanwhile, he stared at me, some
combination of puzzled and stunned.
Braving another quick look, I asked, "What's wrong?"
"I believe that's the first time you've asked me a personal question directly."
Gripping the steering wheel tighter, I struggled with how to respond, and eventually blurted, "That can't be true."
"It is. What do you know about me?" The question sounded like an accusation. "We worked together for four months and not once—not once—did you make any effort to know me. Why is that?"
A hot, spiky feeling pressed uncomfortably outward against my skin. The truth was, I knew more than I wanted to admit. "I—I know plenty."
"Really? How? Are you a mind reader? What am I thinking right now?"
My breath wanted to hitch. I wouldn't let it. I tried to focus on my irritation, not this strange sense that I'd let him down.
"Go ahead," he demanded. "Tell me what I'm thinking."
Glancing at him, I saw a deeply furrowed brow, glinting narrowed eyes, mouth tugged down at the corners, jaw set. Cyrus looked more like his character Asmodeus than himself—a beautiful, surly, smoldering fallen angel instead of a happy-go-lucky sweetheart with too much energy and charisma.
"Well?" Cyrus pushed.
"Well, obviously you're angry with me."
"That's right, I'm angry."
"Fine. Be angry then!" I yelled.
"I don't want to be angry with you!" he shouted back. "I want to be the opposite of—oh shit"—he braced his arm against the dash—"Stop!"
I saw the deer right before Cyrus did. It was huge. Despite my frazzled state of mind and his insistence that I do so, I did not stop. I didn't swerve either, though every instinct screamed at me to yank the wheel to the right.
Did you know deer kill more people than any other animal? Snakes and sharks have nothing on Bambi. Some people think they're cute, I blame Disney for that. They're not cute, they're dumb. If you're unfortunate enough to see them in the road, stop only if it's convenient and you spot them from a distance and it's not a winter hellscape outside.
But since this one appeared like a serial killer in a snowy slasher flick, I didn't stop. I pressed gently on the brakes, slowed, and braced for impact. It came with a forceful, bone-shaking boom. Airbags deployed, filling my face and vision. The jolt of it caused my foot to press harder on the brake—rookie mistake, I should've removed my foot—and that's when the shit hit the fan.

Latest posts by Anne - Books of My Heart
(see all)
Related Posts