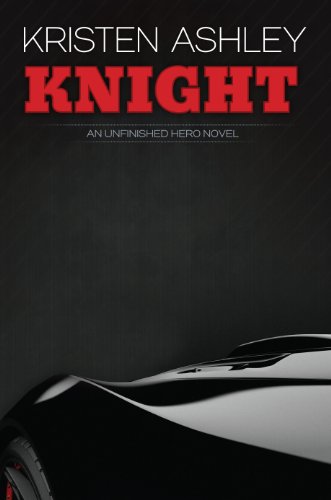 Knight
by
Kristen Ashley
Series:
Unfinished Hero #1
Published by
Self-Published
on April 7, 2012
Genres:
Contemporary Romance
,
Erotica
Pages:
281
Format:
eBook
Source:
Giveaway
Goodreads
Amazon
, 
Audible
, 
Barnes & Noble
, 
Apple





Anya Gage has learned that to get anything good in life, you have to work for it. She has no expectations, no dreams.

Then she finds herself at a party where she doesn't want to be and she meets Knight.

Knight Sebring knows who he is, what he wants and what he likes. And he gets it. But he never expected something as sweet as Anya Gage to wander into his bedroom during a party he did not expect to be having to borrow his phone.

Knight tries to leave Anya to the life she deserves of white picket fences and a man who watches football on Sundays – good, normal and clean. But when Anya comes to his nightclub and finds herself in a situation, he knows someone has to look after her, he can't fight it anymore and he decides that man will be him.

Knight teaches Anya that, just as with the bad, in life you should also expect the good. And he teaches her this by giving it to her.

But Knight has a dark past and just as he desires Anya for exactly who she is, he fears when she finds out exactly the man he has become and always intends to be, she'll leave him for good, normal and clean.
Always alpha, protective, and hot for a woman unlike any he has met before, Kristen Ashley's dark Knight might be just the man for a good, hardworking woman who can't see her own beauty and worth.  The first of the Unfinished Hero series was one I've been wanting to read for a while.
Anya Gage isn't a party girl.  She's had a tough life and had to work hard for everything she has.  Working two jobs, going to school, saving every stray dollar for her dreams… no, this rich party crowd at a fab Denver apartment suite isn't her gig.  However, she's there with a friend- a friend who is chasing a rich guy who isn't into her and she won't get the message and she shoos Anya away to find her own way home- and her cellphone decides not to work.  Knight to the rescue.
Anya thought that first memorable, but brief encounter with the decisive, sexy owner of that apartment and the fast car was to be their only meeting.  Then her life circumstances start getting mysteriously better.  The man known as Knight, owner of the hottest nightclub in town, has her all turned inside out.  He won't let her return his gifts or put him off.  He insists they have something worth exploring and she needs to make time for it.  He has secrets, has a sketchy moral compass, and he most certainly intends to dominate and tells it like it is.  She knows she's out of her league and playing with danger, but Anya decides to take her friend Viv's advice and stick.  Oh what a fast, turbulent ride it was!
Unlike all the earlier series, KA makes it clear she is heading into an edgier scene with the Unfinished Heroes.  Dipping into the shallow end of BDSM with some D/s, spanking, and restraints as well as an anti-hero type more than white hat good guy.  So long as one knows what they are getting into from the start, one can appreciate a bit of old-style KA with these newer elements.
Personally, I preferred the style of Knight with its less verbose monologuing and drama- though, yes, there is a little of both.  Anya has her gal posse and there are some kicking glam fashion descriptions as well as Knight's smooth apartment, cutting edge nightclub scene, and the sleek fast car.  The conflict comes from Anya needing to come to terms with how her past shaped her and deciding if she can truly handle Knight's world and how he is.  They both have the external conflict brought on by those who come at Knight through his new vulnerability, his love for Anya.  I loved how vivacious Vivica did her part as a true bestie and got Anya through so much.
I thought this was an abso-fab start to a series and want to see more of what KA has to offer of this darker, edgier romance type.  If one appreciates light BDSM or slightly darker romance, this one should definitely be on your reading list.
Related Posts