Review copy was received from Publisher. This does not affect my opinion of the book or the content of my review.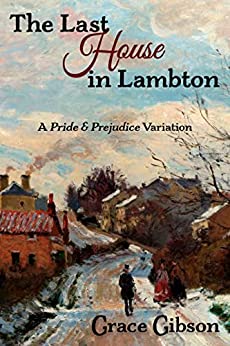 The Last House in Lambton
by
Grace Gibson
Published by
Meryton Press
on November 7, 2022
Genres:
Romance
Pages:
332
Format:
eARC
Source:
Publisher
Goodreads
Amazon





Darcy and Bingley depart Netherfield Park, leaving Elizabeth Bennet acutely aware of the monotony of her life. Seeking a reprieve, she volunteers to serve as temporary companion to Mrs. Gardiner's elderly aunt who lives in Lambton. Nothing turns out as Elizabeth expects, and she is forced to dig deep into her reserves of common sense, humor, and stubborn persistence to prove herself equal to the dreary circumstances.

Initially unaware that Pemberley is only five miles away, Elizabeth crosses paths with Darcy annoyingly often. When the gentleman rescues her from a shocking situation, Elizabeth faces some hard choices, at the same time struggling against the smoldering attraction that can neither be repressed nor fulfilled.

Mr. Darcy, meanwhile, in whose heart a fire has also been lit, is shocked by the lady's stubborn refusal to accept his help. Alternating between alarm and begrudging admiration, he stands helplessly on the sidelines while she struggles to retain her independence. He, too, must make some hard choices in the end. Will he let her go?
How hard can it be? An infamous thought before a young woman discovers how naïve she is about the workings of a household, village life from the working class perspective, and most importantly, a gentleman she was early on eager to dismiss as cold and arrogant.  Grace Gibson, an author I have enjoyed in the past, wrote this engaging and often entertaining Pride and Prejudice variation where a gentlewoman experiences many hard life lessons and grows as a result before getting her chance at happily ever after.
I do believe this is the first Austen variation or historical romance I've read where the heroine, who is a gentlewoman, must roll up her sleeves and work as a housekeeper with all the day to day dreariness so clearly portrayed.  It served as a strong element in the heroine's personal growth and development.  Elizabeth Bennet made a snap decision when her Aunt Gardiner got the letter that her aunt needed temporary care while the housekeeper had to go away for a bit.  Her mother was down on her for refusing to be engaged to her imbecile cousin even if he was the heir of her home estate and her sister was languishing because her love interest didn't pursue a courtship.  She just wanted to escape and bullied her aunt to letting her go in her place, untried and inexperienced.
The Last House in Lambton was a romance as Elizabeth slowly came to see the qualities in Darcy that weren't obvious in previous encounters and learn she got him completely wrong, even as he fights his attraction because he clings to family duty and status at first. Then he sees her strengths when she is forced to struggle, toughen, and handle an overwhelming task.  However it was more than a romance.  It was the series of revelations she got about herself and life in general outside the protected walls of her father's house while tending a small, impoverished old lady suffering from dementia, a scruffy group of servants unused to keeping a well-ordered house, and tackling household and marketing on her own with shopkeepers taking advantage until she learns better, that showed this was as much a story of Elizabeth's character growth as anything else.
She makes a ton of mistakes and is dreary while stuck in that little house and village, but there are amusing moments too with her kitchen disasters, nosy neighbor, and getting caught not looking her best when visitors come.  There is balance in the emotions of the story even as the gentle pace drives toward a rewarding conclusion.  I loved that members of the serving class played big roles in the story as well as the familiar upper class characters.
All in all, it was something different in a Pride and Prejudice variation that not just Austen lovers will appreciate, but also historical romance fans who like a sweet, character-driven piece.
Related Posts