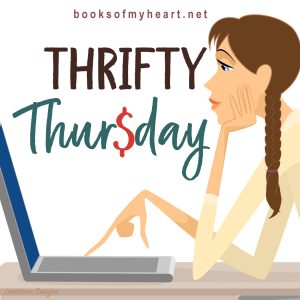 The purpose of Thrifty Thursday is to read a book which was free (at some point).
I have enjoyed all the books I have read from this author and I have an impressive number of freebies (15) which I have collected.  I won't get to all those in this post so I'll likely have another post. Someday.  The author has recently had many hockey series but I chose some of her other series this time.
Kindle freebie on May 6, 2019  (currently $4.99 at Amazon and Barnes & Noble as of writing this post)
Overall rating 3.97 with 9,019 ratings and 796 reviews
On the Rocks
by
Sawyer Bennett
Series:
Last Call #1
Published by
Self-Published
on February 17, 2014
Genres:
Contemporary Romance
Pages:
260
Format:
eBook
Source:
Purchased
Goodreads
Amazon
, 
Audible
, 
Barnes & Noble
, 
Apple





Hunter Markham left home to travel the world for fame and glory, finding it as a top ranked professional surfer. Now he's returned home to the sand and salty breeze of the North Carolina Outer Banks so he can open The Last Call, a beach bar nestled among the dunes of the Atlantic.

Five years ago, Gabby Ward drunkenly threw herself at her best friend's brother, only to have her young heart crushed. Hunter is back but Gabby is content to stay far away from him and his dangerously charming ways.

Gabby's well-schemed plans to ignore Hunter go up in flames when he presents her an offer she simply can't refuse. Working together day in and day out proves problematic for two reasons—Gabby realizes her feelings for Hunter are still very much alive, while Hunter struggles to break through to Gabby's cold heart. What starts out as a mutual business arrangement soon turns into a passion that neither can deny.

But when the pro surfing tour comes knocking and Hunter has a chance to reclaim his former glory, hard choices lie ahead for both of them.
Honestly, I started with this one because it was shorter than some of her other books.  It was good luck for me because I really enjoyed it.  On the Rocks is set in North Carolina, where I live. There are well-developed characters with a nice circle of friends and family.  These are newer adults, in their twenties, figuring out what works in their lives.
Gabby and Casey are best friends since they were children.  Gabby is back in her home town for the past three years, taking over her father's construction business after he died.  She is so competent but is having a tough time competing in the old boy's club world.  She is bidding on a job for Casey's brother, Hunter.  She's had a crush on Hunter forever.
Hunter is home from a world class surfing career because his brother, Brody, has just been released from prison.  He bought a bar and given Brody a job there.  Gabby, her friends, Casey and Hunter are all trying to help Brody adjust to being home.  Hunter gives Gabby the job of remodeling for his bar.
These are kind people who support each other and think of others before themselves.  They struggle a bit navigating a relationship, and career choices.  I devoured this in one sitting and can't wait to read the next from the Last Call series, which I also got as a freebie.
---
Kindle freebie on March 12, 2015  (currently $5.99 at Amazon and Barnes & Noble as of writing this post)
Overall rating 4.19 with 7,453 ratings and 622 reviews
Make It a Double
by
Sawyer Bennett
Series:
Last Call #2
Published by
Self-Published
on April 19, 2014
Genres:
Contemporary Romance
Pages:
362
Format:
eBook
Source:
Purchased
Goodreads
Amazon
, 
Audible
, 
Barnes & Noble
, 
Apple




Brody Markham has endured a nightmare. Home after spending the last five years in prison, Brody is trying to survive in a world he no longer recognizes. While his family and friends desperately try to reach through to him, he shelters himself further and further from their love.

Alyssa Myers has worked her entire life to distance herself from the luxurious and privileged lifestyle in which she was raised. Running her non-profit agency, The Haven, Alyssa is content to spend her days helping abused animals find sanctuary, which fulfills her in a way money can't buy.

Maybe Alyssa recognizes some of the same characteristics in Brody that she sees in her homeless wards. Or maybe she just sees his struggle to surface from the darkness, but Alyssa is powerless to stop her personal quest to make Brody whole again
I was thrilled to read Brody's story already being settled into the world and these characters.  Brody was so closed off and bitter, there had to be a reason and there was!  I felt badly for everything which had happened to him.  He believed the best of people and some took advantage of him.  I love how he was willing to move on and make a good life.
Alyssa was such a selfless and hard-working woman.  Her compassion is what made her friends with Gabby and Casey, and then to start the no kill animal shelter.  It also allowed her to be non-judgemental and supportive of Brody.    Her family was awful.  I was worried they and her ex-boyfriend were going to cause major problems.  They certainly didn't help in any way.  It's lucky she had her money independent of her parents' control.
The circle of family and friends make this series even more appealing. I also love the North Carolina beach setting.
---
Kindle freebie on March 21, 2019  (currently $3.99 at Amazon and Barnes & Noble as of writing this post, also available free on Audible Plus)
Overall rating 3.74 with 17,047 ratings and 1,371 reviews
Off Sides
by
Sawyer Bennett
Series:
Off #1
on February 21, 2013
Genres:
Contemporary Romance
Pages:
167
Format:
eBook
Source:
Purchased
Goodreads
Amazon
, 
Audible
, 
Barnes & Noble
, 
Apple




Ryan Burnham is the privileged son of a U.S. Congressman and captain of his university's hockey team. While he is on the verge of fulfilling his dreams to play in the NHL, his parents want him on a different course. One he is expected to accept for the sake of his family's public image.

Forced to abandon her music career after the heart breaking death of her parents, Danny Cross exists on the opposite side of the tracks from Ryan. She is struggling to make her own way, working two jobs, attending college part time and volunteering in a homeless shelter. She is on a mission to build her own success.
When I was looking at books to read by this author, I skimmed the blurbs pretty quickly. The first paragraph of the blurb I didn't use because it was drivel.  But since that's all I read, I didn't realize this would have hockey.  I also didn't know Off Sides was the author's first book.
The setup here is two people from the opposite sides of society and how much resistance they get from the upper class set.  They are college students, in their last years.
Ryan is a hockey star, has independent wealth and is not a bad guy.   His parents though are overpowering and try to control his life.  They judge people by their looks, not the actual person.  Danny (Daniella) has lost her parents and with the debts from them, left her music study at Julliard to work and go to school part-time.
Ryan and Danny meet by chance and are attracted to each other.  Danny doesn't want to see him because she knows his friends and family won't be supportive.  Ryan really cares about her and they do start dating.  Danny was right about the backlash from multiple sources.  I never really got the whole thing with Reece towards Ryan or Danny, that was never well developed.
So I liked this but it wasn't as fully developed and the characters had a bit of cliche. Some were completely cliche.  It was a fun, quick read.
---
Kindle freebie on March 3, 2019  (currently $4.99 at Amazon and Barnes & Noble as of writing this post, also available free on Audible Plus)
Overall rating 4.16 with 10,974 ratings and 834 reviews
Off Limits
by
Sawyer Bennett
Series:
Off #2
on April 14, 2013
Genres:
Contemporary Romance
Pages:
328
Format:
eBook
Source:
Purchased
Goodreads
Amazon
, 
Audible
, 
Barnes & Noble



Two years ago, Emily Burnham, had an epiphany about the shallowness of her life. And she made it her mission to become a different person…a better woman. Out from under the controlling thumb of her mother, Emily is tasting the real world for the first time. And she likes it.

Nixon Caldwell has served his time in the Marine Corps, surviving two brutal tours in Afghanistan. He is back home, surrounded by what he likes best…isolation. It's certainly the best way to avoid confrontation of the consuming guilt that is weighing him down.

When an accident brings Emily and Nix together, he soon learns he is not the master of his own fate. Struggling with his own pain, Nix tries to guard himself against Emily's charms. He wants her in his bed, but he doesn't want her in his heart.

Having grabbed life by the horns, Emily wants it all. But is she willing to accept just the small part of himself that Nix is offering? Can she reach the part of his soul that he has deemed to be Off Limits?
I enjoyed the continuation of one of the characters from Off Sides, Emily into this book.  There was further development of her and more of her history.  We also get to see her family, Ryan and Danny, and her parents.  Her mother is even more controlling than she was with Ryan.  Emily has her own ideas about her career, who she wants to be and who she wants to date.
It felt very weird how her mother was so adamant about her dating Todd and how Todd was a stalker about it.  The way Emily got Todd to stop did not feel realistic.  It also made no sense that her parents were fine with Nix. Many of Emily's actions and choices felt unrealistic to me.
Nix is the brother of one of the hockey guys.  He has some PTSD after his Marine tours, and works as a metal artist.  He had a lot of baggage but his thoughts and actions seemed fairly authentic.  His friend, Paul, was awesome and almost unbelievably good natured.
I was happy to see the character growth in  Emily and NIx, and the rest of Emily's family.  I think there was a bit too much focus on sex and not enough on the characters overall.
---
Kindle freebie on November 20, 2022  (currently $4.99 at Amazon and Barnes & Noble as of writing this post)
Overall rating 4.00 with 4,644 ratings and 611 reviews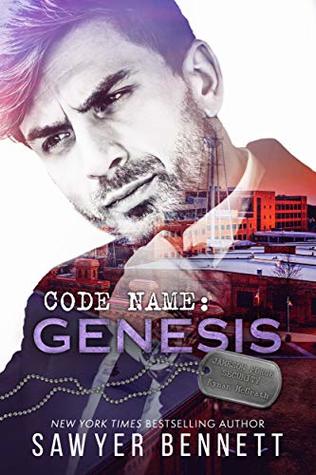 Code Name : Genesis
by
Sawyer Bennett
Narrator:
Shane East
,
Imogen Church
Series:
Jameson Force Security #1
Published by
Self-Published
on April 30, 2019
Genres:
Romantic Suspense
Pages:
306
Length:
7 hours, 32 minutes
Format:
Audiobook
,
eBook
Source:
Purchased
Goodreads
Amazon
, 
Audible
, 
Libro.fm
, 
Barnes & Noble
, 
Apple





Years ago, we were in love. She was an up-and-coming superstar and I was the security professional hired to keep her safe. We fell hard and fast, no matter how much we tried to resist one another. But not everyone around us was happy about our relationship, and a string of lies and deceit destroyed what we once had. I moved on from her and didn't look back.

Now I've taken the helm of a nationally renowned protective services company, and I'm looking to rebrand my career. The newly crowned Jameson Force Security is moving from the glitz and glamour of Las Vegas to the mountainous steel town of Pittsburgh, and the last thing I have time for is to deal with my past.

More than a decade has passed since our split, but even a bruised and battered heart remembers its first love. So when Joslyn Meyers comes to me for help, I reluctantly agree to keep her safe from a terrifying stalker who keeps threatening her life.

As the danger continues to intensify, it becomes clear that I'll stop at nothing to protect the woman who turned her back on me all those years ago. Because one thing is certain—no matter how hard I try to convince myself otherwise, Joslyn still has my heart.
Code Name Genesis caught my eye because the narrator was Shane East.   So I bought the audio when it was on sale.  But I got the ebook as a freebie.  The basic setup is a security firm and romantic suspense which is a favorite genre. I didn't know it would be very sexy (other than his voice) and very loosely connected to her Wicked Horse Vegas series. I have the first two books in that series as freebies, which I couldn't read in time for this post. Since they are about a sex club, they might be more titillating and require a proper mood.
The main characters here are Joselyn Myers, a Hollywood actor and Kynan McGrath, owner of a security company.  Joselyn has had a stalker for awhile, has moved a few times and he has always found her, now he has breached her home.  She goes to Kynan for help.  Even though they broke up 12 years ago, she trusts him with her security.
We get the delicious forced proximity and a second chance at love.  Fairly quickly, they are in a new emotional connection, dispensing through the situation that broke them apart, and dealing with the emotions from them until now. The sexual shenanigans probably help both of them relax for a moment in the danger looming.
I enjoyed the business aspects. Kynan is starting a new branch of his business in Pittsburgh, that handles more than security systems and bodyguards.  Joslyn has gotten tired of all the Hollywood rush and wants to focus on her songwriting.  Some things in the most menacing moments don't seem realistic, but overall it was a good book to read.
Narration:
Shane East is a favorite narrator and actually, so is Imogen Church.  The audio was dual narration, rather than duet narration.  Meaning, they each narrated alternate chapters. East narrating the chapters in Kynan's point of view, and Church narrating those from Joselyn's point of view.  The main characters didn't sound quite alike in the other narrator.  Church did an impressive job of voicing an American, when I am used to hearing her narrate British stories.  I listened at my usual 1.5x speed.
Rating Breakdown
Plot
Writing
Characters
Narration (Audio)
Overall:
---
These are only Kindle freebies I get, or ones through author newsletters which anyone can sign up and get for free. I don't include things like Kindle Unlimited or Prime Free Reading (I do have it). Both Tantor and Audible have occasional free audios (to anyone) and I do include those.  Since I one-click on 1-2 freebies a day or probably at least 5 a week, I came up with this feature to make sure I start reading them.
FYI – My Thrifty Thursday post with my reviews and the linkups and giveaway will normally post on the 3rd Thursday of the month. Sometimes though, due to blog tours, mood reading, and other personal problems, it will be moved around. There WILL be one each month on some Thursday.  You can post your reviews any Thursday though on your own site.  The linkup will be open until the next month's post is published. You can easily find all the Thrifty Thursday posts under the Features tab on my top menu.
(Reminder – If I get more than 10 linkups in a month, I will randomly pick one to select a prize from a list I send them which may include gift cards or giveaway books I have. (Open International))
---
Add your review link here: 
Mister Linky's Magical Widgets — Thumb-Linky widget will appear right here!
This preview will disappear when the widget is displayed on your site.
If this widget does not appear,
click here
to display it.
Giveaway:
The prize will be an Amazon Gift card of $25 or $25 worth of Books on Book Depository.  Open International.  Runs January 1, 2023 to January 7, 2024.
You can sign up for the 2023 Thrifty Thursday Challenge HERE
Latest posts by Anne - Books of My Heart
(see all)
Related Posts