Review copy was received from Publisher. This does not affect my opinion of the book or the content of my review.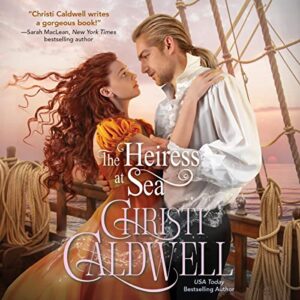 The Heiress at Sea
by
Christi Caldwell
Narrator:
Tim Campbell
Published by
Brilliance Audio
on March 14, 2023
Genres:
Historical Romance
Length:
8 hours, 58 minutes
Format:
Audiobook
Source:
Publisher
Goodreads
Amazon
, 
Audible





Perpetually unattached Lady Cassia McQuoid has accepted her fate as a spinster. But how can she be expected to lead a life confined to drawing rooms and royal balls when there's a vast, exciting world to explore? Cassia can find but one solution: she masquerades as a thrill-seeking lad and stows away on a ship bound for open waters. Adventure awaits. So does notorious privateer Nathaniel Ellsby.

Nathaniel doesn't want to be the Duke of Roxburghe. Instead, the second-born son relishes his freedom to do as he pleases: pursuing enemy ships in service of the war effort. But when his older brother dies, Nathaniel embarks on one last mission before he fulfills his ducal duties with an arranged marriage. That's the intention, at least—until he discovers that his woefully green deckhand is a fetching but vulnerable woman in disguise.
The Heiress at Sea is set as a stand alone novel and can be read by itself but the heroine is Cassia McQuoid, sister to Myrtle McQuiod in The Duke Alone (sort of a historical romance meets home alone Christmas story). Cassia wants to have an adventure; she is three seasons in and no one has noticed her, if she is going to be a spinster she might as well have a little fun and stow away on her brother's and best friend's ship to head out and see the world.  Until she ends up on the wrong ship headed on a secret mission against the French.
Nathanial has been the second son all of his life and that suited him just fine.  Better in fact, because he was able to do what he wanted instead of being bogged down by his father and the dukedom.  That was until his brother died too early and now he is supposed to give up his sailing ways and pick up the duties of his brother's life, including the woman he was supposed to marry.  In a bid to put off the inevitable Nathaniel hightails it out of port as quickly as possible to be able to finish this last mission.  Only problem, he has to add some sailors that are not from his normal crew into the mix and a deck hand that is going to change his life forever.
Cassia is so sheltered and naïve, it was hard to take her seriously in the beginning of the book.  She has been taught to paint, do needlepoint and all the other useless things ladies of the Ton are supposed to be accomplished at.  That said she hates most of them and figured the her brother, Arran, might be upset she was on Jeremy's boat but once out to sea at least she will get to see part of the world. When the captain turns out to be Nathanial instead, she knows she may be in over her head and on the wrong ship.  Time to just try to be the best deck hand possible, that was until she was discovered.
Now Nathanial has a woman on his ship, which is bad luck, with red, though Cassia would say it was more auburn hair, also bad luck; she lost her hat overboard on the Friday, you guessed it bad luck and she whistles to just add to the bad luck.  There are some on Nathanial's ship who will want this bad luck monster gone at all costs and he will need to find ways to both protect her and teach her the ways of the sea.  Maybe the life he has been trying to avoid at all costs, settling down and starting a family isn't the worst thing that could happen to him.  Maybe not being able to do that with the temptress on his ship would be the worst thing.   Nathaniel will have to find a way to get the life he wants even if it costs him the life he has.
Narration:
Timothy Campbell is pretty well know in Historical Romance circles.  With a large catalogue under his belt, he is not new to spinning romantic tales.  Also the narrator for The Duke Alone, I was familiar with him and his work.  He captured Cassia's chatterbox ways and Nathaniel's gruff exterior quite well.  I was able to listen at my usual 1.5x speed.
Listen to a clip: HERE
Rating Breakdown
Plot
Writing
Characters
Dialogue
Narration (Audio)
Overall:
Related Posts