Review copy was received from Library, NetGalley. This does not affect my opinion of the book or the content of my review.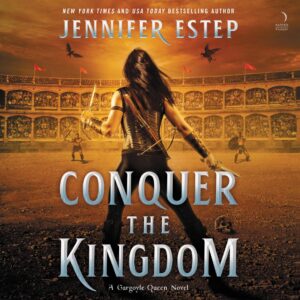 Conquer the Kingdom
by
Jennifer Estep
Narrator:
Lauren Fortgang
Series:
Crown of Shards #6
,
Gargoyle Queen #3
Published by
Harper Voyager
on March 7, 2023
Genres:
Fantasy
Pages:
432
Length:
12 hours, 57 minutes
Format:
Audiobook
,
eARC
Source:
Library, NetGalley
Goodreads
Amazon
, 
Audible
, 
Audiobook
, 
Barnes & Noble
, 
Apple





Time is running out for crown princess Gemma Ripley. Despite being a cunning spy and a powerful mind magier, Gemma hasn't been able to track down the most dangerous enemy her kingdom of Andvari has ever seen. Adding to her worries is the Sword and Shield tournament. With gladiators flocking to the capital city of Glanzen, Gemma can't tell who is friend—or foe.

Determined to protect Andvari at any cost, Gemma hatches a bold plan, but things aren't what they seem. Soon, everything she holds dear is being threatened, including her burgeoning relationship with Prince Leonidas Morricone.

With the kingdom she holds dear slipping through her fingers, Gemma will have to conquer her fear and unlock the true secret of her magic—or watch her friends and family die and her beloved Andvari fall .
I loved the Crown of Shards trilogy.   As with any urban fantasy or even other types of series, I prefer to read in order and have the full world building and character backgrounds.  The first trilogy had the main character of Everleigh Blair, this next trilogy is about Gemma Ripley.  Some of the things I said in my review of  Capture the Crown are still true.
The  Gargoyle Queen is a continuation, but a full 16 years later.  Gemma Ripley is now grown.  However, Gemma still has fears and doesn't know how to control or use her power effectively.   She still feels very young. I tired of her repeating her past, her guilt, her shoving down her power and being a little too daring.
Gemma continues to grow.  While it annoys me how she doesn't know how to use her power and still takes life-threatening risks, she really cares about her people, as well as the gargoyles and the strix.  I would have liked to see her work more with Leo since he was with her during this book.  Actually, they work together but she doesn't really talk to him.  His family is here as are many people for the gladiator battles. Gemma does everything she can to get her people to accept Maeven, Leo and Delmira.  Her compassion for others, even those who hurt her, is a great quality.
Of course, Gemma suspects Milo and the Captain are here with some grand plan. I guessed right away where they were hiding but it took half the book for her to find out with Reiko figuring it out first.  I knew the DiLucri clan was involved from the first mention of them.
The battles were exciting and a bit worrisome.  Gemma tried to protect everyone more than herself.  Luckily, she is finally able to use more of her magic.  I was happy to see Delmira understand her magic better also.   Maeven actually helps a bit in the end.  Leo is a good guy with a difficult family, but he makes an effort to support Gemma and be with her.
The ending in Conquer the Kingdom is satisfying.  There aren't more books planned but it would be interesting to see Delmira's future and learn more about the plant magics.
Narration: 
I've listened to the whole series and am comfortable with the narration.  Almost everything is from Gemma's point of view and her voice is well settled.   I was able to listen at my usual 1.5x speed.
Listen to a clip: HERE
Rating Breakdown
Plot
Writing
Characters
Narration (Audio)
Overall:
Latest posts by Anne - Books of My Heart
(see all)
Reading this book contributed to these challenges:
Related Posts