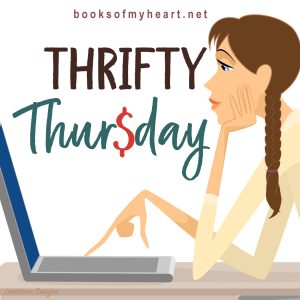 The purpose of Thrifty Thursday is to read a book which was free (at some point).
This is a genre which many of my team have read and reviewed books. In fact, I think all of them have read these authors more than me. I have collected quite a pile of freebies in this genre and so I'm finally reading some of them.
Kindle freebie on July 3, 2019  (currently $2.99 and in Kindle Unlimited as of writing this post)
Overall rating 3.96 with 6,535 ratings and  498 reviews
Prison Planet Barbarian
by
Ruby Dixon
Series:
Risdaverse #0.25
on May 7, 2017
Genres:
Romance
,
Science Fiction
Pages:
135
Format:
eBook
Source:
Purchased
Goodreads
Amazon
, 
Audible




Being kidnapped by aliens is one thing.

Being kidnapped by aliens and then sent to a prison planet is something infinitely worse.

Here in Haven's prison system, I'm stranded among strangers, enemies, and the most ruthless criminals in the galaxy. There's no safety for a human woman here, especially not one branded as a murderer. I'm doomed to a fate worse than death.

Then...he decides I should be his. His name's Jutari. He's seven feet tall, blue, and horned. He's an assassin and one of the most dangerous prisoners here. He's like no one I've ever met before...and he might be my only chance.
Ruby Dixon is a favorite of my team.  I only had one freebie from her.  Prison Planet Barbarian is the beginning of the Risadaverse series and quite short.  I found it a perfect fit to get a taste of this author.  I really enjoyed her style.
The characters and setting were an interesting choice. it's barely beyond a novella, more like half a book, so the world building overall was scant.  The world-building of the prison and its characters was very well written.  Since it is set in a prison, there are some very unpleasant characters.  The women are poorly treated and have limited options to survive.
The main character Chloe was kidnapped from her bed, taken to aliens to be some sort of slave.  Fighting off the alien, she managed to accidently kill him and now she's in prison.  It doesn't seem fair to me.  There are plenty of triggering and frustrating things here.  Chloe was smart and didn't pretty well as a judge of character.
Jutari was easy to like. in spite of his prison status.  I liked the way the two of them supported each other and came to care for one another.  It's like romantic suspense with forced proximity to speed up the romance.  There's also a bit of fated "mates" feel which isn't really my favorite.   I did enjoy this story and would definitely read more from this series and this author.
---
Kindle freebie on January 31, 2020  (currently free as of writing this post)
Overall rating 3.97 with 1,169 ratings and 155 reviews
Darak
by
Cara Bristol
Series:
Dakonian Alien Mail Order Brides #1
Published by
Self-Published
on October 5, 2018
Genres:
Romance
,
Science Fiction
Pages:
219
Format:
eBook
Source:
Purchased
Goodreads
Amazon
, 
Barnes & Noble
, 
Apple





Free-spirited pastry chef Lexi Sutterman has discovered that true love is pie in the sky. The only thing more difficult than finding an Earth man willing to commit is pleasing her wealthy, hypercritical family who view her as a failure. So she's given up on both, focusing her energy on her new bakery. Now that her uber-successful little sister manages to nab a well-heeled fiancé, Lexi fights back by joining the Intergalactic Dating Agency. She plans to bring a huge, purple, tentacled alien as her plus-one to the wedding.

Darak of planet Dakon isn't purple or tentacled -- he's just seven feet of horned alien hotness. To get a woman on his world, a guy has to literally win the lottery. Tired of waiting for the Fates to send him a female, he joins the dating service to meet a nice Earth girl to call his own. He recognizes Lexi as his true mate, but realizes convincing her they're meant to be together forever and not just a weekend will be no cake walk.
Cara Bristol is another author who is popular with my team.  I chose Darak since it is the start of the Intergalactic Dating Agency series and a fairly quick read. It's related to the Alien Mates series.  In Alien Mates books, the women go to Dakon; here the men come to Earth.
I thought this was very sweet.  Darak is attractive and kind and thrilled to have a mate. yes, there is a fated mates sort of thing, which I don't love.  Thankfully, he and Lexi spend time together and they are rather compatible. He is so much more supportive than her family has been and they just have fun together.  Her mother particularly likes to make decisions for her children which Lexi refused to take.
The story starts out like fake dating (my favorite!) but it is quickly real dating. I love the way Lexi and Darak learn to know each other.  He is awesome with her family.  Lexi gets a new view of her family members as well.  I really enjoyed the progression to their HEA. I already looked into getting the next book in this series.
---
Kindle freebie on May 29, 2021  (currently $3.99 at Amazon and Barnes & Noble as of writing this post)
Overall rating 3.97 with 654 ratings and 132 reviews
Chameleon
by
Cara Bristol
Series:
Alien Castaways #1
on September 20, 2016
Genres:
Science Fiction Fantasy
Pages:
149
Format:
eBook
Source:
Purchased
Goodreads
Amazon
, 
Barnes & Noble
, 
Apple





Young widow Kevanne Girardi catches sight of a meteorite streaking across the sky and wishes for a good handyman to help make her rundown lavender farm a big success. Instead, she gets a shapeshifting alien who apparently has never seen a leaky faucet before. But his loving and noble spirit make him just the man to fix her wounded heart. He hasn't promised her forever, but a girl can hope, can't she? Maybe she'll make another wish…

When his ship tumbles out of the sky and lands on Earth, Chameleon never expects to fall for a human woman. Unfortunately, he can't stay. He made a mistake that led to the devastation of an entire planet, and now the survivors are depending on him to get them to safety. He must repair his ship and leave before the Xeno Consortium finds him and Earth becomes endangered, too. But oh, he wishes he could stay with Kevanne forever…
Another Cara Bristol, first in the Alien Castaways series, was also a hit with me. Chameleon is also the name of the main character. We get his point of view, as well as Kevanne.  I really had fun with the space aspects and getting to know the characters here.
Chameleon "Cam" is a Xeno, member of the council.  He is the only council member to vote against destroying 'Topia.  He works to save Topians and send them off to other planets where the Xenos won't find them.  When the council destroys 'Topia sooner than expected, he ends up bringing some Topians on his ship. They are damaged in the getaway but make it through a jump.  These survivors decide to go to Earth as it is not well known to the Xeno.
Cam and the others go out to try to find ways to repair their ship.  They have no Earth money so they try to get jobs.  At least those who can pass for human try to find work.  Cam is able to totally change his appearance  and while he has no experience, he tries to work for Kevanne who is setting up a lavendar farm.
Kevanne is a widow who had an abusive husband.  She is careful around men, but finds Cam very kind and supportive.  They build quite an attraction but she is shocked by his unmasked alien looks.  Eventually they find happiness.
On the ship side, they are lucky to find someone who can fix their ship.  I was skeptical about this guy, worried he would out them or steal their technology.  In the end, it turned out to be a fun part of the story. I would read more in this series.
---
Kindle freebie on May 10, 2016  (currently $2.99 and in Kindle Unlimited as of writing this post)
Overall rating 3.99 with 3,262 ratings and 285 reviews
Marcus
by
Anna Hackett
Series:
Hell Squad #1
Published by
Self-Published
on April 19, 2015
Genres:
Romance
,
Science Fiction
Pages:
217
Format:
eBook
Source:
Purchased
Goodreads
Amazon
, 
Audible





In the aftermath of a deadly alien invasion, a band of survivors fights on…

In a world gone to hell, Elle Milton—once the darling of the Sydney social scene—has carved a role for herself as the communications officer for the toughest commando team fighting for humanity's survival—Hell Squad. It's her chance to make a difference and make up for horrible past mistakes…despite the fact that its battle-hardened commander never wanted her on his team.

When Hell Squad is tasked with destroying a strategic alien facility, Elle knows they need her skills in the field. But first she must go head to head with Marcus Steele and convince him she won't be a liability.

Marcus Steele is a warrior through and through. He fights to protect the innocent and give the human race a chance to survive. And that includes the beautiful, gutsy Elle who twists him up inside with a single look. The last thing he wants is to take her into a warzone, but soon they are thrown together battling both the alien invaders and their overwhelming attraction. And Marcus will learn just how much he'll sacrifice to keep her safe.
Scifi romance often has aliens.  In Marcus, they are the enemy trying to take over Earth and kill all the humans. Marcus is the leader of a fighting squad to protect humans from the aliens.  The team is also sent frequently to rescue survivors and bring them into hiding or safer spaces.
Elle was a wealthy, society girl before aliens murdered her parents and she went on the run to safety.  Now she works hard to help the teams and find purpose in her life.  Her role as a communications base is one where she has talent and doesn't require her to be in the field.  She is training in defense and weapons to increase her skills.  Elle is also working to interpret and build knowledge of the alien's language to monitor their communications and find its center.
Marcus and Elle have a mutual attraction.  They work together to make life better for the squad and the humans.  I liked both characters, doing their best in very bad situations.  The battles were exciting and I appreciated the smart strategies and plans.
---
Kindle freebie on February 10 2023  (currently free at Amazon and Barnes & Noble and in Audible Plus as of writing this post)
Overall rating 3.99 with 3,064 ratings and 403 reviews
Bachelor Beast
by
Grace Goodwin
Series:
The Beasts #1
Published by
Self-Published
on May 14, 2020
Genres:
Romance
,
Science Fiction
Pages:
220
Format:
eBook
Source:
Purchased
Goodreads
Amazon
, 
Audible
, 
Audiobook
, 
Barnes & Noble
, 
Apple





Warlord Wulf thought nothing could be worse than being tortured and contaminated by the Hive. That was before he's ordered to transport to Earth and represent The Colony in an unfamiliar horror… a human reality show. The Bachelor Beast is the hottest new program on Earth, but being set up with two dozen clingy females is not his idea of a good time. When his Beast refuses to show the slightest interest in any of the show's potential mates, he knows he must choose one or die due to his raging mating fever.

His Beast prefers execution to claiming anyone but his true mate. Wulf is resigned to his fate, a one-way trip to Atlan, a prison cell and execution. It is the only honorable thing left to do.

Until one glance, one sweet, feminine scent lingering in the air and his beast rages for a female who is not supposed to be his.

But try telling that to his Beast when his entire body transforms on live television and one simple word thunders from his lips...MINE.
Bachelor Beast was my first time reading this author.  Alien dating with either agencies or reality shows seems to be a thing in scifi romance.  There is a reason the aliens are looking to human women, usually they have limited women on their planet or home systems.  This alien species has a mating need and cuffs to attach them to their female.  Once they have found a mate, they are in a mating fever which keeps them emotionally volatile until they claim their mate.
The reality show has many eligible, beautiful women for Wulf to make a choice.  But he falls in an insta-lust/love with Olivia who is a makeup artist.  Olivia has her own problems with raising her dead brother's two children and paying off his debts.   Her whole family has issues, often criminal ones, so she doesn't see them.  There is a romantic suspense feel here for a few reasons, the debt of her brother and Wulf's mating fever.  The children really added to the story and I LOVED the broccoli humor.
---
Kindle freebie on February 11, 2023  (currently 99¢ at Amazon and $3.43 at Barnes & Nobel  as of writing this post)
Overall rating 4.11 with 47 ratings and 15 reviews
More Than Stardust
by
Vivien Jackson
Series:
Wanted and Wired #3
Published by
Self-Published
on JUly 9, 2019
Genres:
Romance
,
Science Fiction
Pages:
265
Format:
eBook
Source:
Purchased
Goodreads
Amazon
, 
Barnes & Noble
, 
Apple





Chloe, a self-aware, highly illegal nanorobotic artificial intelligence knows a thing or two about wanting.

The growing Machine Rebellion wants her to become its god.

The technocratic global Consortium wants to cage her, take her apart, and reverse-engineer her.

Her family wants to keep her a secret.

Her best friend Garrett wants her safe.

Chloe is a thing made of wants.
I've read and enjoyed the first two books in the Wanted and Wired series.  I was thrilled to get More Than Stardust for free and have a chance to read it. We do get to see the couples from the first two books a bit.  The world has AI and mech clones and mechanized humans, and also nanobit robotics.  There are power struggles between various humans and machines, mostly humans who want to be in power and control everything. The machines want to be free.
Finally we get the story of Garrett and his hologram Chloe, who wants to be a real girl, for him.  It was delightful to learn the secrets held through the whole series arc and understand many more relationships and how things started and developed until now.
As the third book, many things would be spoilers.  I loved the relationship which Garrett and Chloe had before and how they learned so much about themselves and each other here.  They finally admit to each other what they want, with the support of their family. The family has humans, clones, mech-clones, and really is a non-judgmental group, not that they don't have any issues.
---
These are only Kindle freebies I get, or ones through author newsletters which anyone can sign up and get for free. I don't include things like Kindle Unlimited or Prime Free Reading (I do have it). Both Tantor and Audible have occasional free audios (to anyone) and I do include those.  Since I one-click on 1-2 freebies a day or probably at least 5 a week, I came up with this feature to make sure I start reading them.
FYI – My Thrifty Thursday post with my reviews and the linkups and giveaway will normally post on the 3rd Thursday of the month. Sometimes though, due to blog tours, mood reading, and other personal problems, it will be moved around. There WILL be one each month on some Thursday.  You can post your reviews any Thursday though on your own site.  The linkup will be open until the next month's post is published. You can easily find all the Thrifty Thursday posts under the Features tab on my top menu.
(Reminder – If I get more than 10 linkups in a month, I will randomly pick one to select a prize from a list I send them which may include gift cards or giveaway books I have. (Open International))
---
Add your review link here: 
Mister Linky's Magical Widgets — Thumb-Linky widget will appear right here!
This preview will disappear when the widget is displayed on your site.
If this widget does not appear,
click here
to display it.
Giveaway:
The prize will be an Amazon Gift card of $25 or $25 worth of Books on Better World Books.  Open International.  Runs January 1, 2023 to January 7, 2024.
You can sign up for the 2023 Thrifty Thursday Challenge HERE
Latest posts by Anne - Books of My Heart
(see all)
Related Posts