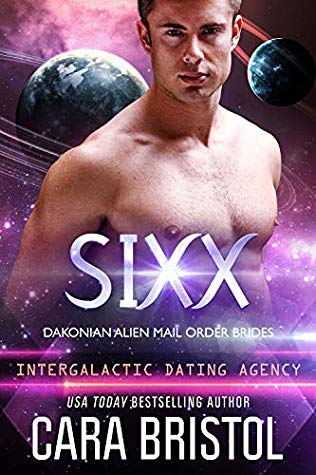 Sixx
by
Cara Bristol
Series:
Dakonian Alien Mail Order Brides #4
Published by
Self-Published
on September 26, 2019
Genres:
Science Fiction
Pages:
167
Format:
eARC
Source:
Author
Goodreads
Amazon
, 
Barnes & Noble
, 
Apple





She wants a man who's got her six…
He needs a mate with enough moxie to leave Earth…

Software developer Moxie Maguire has a BIG dream—save enough money to start her own video game company. That's why she logs fourteen hours days working for an obnoxious boss. But when life seems to be passing her by, she sets another goal—meet Mr. Right, a man who can support her dream. She joins the Intergalactic Dating Agency and is matched with a hot and horned alien named…Sixx. Sexy as heck, a good listener, family-oriented—he's the perfect man to share a life with.

If only that life was on Earth.

Sixx has a dream, too. Find a mate, settle down, and raise kits. With females in short supply on his planet, this single dad heads for Earth to get a female and get back to Dakon and his young son. The instant he meets Moxie, he recognizes she's his Fated Mate. They're meant to be together.

But he won't abandon his child. And, unfortunately, his planet has even fewer computers than females. One for the entire planet, to be exact.

Will two Fated Mates have to part? Or can they find a way to work it out?

Sixx is a stand-alone read in the Dakonian Alien Mail Order Brides series. You can read the books out of order.



I've really enjoyed the stories of the Dakoians, but I have found I like the stories on Dakon a bit better than the ones set on Earth. I found it a bit doubly so with this story, and I think it was because of Sixx. He comes to Earth to find a mate with every intention of taking her back to Dakon, which makes sense, as he has a young child with a different female on Dakon.
I'm not 100% sure if I should be more upset with Sixx for not making that clear to the agency or if the agency didn't take that into account when matching him up. Moxie is a game programmer and she wants to start her own game development business, so leaving Earth for a planet who doesn't have much technology doesn't make sense. However, she finds that she really likes Sixx.
While, I wasn't a fan of the conflict used in this story, I did find  I enjoyed watching them come together and resolve their issues in the end. I also enjoyed the mystery of someone stalking Moxie and figuring out who that was and what they were after.
This wasn't my favorite story in the Dakonian Alien Mail Order Brides series, it was still entertaining. As with the other books in this series, I really enjoyed the characters and like seeing them come together. I have the next book in the series and will be reading it very soon (if I haven't, as I'm writing a while before it will actually post).
This series, while I consider science fiction romance because of the aliens and remote planets, has very much of a paranormal romance feel. Just swap out the vampire/shifter for an alien, so if the science fiction is what is keeping you from trying this series, I wish it wouldn't. I don't want to make it sound like every other PNR story out there, because it isn't, but just fits well within that genre as much as it does sci-fi.
Rating Breakdown
Plot
Writing
Characters
Dialogue
Overall:
Related Posts